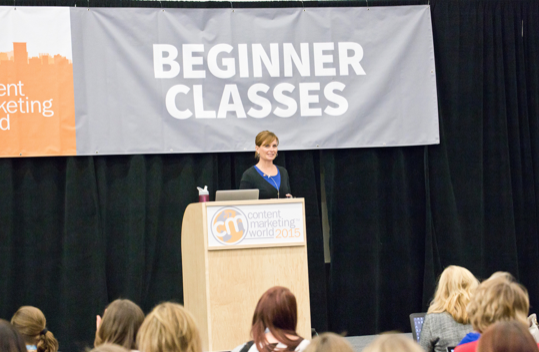 For generations, there's been a great debate between two things and the struggle to understand which came first. The question has never been answered (maybe there is no answer?) and it's perplexed the greatest minds of our time.
Perhaps you've heard it: which comes first, the PR or the content marketing?
Fortunately, we don't need to know, because we can rely on the expertise of people like Gini Dietrich to cut through the misinformation and help us know the truth.
You may know Gini as the CEO of Arment Dietrich, a public relations and communication firm based in Chicago. Or you may know her as author of the best seller, Spin Sucks and main author of the blog by the same name, both hallmarks of the industry.
At Content Marketing World, I've always known her as the lady who takes on complex topics and makes them easier to understand for her audience…and I'm certain this year will be no exception.
At CMWorld 2015, Gini tackled media relations, content and SEO:
At CMWorld 2016 in September, Gini will be running a workshop, How to use PR to fuel your content marketing efforts, which includes specific tips on how to:
Dramatically increase your SEO and domain authority
Create amazing content that builds awareness
Successfully pitch this content to A-list media
Tie it all together to drive leads — and boost sales
While this may sound like a bulleted list from the description of her presentation on the CMI website (because it is), there's actually quite a bit going on here.
Let's break each of these down a bit:
First, Gini understands the importance of search engine optimization (SEO) and can help you leverage it to build your brand. Not every communication professional can go as deep in the search engine marketing space (a pretty important space, indeed).
Next, she knows how to help marketing professionals create great content to build awareness with your target audience. Her experience crafting messages for top brands will serve you well (it will also help your audience, and they will show their appreciation to you with their loyalty).
Third, she can help you understand how to pitch that content to the media for placement. In today's world, it's all about efficiently reaching your audience in a way they prefer — and that often means through the media the people consume (despite the premature rumors of their demise).
Finally, Gini completely gets that all of this has to result in selling something or it just doesn't matter. She creates programs designed to drive people to your door (whether your door is online, in a store or on the cloud).
So, if you're wrestling with which came first, the chicken or the egg, I would suggest you worry less about evolutionary theory and concentrate more on evolving your brand.
And to do that, I'd suggest listening to Gini Dietrich.
To learn more about Gini, you can follow her on Twitter, check out her blog or connect with her on LinkedIn.
And, now that you're ready to evolve your content marketing to the next level, why don't we just jump on over to the Content Marketing World 2016 registration page right now and make sure your brand can survive natural selection! Code BLOG100 saves $100!
Posted June 2, 2016 in: Event by Cathy McPhillips
---