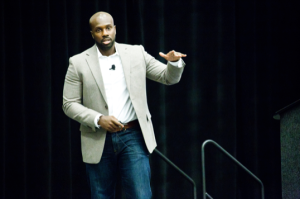 In content marketing, it pays to be a good listener.
That's what Juntae DeLane, Digital Brand Manager at the University of Southern California (USC), believes. And he puts his belief into practice everyday with content marketing and social media.
"Students today want more authentic information, and that's where social can be a valuable tool," Juntae said in a recent interview.
Trying to attract prospective students to USC from all 50 states in the US and more than 100 other countries, Juntae knew he had to leverage technology to help the school show up in all the right places. And the school's selective reputation — most first year students come from the top 10% of their high school class — made finding these great students that much more difficult.
But listening, and using the data you have available, can make all the difference. Here's how Juntae (at #CMWorld 2015) explains how he and his team use data to target prospective students at USC:
As part of their active listening, Juntae's team recently noticed questions popping up about dorm life at USC and quickly decided they could turn this potential problem into an opportunity. The team created a series of YouTube videos crafted after the popular MTV series Cribs and strategically optimized them with the keywords they knew students would be using in their searches.
Just as planned, the videos started to appear in organic search results for prospective USC students and, after also being promoted on the school's social channels, quickly became some of the most popular content on USC's YouTube channel.
More importantly, as part of an incoming freshman poll, many new USC students specifically mentioned the videos as one of the factors behind their decision to enroll at the school. That's how good listening and content marketing can turn into success.
Of course, not all organizations have the budget and resources of a major institution like USC. And that's exactly why Juntae will be speaking at Content Marketing World 2016. His talk, Content marketing with no budget or resources, is designed to help organizations of any size put the best practices of content marketing to work for them.
So, whether you are part of a Fortune 500 company or you're a one-person show, come hear Juntae DeLane speak at CMWorld 2016 this September.
You'll learn firsthand that it pays to be a good listener.
To connect with Juntae, you can find him on Twitter, check out his LinkedIn profile or visit his website today!
Ready to learn more about how a trip to Cleveland September 6-9, 2016 can help you develop into a better listener? Why don't we just jump on over to the Content Marketing World 2016 registration page right now and get your registration started! Don't forget: BLOG100 saves $100!
Posted March 31, 2016 in: Event by Mike Myers
---