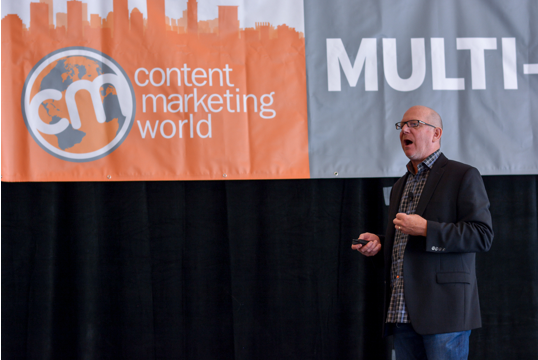 Contrary to popular belief, Glossophobia is not the fear of using too much lip gloss; nor is it the irrational fear of coming into contact with shiny paint.
Originally from the Greek word Glossa, which means tongue or language, Glossophobia is the fear of public speaking — and fully 75% of people in the world today say they have this fear.
But Loren McDonald thinks your brand shouldn't.
A Marketing Evangelist at IBM Marketing Cloud, Loren believes there is a place for public speaking in your content marketing mix. Here he is talking about the value of adding a speaker series as an element of a content marketing program at CMWorld 2015:
As Loren mentions, there are many benefits for a brand that adds a speaker series to their existing content marketing efforts. Here are just a few of them:
Creating positive buzz for you/your brand
By having someone from your company speak at conferences and trade shows, you're presenting your brand as knowledgeable and helpful; two pretty good things to be.
Developing a thought leadership reputation
In addition to buzz, by leading the discussion and offering a point-of-view, your brand is seen as a leader and progressive compared to the competition; again, a great place to be.
Client/customer retention
Finally, having people from your brand — or, perhaps even better, a balance of folks from both inside and outside your company — speak about relevant topics your customers are facing can help retain them as your customers. This is the idea behind successful content curation.
This last point is an important one. So few brands focus on retention today as they try to fill the proverbial funnel. I believe one of the reasons brands have to keep filling the funnel is that there's a leak in the bottom — customers are leaving because companies aren't paying enough attention to them.
For the reasons above and others, a well-designed speaker series can help you retain customers while spending less time and money attracting new ones. Now that's a content marketing strategy we can all get behind.
And you don't need to fear, because Loren will be speaking at Content Marketing World 2016 this September. Come hear about how you can add thought leadership to your brand's resumé by introducing public speaking…without all the fear.
To learn more about Loren, you can follow him on Twitter, check out his blog or connect with him on LinkedIn.
And, now that you've overcome your fear of adding public speaking to your content marketing efforts, why don't we just jump on over to the Content Marketing World 2016 registration page and and boldly go where content marketers are all going this fall…to Cleveland! BLOG100 saves $100 – see you there!
Posted June 14, 2016 in: Event by Mike Myers
---