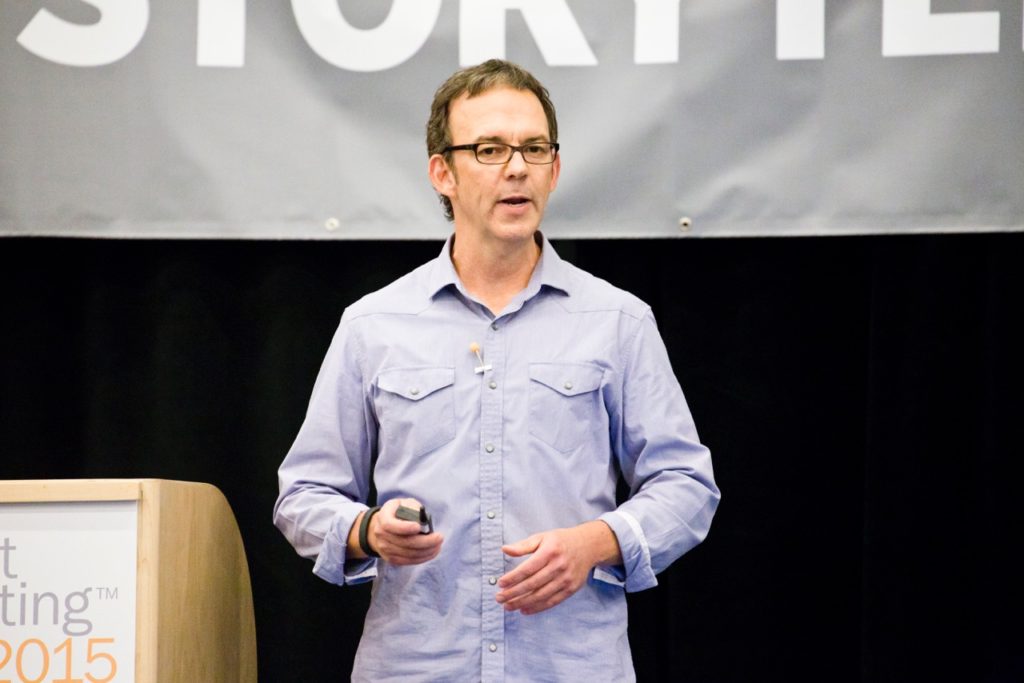 It's an age-old question (if you're, like, nine): can comedy and content marketing work together?
Yes they can, if you're Tim Washer.
Why do I say this? Because comedy is hard. Let's face facts here, very few of us are funny. Unfortunately, most of us think we are (or are in denial about not being funny, like me). Remember, the content part of content marketing must add value or solve a problem for someone.
I ask you, does bad comedy solve a problem for anyone? Short answer? No.
Longer answer: Still no.
But every once in a while, a person who knows comedy — the timing, the language, the structure and cadence, all of it — finds his or her way into the marketing world and magic just happens. This is the case with Tim Washer.
If you don't already know, Tim spends a lot of his daylight hours at Cisco Systems…you know, the server company, helping them with messages that get them beyond being labeled as a server company (because who wants that?).
The rest of his time is spent writing and performing comedy at places as familiar as Saturday Night Live, Last Week Tonight and Late Night with Conan O'Brien, to name a few (I know, right?).
But how do these two worlds intersect? Here's a clip of Tim at Content Marketing World 2015 talking about comedy and content:
Because almost everything Tim mentions is useful (but I don't have that much space) here are a few of the things Tim mentions that are helpful to content marketers:
Fear of making a mistake
He mentions John Cleese's point about how creativity can be killed by the fear of making a mistake. Keep this in mind as you're generating ideas for content…no one ever was harmed — at least as far as we know — brainstorming new content marketing ideas.
Irony
One of the most important points Tim makes here is that irony is a great way for brands to leverage comedy as they create content. This is especially true if your brand is new to the space or, I would add, if you work in a conservative company or a highly regulated industry (or, God forbid, both. Like me, but I digress). Thinking about irony is a rather safe place because, as Tim says, you can look at the pain your customers are having and solve it, creating empathy for your brand.
Juxtaposition
Finally, he also talks about taking two very different things and forcing them together to create something new. It's a great way to develop fun (and often funny) ideas. I mean, marshmallow trappers? C'mon, that's funny (and now you know what the heck juxtaposition means…bonus!).
Another great technique brands can use right away is improvisation. And if you're unsure how to use it, I have good news. Tim will be speaking at Content Marketing World 2016 in September and his talk is called: How to use improv techniques to improve your storytelling.
Now, people. I know there are many good reasons to go to CMWorld 2016. But laughing your way to content marketing fame and fortune by following the advice of Tim Washer? Yeah, it's up there.
We can't all be funny. But we can all learn from a funny guy named Tim Washer.
To learn more about Tim, you can follow him on Twitter, check out his LinkedIn profile or visit his website.
And since you're all ready to become the next comedic content marketer, let's head on over to the registration page and get that next phase of your career started! Code BLOG100 saves $100!
Posted May 5, 2016 in: Event by Mike Myers
---