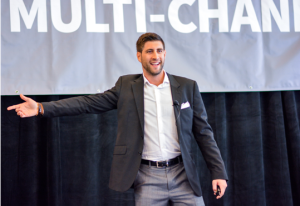 In the marketing world, there are people who talk about personal brands…and then there are those who just go out there and create one.
Jay Acunzo is the latter.
Do you know how he does it? Did his great-great grandparents leave him an awesome personal brand in their wills? (Imagine that, "We bequeath to our yet-to-be-born great-great-grandson a personal brand that will rival all personal brands. Whatever a brand is.") Um, no.
His secret? He hustles. And we're not talking about the cheating/lying kind of hustle; but the hard working, always-up-to-something-good kind of hustle. That I-should-be-listening-more-to-this-guy kind of hustle.
And, yes, you should be listening to Jay.
Want some proof? Check out the video below from CMWorld 2015 where Jay talks about the quality versus quantity debate in content marketing (and his mom's sauce):
Of course, he argues that there should be no debate. People want — in fact, they deserve — great content and lots of it (just like his mom's sauce). That appears to be one of the things that motivates Jay to do all that he does. And he does quite a bit:
During his mild-mannered hours, Jay is VP of Platform for NextView Ventures. Previous daytime activities included Hubspot, ESPN and some website named after a number 10 with 100 zeroes after it.
During his superhero hours, he writes an almost weekly apology for marketing itself over at his personal blog, Sorry for Marketing. And, coming in the spring of 2016, he's creating a podcast that is, as he says, "for content creators bothered by suck." It's called unthinkableFM and you should be listening to that, as well.
Of course, you don't have to do the same things Jay does to develop your own personal brand. In fact, that wouldn't make sense (and would be weird). But, what does make sense is to learn from people like Jay who have this personal brand thing figured out.
As it happens, we have a great way for you to do just that — he will be speaking at Content Marketing World 2016 this September so there's your reason for attending. In fact, he's presenting twice in the same day (cough, over-achiever, cough), so you have two chances to catch him.
His first session is called The Content Talent Crunch: How We Hire, Train, Nurture; and his second session is called Unthinkable: How the Most Prolific Content Creators in the World Write and Create.
Allow us to recommend them both. See you there?
To connect with Jay, you can find him on Twitter, check out his LinkedIn profile or visit his blog today!
Ready to learn more about how content marketing can help your personal brand? Why don't we just jump on over to the Content Marketing World 2016 registration page right now and get started! Code BLOG100 saves $100 – don't miss out!
Posted March 17, 2016 in: Event by Mike Myers
---