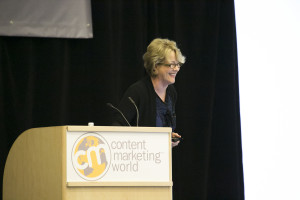 We all know television isn't what it used to be. Technology has both helped — bringing the talkies to the masses through things like cable and streaming video — and also hurt, allowing those same masses to avoid the advertising messages that help pay for it. Time for a new business model.
Enter content marketing, where brands create their own messages and broadcast them directly to their own audience on their own channels, including video! (PSA: rumor has it people are sort of infatuated with this video thing, so we all need to figure out how to create great video messages as part of our content marketing program).
That's where Maggie Burke comes in.
At Content Marketing World 2015, Maggie will be helping us figure out how we can create and distribute our own video content when she presents Building a Better Video Team for Broadcast and Storytelling Success. If you're like us and think this video thing might just catch on after all, you will definitely want to hear Maggie speak because she has a unique perspective that can help.
She understands technology, having worked as creative director for Symantec. And she also understands how to craft a story that audiences will tune in for, having worked on the broadcast side as a correspondent for CBS News. Today, Maggie is Senior Director of Corporate Marketing for EMC TV, where she and her team develop the stories themselves, creating a new breed of corporate television.
She's a big fan of brands creating video messages in-house, so she's spent a lot of time learning the best ways to make that happen. Fortunately for us, she will be sharing these insights with the CMWorld audience.
"I believe it's strategically important to have an internal core team that can create video content," Maggie has said. "Nobody understands your core business and the core messages like an internal team."
From hiring recommendations and finding on-air talent inside your company to creating the kind of studio that's right for your brand and budget, Maggie can help you take your video content to the next level.
Maggie's session is designed to help you find a way to give your brand a human face. Because, at the end of the day, it's all about helping you bring great stories to your audience.
"Finding and telling really compelling stories…that's the greatest legacy there is."
To learn more about Maggie, see her bio page on our website, visit the EMC TV website or connect with her on Twitter.
We hope you can join us at Content Marketing World! And don't forget to use the code CMI100 to save $100 off of your registration, but you have to do it by September 4 before online registration closes. See you soon!
Posted September 2, 2015 in: Event by Mike Myers
---