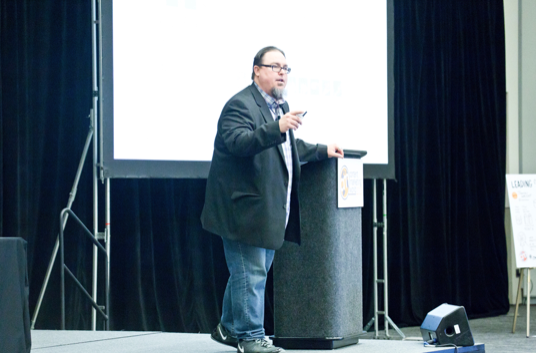 People talk about fat stacks of cash. They talk about stacks of pancakes and they about stacks of books over at the library. But if you want to optimize your technology stack, there's just one guy you need to talk to, and his name is Travis Wright.
Once a Technorati at Symantec, Travis knows his way around today's modern marketing technology. He's given more than 50 keynote presentations on MarTech at conferences as varied as SMX, the MarTech Conference, Social Media Strategies and, of course, Content Marketing World.
And, in case you haven't noticed, today's content marketing is powered by technology. The downside, of course, is that there are so many tools for doing so many things that it's easy to become overwhelmed. It's important to have someone who can show you the way.
What you need is a guide, a docent — a MarTech sherpa — who can help you learn what you need to know without feeling intimidated or just plain exhausted.
I'm here to suggest that your MarTech sherpa may be Travis Wright.
Travis has experience with companies large and small. He's consulted with many of the Fortune 500 and, as the Tech Tools for Entrepreneurs columnist at Inc. Magazine, he understands the start-up world, as well. And, here's a little known fact, Travis is also a stand-up comedian. So, learning about technology from him just became that much more entertaining.
I can hear it now, "So, a server walks into a bar…"
But seriously, if you're somewhat new to the content marketing space, you may be a bit intimidated by all the talk of optimization, mobilization and marketing automation. If that's you, I would recommend a hearty dose of Travis Wright.
Here's a small dose of Travis from #CMWorld 2015:
Naturally, the best place to get that hearty dose of TW is at Content Marketing World 2016. Travis will be presenting: How to Develop and Execute a Social Business Strategy. Now who doesn't want to get in on some of that action?
And who knows, maybe his CMWorld 2016 presentation will be just the boost your career needs to take you all the way to the fat stacks of content marketing fame you deserve.
If not, I'll bet if you decide to work with him afterwards, he'll at least buy you a stack of pancakes.
To learn more about Travis, you can follow him on Twitter, check out his LinkedIn profile or visit his website.
And since you're all ready to get your own fat stacks of content marketing greatness, let's head on over to the registration page and get you some! Do so before May 31 to take advantage of early bird pricing…PLUS, code BLOG100 saves an additional $100!
Posted May 12, 2016 in: Event by Mike Myers
---