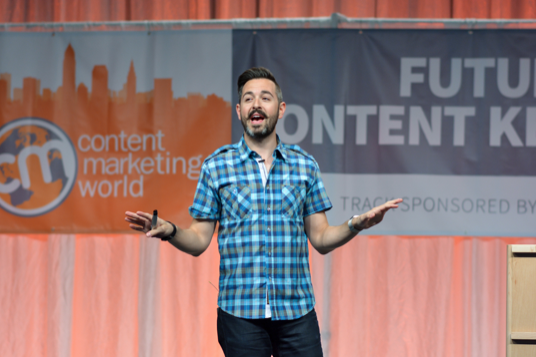 Anyone who bills himself as the Wizard of Moz has some explaining to do.
And, once you hear the explanation, you'll understand why Rand Fishkin, once the CEO of the software company first known as SEOMoz, is worthy of his title.
Let's start at the beginning. Rand co-founded the company that today is known simply as Moz after dropping out of the University of Washington just two classes short of a degree (I'm guessing it may have been the last time he didn't finish something).
As CEO of Moz for more than nine years, he grew the firm into one of the leading software and educational companies in the exploding search engine optimization (SEO) field, quickly becoming the go-to source for tools and insights about how search engines work.
But he recently stepped away from that role to become what he calls an individual contributor.
Now, what you and I may call an individual contributor is what the rest of the search engine marketing world calls a wizard, because Rand understands how search engines work like few others do.
Fortunately for all of us, he shares this knowledge, like he did last year at Content Marketing World 2015 in his talk about Advanced SEO Practices:
Perhaps now you see why he's the Wizard of Moz.
It takes quite a leader to decide to step away from running the company he built and move back into product development and marketing; but that's exactly what Rand did. And the search engine marketing and SEO space is much better for it.
Another example of his giving back — let's call it educational philanthropy — is a series of weekly instructional videos he calls Whiteboard Friday.
These fun, quirky messages built around (you guessed it) a whiteboard are so packed full of insights that I typically watch them two or three times before I leave. And they routinely earn more than 100 comments from pros in the field. Talk about great learning.
If you're not watching Whiteboard Friday, you definitely should start.
And if you want to keep up with the almost-constant rate of change in the SEO and search engine marketing space —as all content marketers should — you need to be listening to the Wizard of Moz.
Of course, one of the best ways to listen to Rand is to hear him speak live and in-person, and that opportunity happens again this September when he will speak at Content Marketing World 2016. This year, his presentation is called: The Absolute Most Up-to-Date Presentation on What the Heck is Going on With Search Engines.
And you don't have to be a wizard to know that's going to be good.
To learn more about Rand, you can follow him on Twitter, check out his LinkedIn profile or visit his company's website.
And since you'll be so much better-informed about SEO, let's head on over to the registration page where you can register by clicking on the registration link and registering for CMWorld 2016! Do so before May 31 to take advantage of early bird pricing…PLUS, code BLOG100 saves an additional $100!
Posted May 24, 2016 in: Event by Mike Myers
---