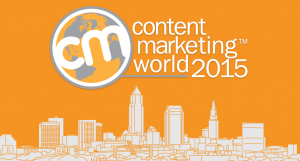 You may be thinking to yourself – "Content Marketing World is 28 weeks away. I have PLENTY of time to register!"
While that may very well be true, you know the saying, the early bird gets the worm. In this case, we're going to give you three great reasons on why you should wrap up your registration this month with a big orange bow. Here's why:
Super Early Bird rates are still in effect, but hurry! Rates increase on March 1, 2015, so be sure to register by February 28.
$100 off in addition to the Super Early Bird rates! This takes you back to our 2014 pricing, and come March 1, those rates will not be coming back. Use code CMWSOCIAL to receive the $100 discount at check out.
In addition, anyone that registers for CMWorld before 2/28/15, including those that registered as far back as December, will be entered into a drawing for a 3-night hotel stay in Cleveland during CMWorld.*
Returning CMWorld attendees – you'll love our agenda – with intermediate and advanced sessions, eleven customized tracks, and even more brand practitioners for practical and relevant information for you.
New attendees – our workshops, customized sessions and industry labs will get you up to speed and on par with your industry counterparts quickly.
Connect with us in the meantime via twitter, Facebook, or our LinkedIn group, and join us Tuesdays at 12pm Eastern for our #CMWorld twitter chats. The buzz is already happening, especially in regards to our keynote speaker. Have you seen the news?
Questions? Leave us your question in the comments, and we'll get right back to you. Download our Justify your Trip letter for quick approval from your management. Or as always, email us so we can help! See you in 28 weeks!
*The 3-night hotel stay drawing is open to anyone who registers for Content Marketing World 2015 between 12/1/14 – 2/28/15. If the winner's hotel has already been booked, CMI will book the winning hotel stay for you and notify you when you should cancel your paid hotel reservation.
Posted February 19, 2015 in: Event by Cathy McPhillips
---