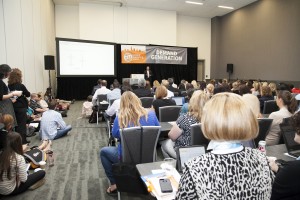 Are you interested in growing your audience by taking visitors to your website, social media channels and such and turning them into leads? What is the right way to start the demand generation process? How do you reach this new audience efficiently and effectively? Hear from four experts in the area of demand generation – to get you started, and to keep you on the path to success. All levels of content marketers can learn from this track at Content Marketing World! Take a sneak peek at their sessions:
Audience Building Strategies from One of the Largest Book Publishers on the Planet
How do you find the right audience? How do you get them to engage with your content? And, most importantly, how do you turn them into paying customers? Using proven strategies from the online publishing and digital entrepreneur worlds, Eric Shanfelt will show you how to build massive online audiences that are passionate about your content … and your products! This will be a great one for the CMI team to learn from – as we don't have the traditional sales funnel from marketing to sales. Publishing can follow many B2B or B2C strategies, but it's *just* different enough that hearing from a publisher will be really useful.
Tracking the Elusive Content Funnel (Measuring Content and its Effect on the Sales Cycle)
I'm really excited about this one. Not only is Mickey Mencin a Clevelander (we need to stick together, right?), but I had the good fortune to listen and learn at Content Marketing World's Executive Forum. Mickey is at Hyland Software, and runs a content team (as well as a social team, creative team and media team!) It's been great to see Hyland do so well because of the processes and strategies they have in place.
Measuring content is hard.  Figuring out which content is most effective in the sales cycle is even harder. Mickey will address why Hyland's Corporate Communication's team is passionate about content effectiveness, the methods the team is using to track and measure content, and results, learnings and frustrations along the way.
The New Customer Journey: Why Content Defines How Consumers Meet, Engage and Return to Your Brand
Today's consumer journey is constantly evolving and marketers need to understand how to reach their intended audience with impact. Marketers have an opportunity to engage consumers at a deeper level throughout the journey by sharing the content that matters most to them. By best understanding where their customers are and when to best reach them, marketers can now have a greater impact than ever before.
Plan on attending this session to learn how the customer journey has evolved over time and how to best know when and how to reach their audience, why content can best impact how customers choose to engage with your brand, and the effectiveness of marketing efforts along the customer journey and how to best improve and prove ROI along the way. Who better to share this message than Shafqat Islam?
How to Ensure Influencers Deliver on Your Content Marketing Objectives
Learn some tips on how to leverage working with influencers. Get beyond what you already know – how they need to be the right "fit" for your brand – and start thinking about whether or not you have enough rights to re-purpose the content; if it's ok to pay influencers; how much you should pay them, if you can ask for data from their channels and strategize about where the content should be hosted or when it should be published. Hear the pro's and con's of working with agencies like Maker Studios that specialize in finding, negotiating and managing talent as well as working with influencers directly.
Tips that will help you get authentic stories that really leverage your investments in advocacy and deliver on your content marketing objectives.
Hear from speaker Gloria Loree, Executive Director, Global Marketing, Canadian Tourism Commission.
Visit our website to see all of the sessions in our demand generation track and more speaker information, and be sure to register for Content Marketing World soon! Session selection, new for #CMWorld 2015, means that attendees are selecting sessions upon registration. Don't let the sessions you want fill up! Register now and use code CMI100 to save $100!
Posted July 13, 2015 in: Event by Cathy McPhillips
---