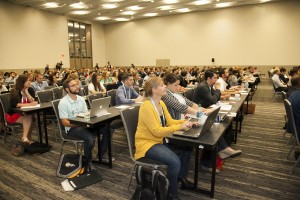 When it comes to naming some of the "stars" of content marketing, our future content keynotes provide a lineup full of them. We're excited that this year we have the entire Cleveland Convention Center, which also includes another session area for some of our more popular speakers – large enough to fit hopefully everyone that wants to listen in! Picture the large lecture halls in college – but a lot more fun! We'll have 8 smaller keynote sessions over the two main event days. Take a look:
Advanced SEO Practices that Will Blow Your Mind
You already know how to get your keyword targeting right, how to attract some quality links, and how to structure your site to be friendly to engines and visitors. Rand Fishkin will examine some of the lesser-known, use-case-specific, advanced, and powerful tactics that can help move your search traffic higher. We'll skip the introductions and the backstories and get straight into the "what" and "how" of advanced SEO.
Attendee takeaways:
How to leverage competitive and market analyses for better performing pages
Ways to both combine and separate URLs to draw in more search traffic
What to try if more links aren't moving the needle
How to take advantage of search results with answer boxes
Lots more!
Good Content vs. Good Enough Content: A Fight for Sore Eyes
OK, seriously. Does Ann Handley always have the best titles? We love this. But it's true! With all of the content out there, we still only have two eyes. How do we deliver not just good content, but GREAT content, consistently?
This is a run-of-the-mill session description about a typical presentation that will deliver good information but in an ordinary, lackluster manner.
Do you want to come to this session, based on that description? Eww. Of course not. Sounds kind of dull, right? So why is it that so much content is like this description's first sentence? At best "good enough." And at worst lifeless and uninspired.  Come to this fun session to hear Ann Handley counsel you on creating content that's engaging, because your audience demands it and your company or organization deserves it.
You'll leave better equipped to:
tell better (and braver!) stories, using stronger, more ripped writing and a unique point of view;
create "best of breed" content to attract the people you want (and repel the ones you don't);
when to be a little outrageous (and when to dial it back);
secrets to inspiring the best work out of writers and content creators;
and finally (for all you skeptics): how to get this stuff approved.
The biggest missed opportunity in content marketing is playing it too safe.  Let's do this!
Why Content Falls Flat (Hint: It's Not You….It's Them…)
We're looking forward to this presentation by the brilliant Mitch Joel. More to come on his presentation! Watch our agenda for more.
Content as Customer Service (or Hug Your Haters)
I was able to see Jay Baer at Social Media Marketing World and hear about Hug your Haters. It's brilliant, albeit simple. But simple doesn't mean easy. Simple means logical – and patient – and kind. Not everyone is suited for this customer service role, but every company needs someone that can embrace this mentality.
Content isn't just about "marketing". With mobile devices and always-on Internet access, customers complain more often and across more channels, many of them public. This requires a new system for addressing these complaints, and smart companies are creating real-time content not to create new customers, but to keep the ones they already have. This is content as customer service, and it's the new way to differentiate your business. Warning: this session includes hilarious examples and proprietary research.
Attendee takeaways:
The difference between onstage and offstage haters
The HATRIX – how and where people complain (and why)
How companies are creating amazing customer service content
How to measure the impact of customer service content initiatives
Social Momentum: The Simple Secret Smart Brands Employ to Turn Regular Content into Extraordinary Success!
I had the good fortune of seeing Andrew Davis for lunch last week when he was visiting Cleveland. Do you want to know the best part? Aside from having a great meal with Andrew and my colleague Joseph Kalinowski, it was listening to Andrew. Seriously, every word he says is meaningful and passionate. Imagine if we all had that inspiration and momentum in our daily lives. Oh – but wait. We do. Or at least we can.
As brands, we're creating more content today than ever before. With every post we publish, infographic we upload, or video we produce we're hoping (maybe even praying) that today's content will be more successful than yesterday's.
It turns out, that some of the smartest brands in the world don't hope for success: they predict it. In fact, their success doesn't come from re-working their content, it comes from re-thinking their distribution and promotion strategy.
In this action-packed, keynote session, best-selling author Andrew Davis, will reveal the secrets to their success. He'll show you how they leverage — no create — social momentum that turns regular content into stellar success
You'll learn how paid, owned, and earned media converge to transform posts into press.
You'll see how to use the Waterfall Effect to drive the attention of the media.
You'll better understand how to leverage the audience you already have to drive tomorrow success.
Engage and Inspire the Media and Millennials with Authentic Story Telling
Have you been to any of CMI's ContentTECH virtual events? If so, then you've heard from Emerson's Kathy Button Bell. Kathy always has useful and tangible examples that can easily be applied to our own day-to-day marketing.
In Kathy's session, see how this $25B BtoB corporation utilized its historic 125th Anniversary to bring dramatic attention to a new STEM program utilizing an unexpected Internet superstar to draw new millennial attention and drive increased traditional and social media coverage.
Attendee takeaways:
The need for relevant and believable higher purpose to earn deserved attention;
How credible Internet stars have unmatched ability to authentically communicate with their devoted audience
How Emmerson used history/respect of 125th corporate anniversary as excuse/access to media/employee attention.
Content Marketer to Chief Marketing Officer: What You Need to Make the Move 
This session is hot off the presses – have you seen the news? This past June, longtime ExactTarget/Salesforce content marketer & AUDIENCE author, Jeff Rohrs was named CMO of Yext. With the new role, we just had to ask: what's your view of content marketing now? How can content marketers better align themselves with their C-Suite? And will we see more content marketers become CMOs in the coming years? Join Jeff as he fields these questions and more to help you speak CMO.
UnEthical: The Biggest Threat to Content Marketing
If you know me, then you know that one of the very first people I looked up to in this industry – reading every tweet, blog post, voraciously reading every book, and now listening to podcasts – was the one and only Scott Stratten. Again, like I mentioned in Jay Baer's session description above, so much of this is so logical. There's not some magic technical formula to success – and there certainly isn't one that should cross any ethical or moral lines. As my mom always said (and still does today), "If what you're doing is giving you pause, you probably shouldn't be doing it. And I'll catch you anyways."
As Scott will discuss in his session, content is being produced and shared faster than ever before. To quench the never-ending thirst for content, marketers are always looking for more efficient ways to produce massive amounts to feed the beast. But when we tip toe over the line of efficient to ethics, we start going down the wrong path, one of which is almost impossible to turn back on.
Attendee takeaways:
How to determine what is efficient, and what is selfish brand engagement within content.
The epidemic of Facebook Freebooting and why it's pointless to begin with and may even break the law.
Influencer content marketing and the trap many brands fall into.
Most importantly: How to do content marketing right. Engaging, quality and ethical.
For even more information on the future content keynote sessions, find out more information on our website. Also, registrants have the first pick on session selection – so don't wait! Register today. Don't forget – CMI100 saves $100 off of your registration.
Posted July 2, 2015 in: Event by Cathy McPhillips
---