Over the next few weeks, we'll be featuring some of our favorite content marketing examples by industry, for those of you planning on attending Friday of #CMWorld, our industry lab day. We hope these examples give you some food for thought as you prepare for Content Marketing World 2016!
(Please note: All brands shown below may not be represented at Content Marketing World, these are just some of our current favorite examples.)
 If you're a marketer in the travel industry, you probably consider yourself lucky to have such a vibrant and desirable topic to focus on. But it's highly likely that you consider your job to be incredibly challenging, too. There's certainly no shortage of flash sales, promotional packages, freebies, discounts, and deals clamoring for your audience's attention, which makes it increasingly difficult to distinguish your offerings from those of your competition.
In the video introduction for his upcoming Travel, Tourism and Hospitality Industry Lab at Content Marketing World 2016, bestselling author and former agency executive Andrew Davis asserts that the most successful companies in this sector are those that market the places they do business, rather than the business they do. So the secret to success might just lie in how you use content to connect with your audience and bring them to all the places they want to go – in the real world, as well as virtually.
Whether you are creating B2B or B2C content in this space, there are plenty of ways you can add value, subtract stress, or otherwise enhance your customers' real-world journeys – before, during and after they've reached their destination. Here are a few examples of businesses that have found creative ways to deliver memorable travel-related content experiences.
Example 1: Marriott's Snapchat Travel Journals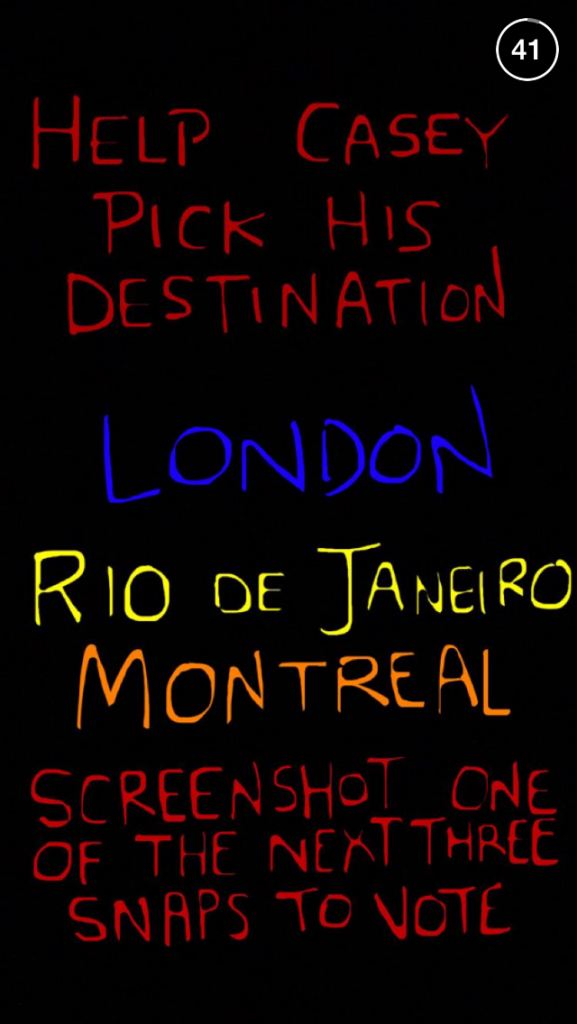 If you want to reach digital-savvy millennials, it helps to speak their language; and right now, their communication medium of choice is often visual messaging.
In an effort designed to attract younger travelers, Marriott recently partnered with millennial-friendly Snapchat influencers, who were hand-picked to travel to popular Marriott properties – which were chosen by their Snapchat community members. The influencers then used the micro-messaging platform to document everything they experienced on their journeys, so they could share all the memorable moments of the adventure, in real time, with Marriott's followers, as well as on their own personal platforms.
Example 2: Expedia and St. Jude's Hospital's Dream Adventures
Not only can travel-related content help audiences discover new destinations, it can take them on emotional journeys, too.
Though cancer-stricken children undergoing treatment at St. Jude's Children's Research Hospital may not be able to experience the energizing effects of travel first-hand, Expedia found a way to bring the world to them. As the above film demonstrates, through the use of virtual-reality camera technology, interactive live-streaming, and a specially built screening room, Expedia's Dream Adventures took St. Jude's patients on explorations of places like jungles and exotic seascapes, and helped them transcend their physical limitations by expanding the boundaries of their imagination.
Example 3: Tourism Australia's 360-degree experience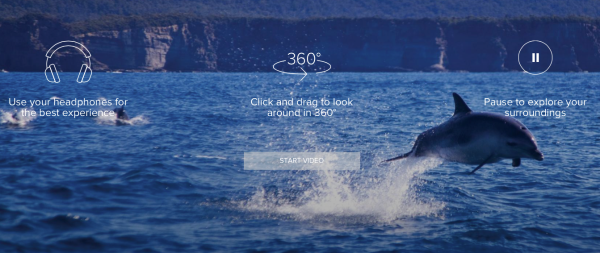 Providing key insights and advice that help consumers make more satisfying travel choices will almost always reflect well on your brand's value proposition.
Riffing off its tagline that Australia is a place "you don't just visit, you feel," the official website for Australia's tourism agency has created a series of stunningly realistic 360-degree scrolling videos that simulate an action-packed vacation experience at some of the country's iconic adventure spots. From swimming with a pod of playful dolphins in Tasmania to snorkeling along the Great Barrier Reef to feeding marsupials on the shores of Kangaroo Island, each video is designed to entice tourists to explore Australia's exotic shores for themselves – virtually first, and then in person.
Example 4: Orbitz's Perfect Match Quiz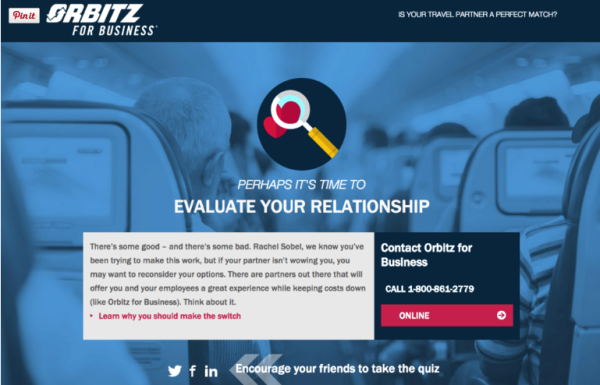 When you are traveling by necessity, rather than by choice, the level of service and the convenience they offer are two critical factors when it comes to selecting the best vendor to work with.
Orbitz for Business capitalized on this by creating a quiz that shows business travelers just how compatible they really are (or aren't) with their current travel service provider. Users whose results indicate dissatisfaction are served a message that's personalized to the pain points they provided and a little encouragement to consider Orbitz as a solution to improve their travel-planning experience.
Example 5: Westin's Out of Office Generator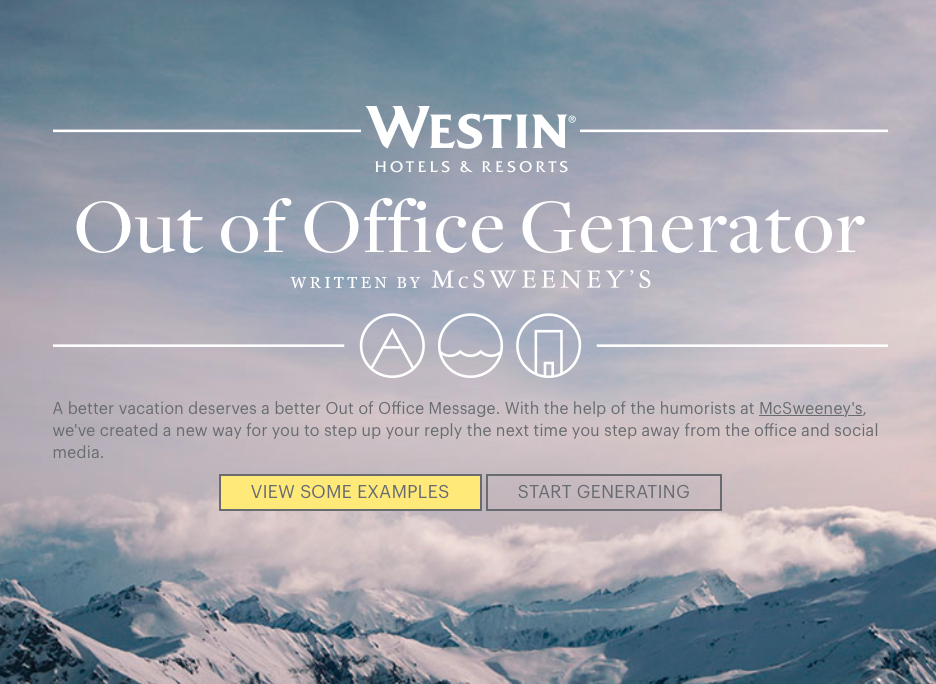 Out of office emails started as a simple way to manage the expectations of clients, customers, and other contacts when you aren't available to respond to their messages; but they have grown to become a way to creatively express your personality while emphasizing your commitment to their needs.
Trying to conceive of just the right message can pile on the pressure – especially when your pre-vacation to-do list is already a mile long. Thankfully, you can easily cross off this creative task with a little help from Westin. By partnering with the master humorists at McSweeney's, the travel brand's helpful tool provides clever little anecdotes that can be used to suit any out-of-office experience, and do so with memorable style.
Looking for ideas and insights to take your travel content to the next level? Don't miss the Travel, Tourism and Hospitality Industry Lab at Content Marketing World 2016.  BLOG100 saves $100. Register now!
Posted August 10, 2016 in: Event by Jodi Harris
---