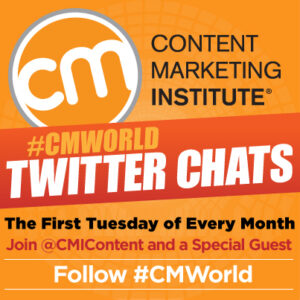 Want to discuss the latest trends in content marketing and get advice from some of the experts? Each month, join CMI (@CMIContent) and a guest as we discuss key content marketing topics. Simply follow #cmworld on Twitter to join the conversation. All chats are on Tuesdays from 12 PM – 1 PM ET:
8/2/2022: How to Craft Stunning Content When You're Out Of Creative Juice with Karen Hopper (@nochillfilter)
8/16/2022: Twitter Spaces Chat – Purposeful Marketing with Karen McFarlane (@karenkmcfarlane), Sydni Craig-Hart (@sydnicraighart), and Jacquie Chakirelis (@jacquiechak)
9/6/2022: Gaining Visibility for Your Content with Michelle Garrett (@PRisUs)
10/4/2022: TBD
Tweet us at @CMIContent for speaker suggestions or topic ideas for upcoming chats. We would love to know what interests you and who inspires you!
Previous Chats
7/5/2022: Influencer Marketing with Ashley Zeckman (@AZeckman)