One of our favorite platforms for interacting with the CMWorld community is Twitter. We have genuine conversations. (I'm usually the first to know about job promotions and sick children home from school.) We receive immediate feedback from community members. They bring their expertise to the table and share valuable content with us.
Growing our community did not happen overnight. Think trial-and-error. To this day, we're learning and evolving how we use the platform.
But how can you connect with others and maintain those relationships in 280-characters? In our monthly community tips series, we invite brilliant people to give their advice for better content marketing. This month, we bring you Twitter tips from Bernie Fussenegger, host of the #Digital360Chat.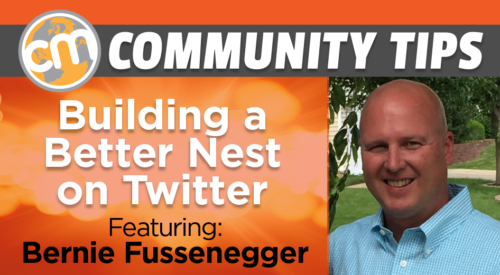 Bernie's journey to content marketing
My content experience started when I was in college studying Graphic and Advertising Design at the University of Dayton. Some of the main takeaways from my design classes included me asking "who was my audience?" and "what was the appropriate content for them?" This was my preparation for a content marketing career, and I really didn't know or understand it at the time.
It wasn't until I was working for the Cobb Group (in Louisville, Kentucky) in the mid-90s when I finally got to rely on what I learned in college. I was building web banners for self-help guides for entry level users of programs such as Lotus and Microsoft Word.
I moved on to work for Humana. I made the career decision to move from print design to web design. I began immersing myself into as much web design, html, and coding that I could. Many of the same content marketing principles still applied but in a different format and in a more real-time environment – the internet and web. It was so cool to create something and then push it live in seconds and being able to see customer react.
From Humana I went to Papa John's Corporate in 2000 as a Web Designer. Content marketing continued in this role with external audiences. But now, I added internal audiences. Up until last year, I led the eCRM (email, SMS and mobile push) programs, created website promotional content on our web and native apps, and managed content/offer calendars for these programs. This was the ultimate in content marketing – across multiple channels with lots of A/B testing, looking at data, making revisions, and repeating it.
Since last May, I moved into a new role on the Product Management team, leading our Customer Identify and Commerce APIs. Here, I looked at customers, data, and the tools needed to better market and communicate to our customers for the business. I was really being part of the backend to help with better content marketing and being more relevant based on the data and having the right tools to execute.
Also, since 2000, I have freelanced in digital and social, had many different web concepts, and continue to work with smaller brands on their content marketing. This has enabled me to learn, stay on top of my game, and do programs that I don't have the opportunity to do at PJs.
Pretty much all of my career has been some sort of content marketing in both print and digital.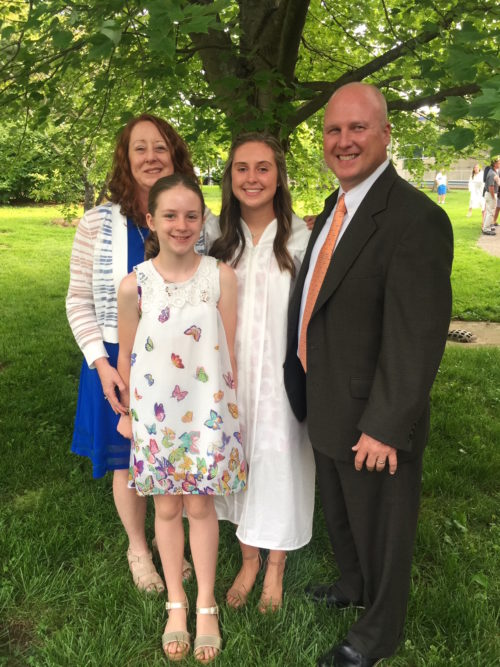 Bernie's biggest achievement to date
In my personal life, what I'm most proud of is getting married, having two wonderful girls, and watching them grow into who they are today. It is also being a positive example for them in showing them how to respect others, how to welcome others, and how to treat others like you would like to be treated. It has been very important to instill values, set goals, be flexible, and to lead, not follow.
Professionally, when I was overseeing the eCRM programs at Papa John's, I built a diverse team and was able to coach and lead, get out of the way, and let them perform at the highest level. It has been very satisfying to see them advance and grow as individuals and team members.
If Bernie had one extra hour a day, how would he use it? 
If I had one extra hour a day, it would be to spend even more time with my family. As with most people, you wake up in the morning, spend a few minutes with the family, go to work, work all day, and them come home. By the time you get home, you really only have a couple hours with the kids and most of that time is busy getting them ready for the day. One extra hour a day with no distractions would be priceless. Time does go way too fast, and when you have kids, it goes even faster. You only get one "once." Make the most of that time, don't miss the special occasions or the first-time events; you never get that chance again. Work will always be there, but those first opportunities will not be. Keep in mind, you will be remembered for what you did with your family. No one will remember what you did for work.
Bernie's 3 tips for using Twitter to grow a community
Become part of other communities first before building your own.Build relationships, engage, and add value. Be aware of what is working and keeping people engaged. Some of the best communities on Twitter today are Twitter chats, such as #CMWorld. Think of chats as the ultimate community in which you usually have:
A guest as the subject matter expert
A host
4-8 questions centered around one topic in which 5-100 peers are sharing their thoughts
Comments and recommendations around those questions in REAL-TIME
There's nothing like value you can get from Twitter chats. Twitter chats changed my entire approach and understanding of Twitter, in a good way. I really began to understand what it means to be social instead of being on social. There is a big difference in how you engage, share and interact with others.
#CMWorld was the first conference that I attended where I went by myself and didn't know anyone in-person. (All the other conferences I had gone with someone or already met in-person many people prior). But because of being active in Twitter chats, engaging with others, being respectful of others, and adding value, I got to meet IRL many people I had met in chats. I had the best conference, got the most out of it, and got to spend lots of quality time with some really smart and talented people that I finally got to meet IRL. GREAT EXPERIENCE and glad to be part of the community.
2. Post engaging questions.I have worked over the last couple years on the right type of content and the best way to engage with others. At first, it was posting quotes and images. Many of those were inspirational or motivational in nature. The next phase I went through was to start sharing my professional experiences and knowledge with others. This is when I began to understand where I needed to concentrate my time to grow my following and add real value to others. This has now evolved again into where I like to post a couple discussion-worthy topics (digital, social, branding, etc.) each week to get insights, thoughts, and different points of view.  This has enabled me to meet even more like-minded professionals. I'm also able to take the engagement to the next level with those I'm connected to. I love the engagement and sharing part more than anything. You don't have to help thousands of people; if you can help or touch one person, it is worth it.
3. Build your own community.In building you own community or chat, you need to keep in mind it is about the community and not yourself. This is not a selling tool, but a way to share, engage, contribute, and get others involved, providing value. It is from here I decided to develop the #Digital360Chat, centered around digital, social, customer service, and marketing. With lots of feedback from others (which I constantly ask for), I have made adjustments to make the community even better. The chat has evolved over the last year – from being once a month with a digital topic to every Friday with one major change. That change was to be a little different from other chats and to feature a guest to talk about THEIR career. I wanted to know how they got to their current position, the steps they took along the way, and to get to know them better. I wanted to know (and share) how their careers progressed, what they were most proud of, the advice they have for others, and to showcase that person to my community.
Want to connect with Bernie? Visit his website, follow him on Twitter, or tweet with him Tuesdays on the #CMWorld chat and Fridays on the #Digital360Chat.
Are you interested in being a special guest? Have a great topic suggestion? Submit your ideas in the comments below. Check out the speaker lineup or catch up on past chats on our Twitter chat page.
Posted October 11, 2019 in: Event by Monina Wagner
---