Have you ever gone on a bad first date? Maybe there was zero chemistry. Maybe the conversation was one-sided. Maybe they talked a little too much about their ex. No matter how disastrous, you must decide if this bad first date is worth a second chance.
When I first established an online presence, I was that bad first date. I wasn't thinking about starting any kind of relationship. Post a question on a message board and get an answer. Share what you're thinking (writing in third person, of course) and hope for a "like." It was pretty cut-and-dry. I felt less than fulfilled and wanted to give up.
But a decade later, my thinking has changed. That was largely because of people like Martin Lieberman.
I first met Martin on the #CMWorld Twitter chat. Martin, an enterprise content marketer and social media manager based in Boston, was – and still is – an active member of our community. He not only contributed valuable marketing insights, but he would be the first to say a friendly, "hello." Relationships he built online grew into real friendships.
The strength of community lies in the strength of the connections we have. But how does one build – and sustain – that bond with others online? We took Martin's lead and started a conversation him. Here he shares how he develops meaningful relationships that matter.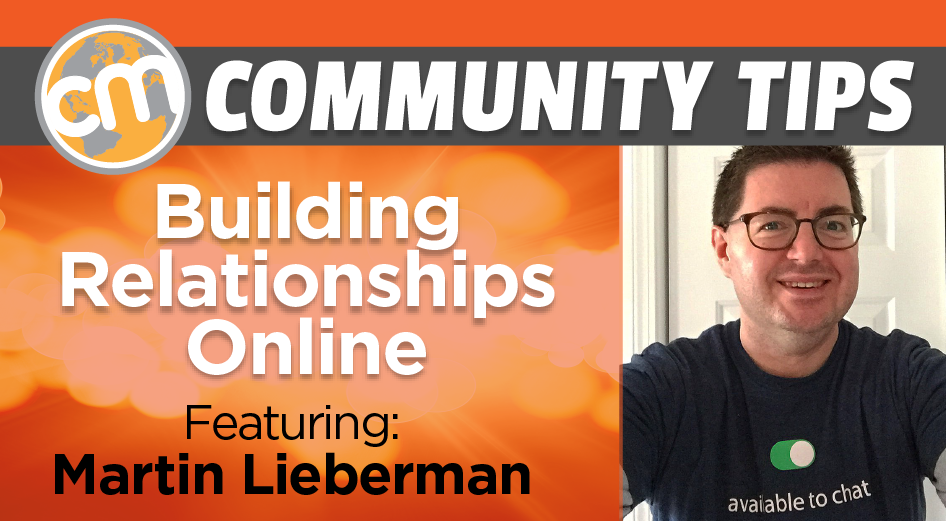 Martin's journey to content marketing
Honestly? It was kind of pure luck. A natural progression of how my career was evolving. I started out in conventional journalism and publishing (offline and online), and then in 2001 I joined a "custom publishing" company. (That's what it was called back then. Custom publishing.) I was the managing editor for brand publications, such as Continental Airlines' inflight magazine and Professional Collector (for Western Union). It was my first exposure to content programs with a marketing angle, and I learned a lot that I was able to take to my next job as the first-ever in-house managing editor for an email marketing company, where I oversaw the blog, white papers, case studies, videos, and more. While I was at this job, "content marketing" became the buzz term, and suddenly, what I was doing for work had a name.
It was also during this time that social media as a marketing tool became a thing, and my employer's focus broadened. This allowed me to build on the foundation I had as a journalist and learn as I went along — and just as important, to begin using Twitter, Facebook, LinkedIn, et al not just as a way to share content, and not just to advocate for my employer, but to be a member of the email marketing community — and the marketing one, just in general. Among other things, I'd go to conferences and live-tweet, thus introducing me to industry peers and others. It was at one of these conferences that I met Joe Pulizzi, and that's how I learned about CMI. The rest, as the saying goes, is history.
Martin's biggest achievement to date
I'm very proud of a lot of the work I've done, from launching (and relaunching) blogs to being a speaker at multiple events, and more. But at the risk of being cheesy or cliché, I think my biggest achievement is the one that straddles my professional and personal lives, and that's the relationships I've been able to build with industry peers and coworkers, which social media has helped enable. I've collaborated with some of these people on blog posts and other content, I've been interviewed for podcasts, and I've been referred for freelance and full-time work opportunities thanks to the community I've built — sometimes before I even met the people offline.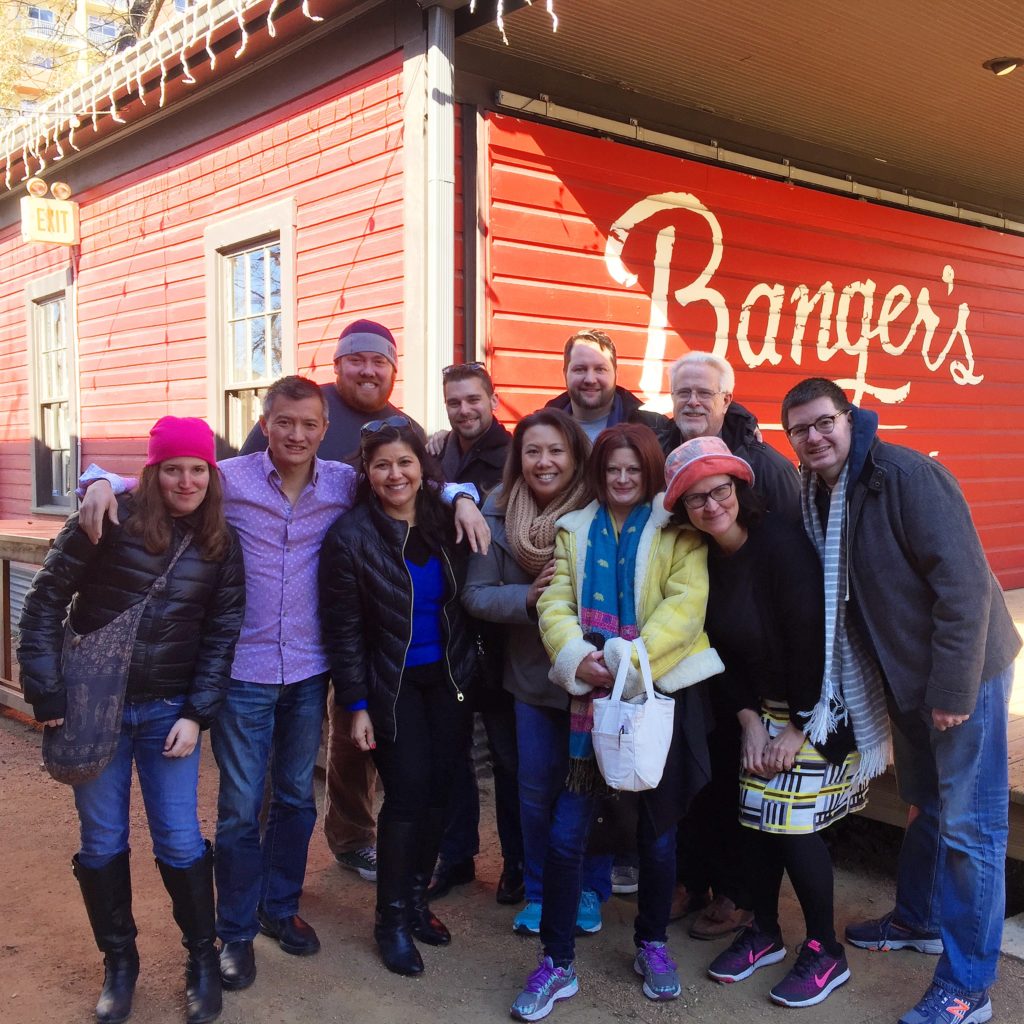 And those relationships are more than professional: While we may have started out as peers or colleagues, or simply, other professionals (I don't only interact with marketers), the conversations we've had (online and off) have allowed us to become actual friends. I've traveled specifically to meet up with folks I've gotten to know thanks to social media (shoutout to #socialroadtrip!), I've dated people I met on Twitter, and I talk with some of my so-called "social media friends" more often than I do some friends I've known for longer lengths of time. Point is: By focusing on engagement, I've been able to build relationships that transcend social media. And that's something I'm really proud of.
We know Martin enjoys going to the movies. So, we asked him to share a movie he enjoyed that not a lot of people have seen.
That's a tough one. There are a lot, unfortunately. (Ha!) Given the audience here, I'm going to say Ingrid Goes West, which came out two years ago and was one of my favorite films of that year. It's a pitch-black and very funny satire of the current Instagram culture that stars Aubrey Plaza (Parks and Recreation) as an unhinged stalker who moves to Los Angeles and ingratiates herself with an "influencer" (Elizabeth Olsen, from the Avengers movies) who is fond of avocado toast and documenting her seemingly perfect boho lifestyle. The movie skewers those on both sides of the screen and more than earns a double-tap.
Martin's 3 tips for building relationships online
Note: Martin was very clear. He insists there are no "hacks" when it comes to relationship building on- or offline. Martin says it takes time, but it's worth it. With that in mind, he gave us this advice.
The first tip I have is to shift your mindset from "audience" to "community." Your goal on social media shouldn't be to push content atpeople, it should be to communicate with Sharing content isn't a means to an end, it's a vehicle to start a conversation. So, for example, when you share content, don't just share the headline and URL; anyone can do that. Do it in a way that makes your share unique: Add context that will attract people to you and make those people interested enough to reply to you. Then continue the conversation you've started.
Pay attention. If you wait for people to mention you before you interact with them, you may never find anyone to interact with. Use tools like Hootsuite or TweetDeck to actually listen to what people are sharing and tweeting about, and then, if you see something that interests you, reply to that person. Even if you're not mentioned. And even if it has nothing to do with what you do for work. If you demonstrate that you're interested in other people, they will be interested in you, too.
Be genuine. I know everyone likes to use the word "authentic," but I prefer genuine. To me, authenticity has become too much of a buzzword, and its meaning has become diluted. On the other hand, being genuine means who you are on social media is simply an extension of who you are offline. You're not solely focused on maintaining a "personal brand." You're not concerned with having a "presence." You're not giving advice that you don't actually follow. You are who you say you are, and it shows without you having to point it out.
Take that first step in building a new relationship online. Follow Martin on Twitter. If you're reading this post on its original publish date (June 7), be sure to wish him a happy birthday!
On the first Friday of every month, we share marketing advice from our community. Want to be featured? Let us know. And be sure to check out expert tips from Gabriela Cardoza and Dan Willis
Posted June 7, 2019 in: Event by Monina Wagner
---