We have all been there. You come across a content conundrum. You seek suggestions from your team. The advice is invaluable, but sometimes, you need a little more. Where do you turn?
If I find myself in this position, I turn to the CMWorld community. Why? Its members, with diverse backgrounds, work in various industries, and offer a wide array of experience. They possess one common characteristic though; our members are passionate about content marketing. Each member has a story behind what sparked their desire to work in content.
In the upcoming months, we will introduce you to some of the smartest marketers we know. We ask them about their journey to content marketing. They will also share their expertise, giving us three tips for others in roles like theirs.
First up is Gabriela Cardoza. Gabriela works with academic institutions on content marketing strategy and execution.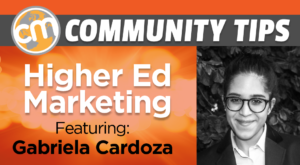 Gabriela's journey to content marketing
Content Marketing has always been a critical component of what I do.
My first experience with content marketing came via the Spanish government. My senior year of college I was an intern to a presidential advisor. I was tasked with conducting market research and crafting the party's branding and marketing efforts for the upcoming elections. That is what sparked my interest in content marketing!
I went on to get my master's [degree] in visual and digital media management. My areas of interest, and my dissertation, focused on the intersection of branding, marketing and entrepreneurship. Content marketing, in a lot of ways, serves to unite those fields.
A few years later, I began consulting with both corporate and personal clients around the world, and I quickly realized just how powerful content marketing can be. It's incredibly effective, and it can have a tremendous impact on the success of your business.
Gabriela's biggest achievement to date
My biggest achievement to date is my personal brand. I am quite proud of how authentically I am able to represent who I am, what I stand for, and what I have to offer online and off. There's no better feeling than hearing someone say that I've been of value to them.
The nerdiest thing Gabriela does in her free time
I love reading case studies! I find it fascinating to learn about how other businesses found success and/or dealt with failure. There's always a lesson waiting to be learned.
Gabriela's 3 tips for marketers in higher education
Understand all of your stakeholders.

Prospective students
Current students
Alumni
Parents
Faculty
Staff
Partners
Donors
Community members
It's important to not only know their Interests, needs and wants, but to gather insight on their behaviors. That will allow you to better create, curate and deploy your content.
Internally, make sure there are open channels of communication. Silos prevent you from accessing the information, resources and support you need to perform your job well. Within higher education, there are so many key players that either have impact on, or impacted by, the work that you do. Fluid communication between your department and others, can help ensure that you are working towards a common goal and that all institutional needs are being met and/or accounted for.
Don't fail to evolve! Higher Ed institutions are often perceived as stagnant and traditional. The mentality is "well if it's been working so far, why change it?" The reality is your audience, market and industry evolve. Their needs, wants, interests and behaviors change. Therefore, if you as an institution or as a marketer, fail to innovate, you lose relevance, value and the ability serve your audience.
Want to connect with Gabriela? Follow her on Twitter, and find her Tuesdays at noon Eastern on the #CMWorld chat.
Every month, we will share tips from our community members. Make sure to check back to see who'll be next!
Posted April 12, 2019 in: Event by Monina Wagner
---