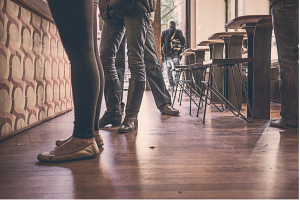 Sponsors, booths and expo halls can make an event go from good to great and memorable. Not only do the sponsors want the best event possible, filled with great conversations and qualified leads, but attendees expect to see top notch vendors and potential partners so that their time at the conference is even more useful. How can sponsors make the most of their time and investment? In an effort to create the best experience for all, we offer our thoughts: 
Should You Sponsor If You Can't Present?
Recently, a B2B marketer asked me if it was worth sponsoring a webinar if they could not have a representative on the webinar's panel of experts. They wanted to be seen as subject matter experts, but without being able to present, they were worried they wouldn't be seen as such.
While being able to have a representative on the panel is ideal for the sponsor, it's not always ideal for the organization hosting the webinar. The organizer wants independent thought leaders on the panel; they don't want it to appear that someone has bought their way in. But fear not, there is still a way your company can stand out.
Many webinar platforms have a discussion feature where attendees chat back and forth with each other. Attendees will comment on what's being said and share their own expertise on the topic. In absence of that feature, or even in addition to it, there is often activity taking place on the Twitter hashtag. You can use these opportunities to leverage your sponsorship.
Have one of your subject matter experts participate in these discussions. Note that I said participate, not hijack. This informal approach can make your company's experts appear more accessible than the panelist because they are part of the conversation taking place. The panelist actually has more limited access to his or her audience.
Thank about it. Would you rather listen to Mark Zuckerberg presenting on behavioral marketing or would you actually get a kick out of participating in an active discussion with him?
Why Just Showing Up Is Never Good Enough
Woody Allen said, "Showing up is eighty percent of life." While that's good advice for life in general, it's not such good advice for an event. Simply showing up gets you in the door, but it doesn't guarantee a productive time once you've entered.
Instead of depending on serendipity to do all the work for you, strategically plan for your arrival. Start reaching out to the people you want to meet while you are at the conference. Arrange to meet with customers, potential customers, potential partners, speakers and people you admire over breakfast, lunch, dinner and coffee breaks between sessions.
Many events now have an app that allows you to find and reach out to other attendees and request meetings. Download the app as soon as it is available and start connecting.
An event hashtag is another great place to find people who will be attending the event. Participate in the discussion there and start building relationships with other participants. It's a great icebreaker. Why not invite early arrivers to join you for a bite to eat before the conference kicks off?
LinkedIn groups are another place to get to know conference attendees and speakers. Is there an active discussion on an individual topic that was posted? Invite the group to get together at the event and discuss it further in person over a lunch break.
Set a goal to have pre-scheduled appointments over every break and meal while you are in town. Chances are, other attendees will be wondering how they are going to find and meet others who share their interests. By reaching out to them beforehand, you are helping them be more productive as well.
Traci Browne, Author of The Social Trade Show
Are you ready to take the leap and consider a sponsorship at Content Marketing World 2016? There are many great options available, and we'd love to see you this September. Visit our website for sponsorship opportunities and contact information.
Posted February 1, 2016 in: Event by Cathy McPhillips
---