Content Marketing World is part of the Informa Connect Division of Informa PLC
This site is operated by a business or businesses owned by Informa PLC and all copyright resides with them. Informa PLC's registered office is 5 Howick Place, London SW1P 1WG. Registered in England and Wales. Number 3099067.
Connecting with Your Audience Through Pop Culture: A #CMWorld Twitter Chat with Brianne Fleming
Taylor Swift. Game of Thrones. The Bachelor. As marketers look for new ways to interactive with their audience, brands are adding their two cents on pop culture references. Even Mark Hamill (excuse my pop culture, Star Wars fangirling here) says if you find something engaging, you should find a way to repurpose it through your own prism. So how should marketers use pop culture as a pathway to their content? We went straight to University of Florida instructor Brianne Fleming for answers.
On a recent #CMWorld Twitter chat, Brianne explained how the key to pop culture success is remaining true to your brand's voice and mission. Brianne warns marketers should be judicious in any attempts to piggyback on pop culture. In order to grab attention, she says brands need to find references relevant to their niche.
Below is a brief recap of our discussion with the CMWorld community. To see more tweets from this chat, check out our Twitter Moment.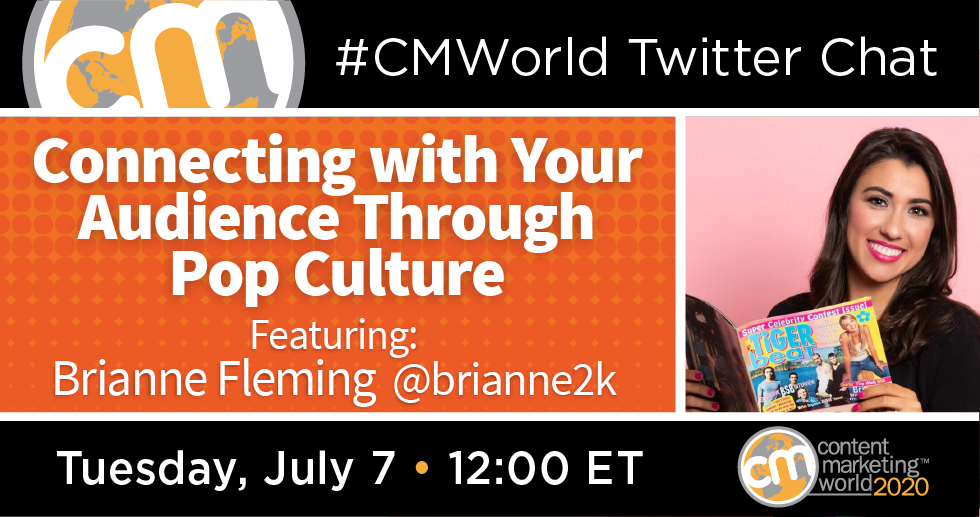 How can we learn more about what our audience is reading, watching, or listening to?
How do audience media habits inform your content strategy, and at what part of the process should these habits be analyzed?
We've talked before about newsjacking. What are some big and small ways brands can participate in trending topics?
Great songs, TV shows, or movies play such a large role in our lives and experiences. How can we use this to create social media content? And what legal concerns does this surface?
Have you integrated pop culture in your content marketing strategy? Let us know below.
Speaking of pop culture, Mastercard's Wendy Richardson doesn't miss a beat. In her ContentTECH Summit keynote, she will outline techniques to build great customer experiences using contemporary music as a backdrop. Sign up now with code SM100 to save $100 on your registration
Posted July 8, 2020 in: Event by Monina Wagner
---
UP