Content Marketing World is part of the Informa Connect Division of Informa PLC
This site is operated by a business or businesses owned by Informa PLC and all copyright resides with them. Informa PLC's registered office is 5 Howick Place, London SW1P 1WG. Registered in England and Wales. Number 3099067.
Content Experiences: A #CMWorld Twitter Chat with Randy Frisch
Are you asking the right questions when it comes to your content? How are your customers consuming it? How is it structured? Randy Frisch suggests we start thinking "content experiences." The co-founder and CMO of Uberflip joined us on a recent #CMWorld Twitter chat to discuss why creating these experiences are valuable to marketers today.
What follow is a brief look at the Twitter chat. Check out our Twitter Moment to see more tweets from our discussion.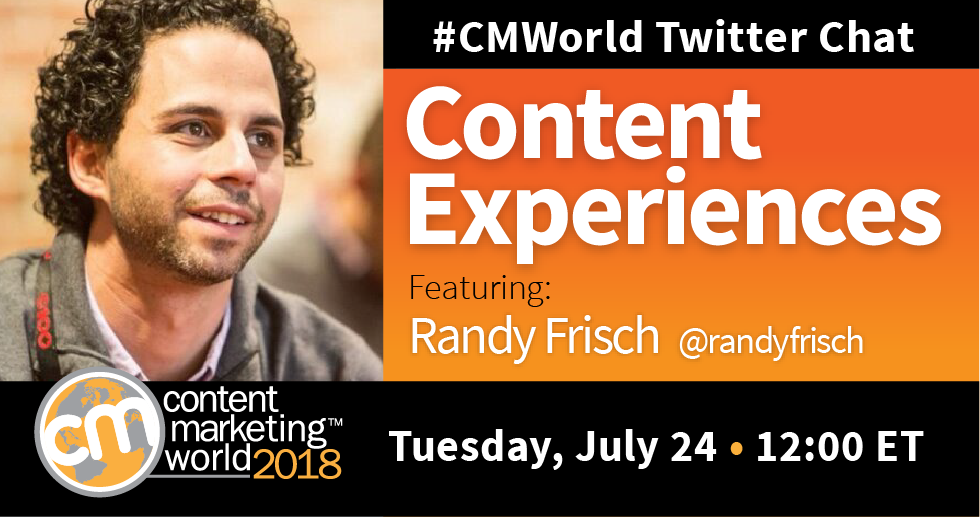 What is a content experience and why does it matter?
Marketing, operations, customer service, or someone else: Who in your organization should own the content experience?
What do you think? What are your thoughts on creating content experiences? Let us know in the comments below.
Get ready for the experience of a lifetime when you attend Content Marketing World 2018. It's your chance to learn from the best in the business and network with marketers from around the globe. Secure your seat now with code SM100 to save $100 at checkout.
Posted July 25, 2018 in: Event by Monina Wagner
---
UP