Content Marketing World is part of the Informa Connect Division of Informa PLC
This site is operated by a business or businesses owned by Informa PLC and all copyright resides with them. Informa PLC's registered office is 5 Howick Place, London SW1P 1WG. Registered in England and Wales. Number 3099067.
Content Marketing in the Machine Age: A #CMWorld Chat with Paul Roetzer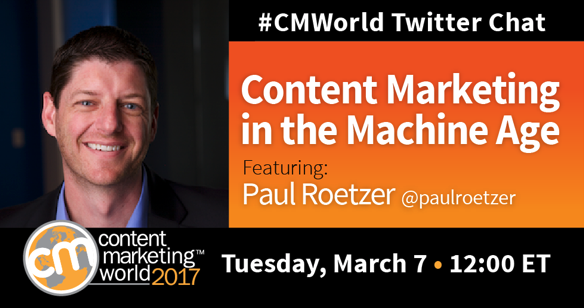 Artificial intelligence (AI) may sound like it comes out of a thriller flick, but today, AI is making marketing more science than art. On a recent #CMWorld Twitter chat, Paul Roetzer, founder of PR 20/20 and the creator of the Marketing Artificial Intelligence Institute, discussed the future of content marketing. And the future looks bright. What follows is a recap of Roetzer's chat, including why he believes AI's impact on marketing will be significant. For more on the topic, be sure to check out our Storify.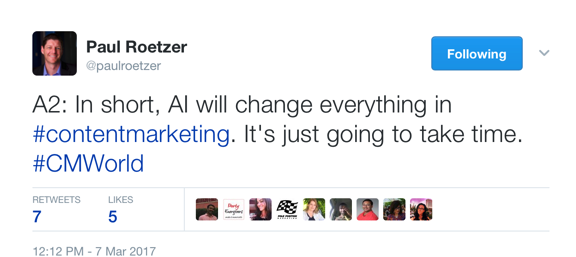 Who benefits? Marketers have mixed feelings.
Leverage AI now.
Roetzer also shared with chat participants several resources on the topic:
What are the most exciting applications of AI you're seeing right now? Let us know in the comments below.
Are you ready to take your content strategy to the next level? Hear Paul Roetzer speak about the path to a more (artificially) intelligent future at Intelligent Content Conference. Use code SM100 to save an extra $100.
Posted March 9, 2017 in: Event by Monina Wagner
---
UP