Content Marketing World is part of the Informa Connect Division of Informa PLC
This site is operated by a business or businesses owned by Informa PLC and all copyright resides with them. Informa PLC's registered office is 5 Howick Place, London SW1P 1WG. Registered in England and Wales. Number 3099067.
Content Marketing Resolutions: A #CMWorld Chat with Stephanie Stahl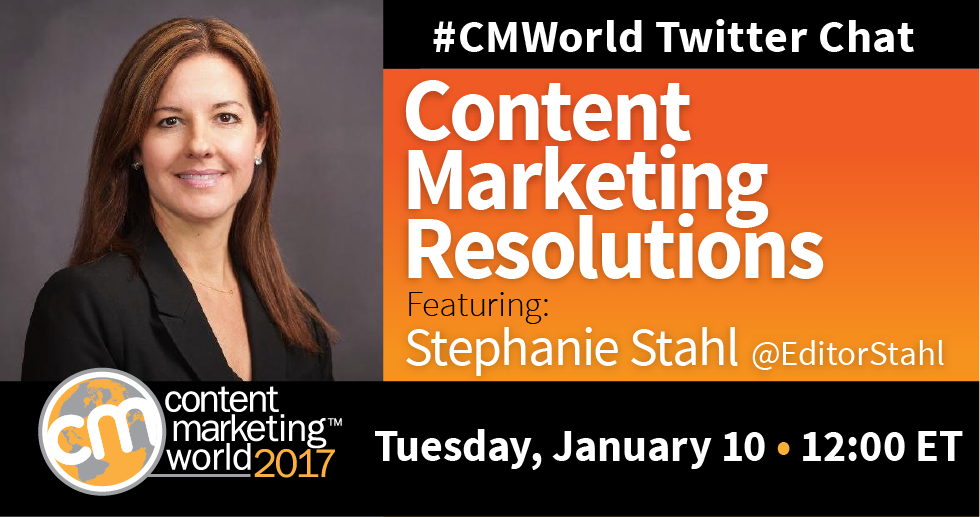 Did you make a new year's resolution for 2017?
While many people vow to lose weight or get out of debt, marketers tend to have a whole host of resolutions specific to their work lives.
To avoid falling flat, we asked our #CMWorld Twitter community to share what goals they are pursuing and how they plan to stick with their resolutions. We were also joined by special guest, Stephanie Stahl, General Manager of Content Marketing Institute. What follows is advice they had to help see your content marketing resolutions through and make some long-term changes at the office. To gather more insight from our community, check out our Storify from the chat.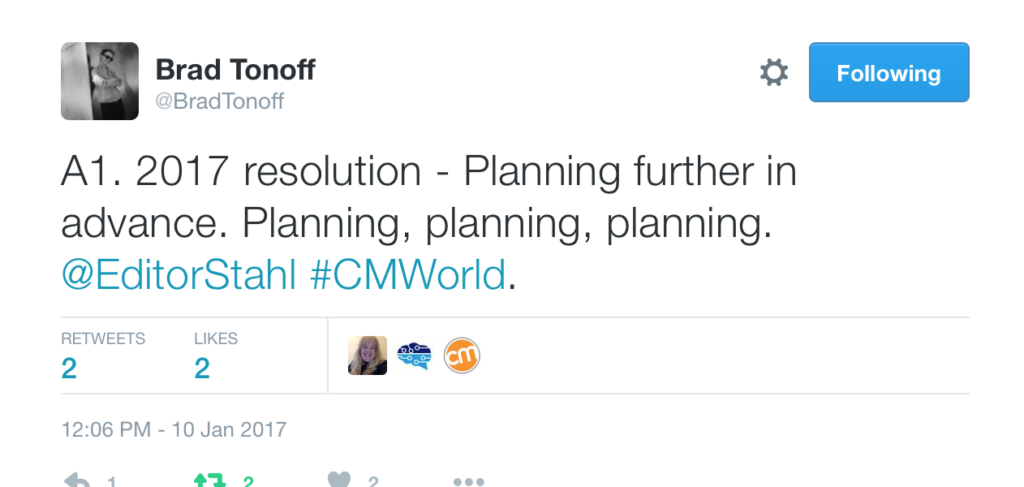 Plan, plan, and plan
Chat participants agreed: one way to keep resolutions on track is by having a solid plan. In fact, our latest research finds 61% of the most effective B2B marketers are those who have a documented strategy. Having a plan helps marketers focus on milestones and manage tasks consistently.
Always be learning
With an ever-changing business, marketers need to be introduced to new skills and emerging strategies. Lifelong learning ensures we have the proper resources in our toolbox to serve the needs of our teams and clients. Our community is looking to improve its skills in a variety of areas, from digging deeper into analytics to brushing up on video production skills.
Let's keep each other accountable as the year progresses. What content marketing resolutions did you make this year? Let us know in the comments below.
Resolve to meet some of the best and brightest in the industry. Attend Content Marketing World 2017! Registration is now open.
Posted January 12, 2017 in: Event by Monina Wagner
---
UP