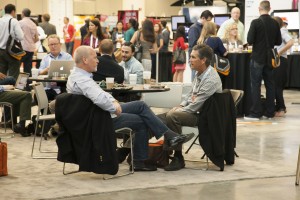 Last year, CMI held our first Content Marketing Executive Forum in San Francisco, bringing together 40+ Fortune 1000 brand leaders, and conducting 27 in-depth interviews around content marketing structure within enterprise organizations.
What do these best-in-class marketers do? What structures, consistencies and techniques could we summarize and package up nicely for our content marketing community? It was abundantly clear, following the interviews and Executive Forum that there is no One Size Fits All approach. Which, as it turns out, is a good thing, one that Joe Pulizzi has been preaching for years. We can work from a framework and documented content marketing strategy, but what is right for one organization might not be best for another.
What are some commonalities and key points to consider when talking operations and process? Let's focus on this one excerpt, pulled from Michele Linn's blog post on this topic from last August:
Content marketing requires hybrid organizational structures
In most cases, the responsibility for content marketing — regardless of whether there is a formal team in place — sits within the marketing function. However, content marketing must, inevitably, involve significant participation by many parts of the organization — especially when the company's content marketing strategy requires looking for subject matter expertise, sourcing brand stories, or supplying multiple business units with content. It's incredibly challenging to get all these moving parts in sync, but those organizations that develop a dedicated structure to facilitate the necessary interplay have a much greater chance of being successful.
While, as I mentioned, there is no single "right" way to structure a content marketing team, there are a number of different models companies are using to build their operations around content, as explained in more detail in the report.
Here are a few of the models that emerged:
All-in, ad hoc models work well within organizations that are "beginning the shift."
Engaging external content marketing agencies and in-house "agency-like" teams seems to work best with large companies trying to mature and/or currently experimenting with different models.
Assigning channel managers works best when there is a primary owned media platform (e.g., a blog).
A central strategist model seems to work effectively when the business already has executive buy-in and the effort is to fundamentally transform the team.
Regardless of how content marketing is structured within the organization, it's crucial to align the goals for different departments so that everyone is working toward —and measured against — the same outcomes. 
How can CMI provide value to you in this regard? We've prepared The State of Content Marketing Operations for the Enterprise and have it available for you to download, and we've created tracks at Content Marketing World 2015 addressing both process/workflow as well as an executive audience. Don't want to wait until September? If you're a senior brand marketer, you should join us at our CMWorld Executive Forum in San Francisco next week.
Posted March 20, 2015 in: Event by Cathy McPhillips
---