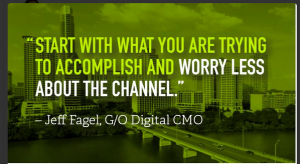 The intent of content marketing is drive action, and if you are looking for additional ways to do this, the recent #CMWorld chat with Jeff Fagel will help. This chat ran the gamut of using everything from emotional connections to paid content to drive engagement – and ultimately sales.
Read more from Jeff on Content Marketing Institute or join us at Content Marketing World where you'll get even more ideas on how your content can be created and distributed to drive the action you desire. (CMWorld 2015 early bird rates end on 5/31! Register today!)
Were there tweets you wanted to retweet, respond to or favorite from this week's chat? Visit this Storify link.
Q1: Emotional content can work well at creating connection, but how can you use it to drive action? #CMWorld
A1: I hate #buzzwords So…Emotional content, lets say it differently .. #cmworld
@jf1216
A1 Emotional content, most people think:  it's brand, ad content – you have to cry or it needs to be shocking #cmworld
@jf1216
@CMIContent Q1 Actually including a CTA is so important here. Catch people, then reel them in! #CMWorld
@AccelityMktg
Switch to: http://www.tchat.io/ —- much better! @mikemyers614 #cmworld
@TSNN_Rachel
A1 Think of emotional content as marketing messages that drive people toward your content #cmworld
@jf1216
A1: Emotion is a part of what drives action. With that being said, if you create content that only elicits emotion it won't work #CMWorld
@Mr_McFly
A1: Emotional content success= people view, share, comment Success also  = sales #cmworld
@jf1216
A1: Emotional #content needs to be within your brands area of authority to drive action. #CMWorld
@mikemyers614
A1: Readers often are BEGGING for a call-to-action with emotional content! They want to get involved after connecting. #cmworld
@AJutah
A1. Connecting on an emotional level can be a slippery slope. Be smart and use relevant trending topics to beef up. #CMWorld
@SarahMT1212
A1. I think it's easier to drive action with emotional content. If people are passionate about something, they will act. #CMWorld
@rasmushallgren
@CMIContent A1 Many of my fave animal welfare charities do a great job of marrying emotional content to an easy donate CTA. #CMworld
@SFerika
@Mr_McFly Yes, A1 In the case of B2B marketing, success lies with some type of conversion – a download, a registration and #cmworld
@jf1216
A1: The call to action has to be clear. Pluck their heartstrings but make sure you tell them how to help. #CMWorld
@sugarsugarcg
A1: emotion can drive action…have you ever watched Snapped? Kidding. Sorta. People act when they feel strongly about something #CMWorld
@LUCYrk78
A1 If people believe, they want to act. Brands have to connect "emotional" content to a commerce experience – online or off. #CMWORLD
@godigitalmktg
@CMIContent A1 use powerful visuals (more transparent and real life, better) and don't forget about CTA #CMWorld
@katairobi
A1. @CMIContent Including a call to action! Sign up, donate now, adopt a puppy today, buy one…. #CMWorld
@KylaK
A1 Use emotion as a "call to action." Lots of things elicit emotion, but point towards something to DO with it. #CMWorld
@AnOrchidInBloom
Good call…always have a CTA! #CMWorld  https://twitter.com/AJutah/status/598157378647891968
@mikemyers614
"@jf1216: A1 In the case of B2B marketing, success lies with some type of conversion – a download, a registration and #cmworld"
@millennovator
Definitely agree with that! #CMWorld  https://twitter.com/rasmushallgren/status/598157464282996736
@MeetEdgar
I totally agree. #cmworld  https://twitter.com/rasmushallgren/status/598157464282996736
@LUCYrk78
@jf1216 so true, and although B2B decisions are generally more analytical, there is an element of "care" within #CMWorld
@Mr_McFly
@mikemyers614 @rachelformaro @lindadessau great to see you here! #CMworld
@SFerika
A1. Emotional connection is great, and made better with a clear next step. Don't leave it to guesswork. #CMWorld
@rachelformaro
A1. Think abt how emotion & CTA align w/buyers journey. Emotion from discovery eg "I have a problem" How do you solve it? CTA time! #cmworld
@eccushing
A1 Use emotion to connect with people's problems and offer a solution as a CTA #CMWorld
@aford21
A1:  IMO First, define what action you're trying to drive #CMWorld otherwise not authentic
@connieurway
A1) the content must transfer the "feeling" humans act based on connection to the CTA #CMWorld
@stratrev
So true #CMWorld  https://twitter.com/rachelformaro/status/598157822652645376
@CMIContent
You also need to invite engagement by asking a question or other call to action question  #cmworld
@SarahMT1212
Here's an example -Emotional content From scripted expected real.  http://bit.ly/1H1qJi8 #cmworld @aboutfacemedia http://t.co/kCnBtPxg6M
@jf1216
Evoke emotion carefully; no one likes to feel like they're being manipulated. #CMWorld
@SparkerWorks
A1. Emotion prompts reaction. Content that elicits an emotion should also drive towards a CTA. #CMWorld
@cate
A1: #cmworld Emotional content is a good term — and probably a much bet #answerstage http://answerstage.com/views-and-qs http://t.co/qL4YTgZ0Or
@answerstage
This! #CMWorld  https://twitter.com/rasmushallgren/status/598157464282996736
@ImAGirl_YouKnow
A1: I'm a believer in @garyvee's Jab, Jab, Right Hook, so I don't think pushing a sell when telling a story is always necessary. #cmworld
@iamgiarose
Exactly! If done correctly, it makes your customers WANT to engage! #CMWorld  https://twitter.com/jf1216/status/598157284221542400
@kmzimm
Thought this one was pretty effective. Opened it right away to find out what was WRONG http://campaign.r20.constantcontact.com/render?ca=48febf56-dd44-4814-9cd8-4997ae98da73&c=e03cac60-ba8b-11e3-addf-d4ae5275509e&ch=e04f9820-ba8b-11e3-ade5-d4ae5275509e #cmworld
@TSNN_Rachel
A1: Emotion is also fleeting. You have to capture that emotion and inspire action quickly, otherwise the opportunity will pass. #CMWorld
@sugarsugarcg
@iamgiarose You shouldn't need to push a sell. If you've connected with the audience, they'll just want to buy. (Ideally, anyway). #cmworld
@martinlieberman
Yes! #CMWorld  https://twitter.com/martinlieberman/status/598158258151432193
@CMIContent
Q2: Does #contentmarketing need to result in a specific action or is brand awareness sufficient? #CMWorld
A2 Here's an Instagram campaign  @BolthouseFarms  #bolthousefarms – http://bit.ly/1Fbtws5  #cmworld http://t.co/DdaF1VTXTG
@jf1216
Emotion is good but how do you get a team of blog writers or content creators creating emotional content? #cmworld
@ScottLum
@martinlieberman @iamgiarose Yeah, there's a difference between leading the horse to water and shoving his head in the bucket #CMWorld
@eccushing
A2: Either OR Yes AND #contentmarketing can drive Awareness & Action #cmworld
@jf1216
A1: Place clear CTAs on your content so your audience knows what's next. #CMWorld  https://twitter.com/CMIContent/status/598156935972532225
@oliveandco
@eccushing @iamgiarose Ha ha ha … I love that metaphor! 🙂 #cmworld
@martinlieberman
A2 Think about how do we turn on the web to drive physical, local outcomes-see a movie test drive a car-buy in a store #cmworld
@jf1216
A2 Yes. Awareness & engagement is a great, but why stop there? Why not do more? Why not ask customers to do more? #CMWorld
@godigitalmktg
A2  @BolthouseFarms tapped into that content behavior and built a campaign on Instagram #cmworld
@jf1216
A2. Of course you should tie #content to action – otherwise, how do you measure its success? #cmworld
@eccushing
A1. Emotional content creates a connection, but in order to drive action one most fulfill the consumer needs #cmworld
@CreativeEMarket
A1: Sometimes branded emotional content can drive undesired actions–e.g., unintentionally "cheesy" content  #cmworld
@pisarose
A1: Moreover, I think using real stories give people an opportunity to emotionally invest in your brand. That's key. #cmworld
@iamgiarose
@TSNN_Rachel
It's tricky to create "emotional content" … if it doesn't come across as authentic, it can definitely backfire.  #cmworld
Thoughts, #CMWorld?  https://twitter.com/ScottLum/status/598158485201780736
@CMIContent
A2: Yes, #contentmarketing should result in a specific action (and you should decide that action in advance). #CMWorld
@mikemyers614
@CMIContent A2 depends entirely on your objectives with any given piece of content. #CMWorld
@SFerika
Took the words out of my mouth! #CMWorld  https://twitter.com/eccushing/status/598158725816410112
@ImAGirl_YouKnow
A2: totally depends on what your goals are and how well you know your audience and they know you. Brand awareness is gen step1 #CMWorld
@LUCYrk78
@TSNN_Rachel Like trying to go viral… #cmworld
@lindadessau
Agreed! a fine line.. #CMWorld  https://twitter.com/TSNN_Rachel/status/598158761614684160
@AmandaSubler
A2 For a brand there's a lot of stuff to communicate, often driving a physical outcome-sell cars, toothpaste, burgers, movies #cmworld
@jf1216
A2 – It totally depends on what the end goal is. They are completely different objectives.  #cmworld
@TSNN_Rachel
A2 Brand awareness is not enough for small – midsize companies…you'll go broke before you can say "read more…" #cmworld
@tracibrowne
@CMIContent Depends on your strategy. Sometimes brand awareness is necessary and sometimes action is necessary. #CMWorld
@webmastergirl
Wise words, @martinlieberman. #cmworld https://twitter.com/martinlieberman/status/598158258151432193
@CrowdContent
A2: I think the goal of #contentmarketing is always to encourage further interaction, whether to keep browsing, download, etc. #CMWorld
@sugarsugarcg
#cmworld A2. I think if done creatively, engagingly and timely enough, you can have both.
@SarahMT1212
Have a strategy! #CMWorld  https://twitter.com/SFerika/status/598158855537733632
@CMIContent
@eccushing @martinlieberman Maybe "pushing a sell" was the wrong phrase. What I meant was forcing a CTA in every piece of content. #cmworld
@iamgiarose
Yes, agreed! #CMWorld  https://twitter.com/tracibrowne/status/598158945459417088
@AccelityMktg
a2: Depends on the objective of your program but ultimately you need of find a way to connect content marketing to business goals #cmworld
@ScottLum
A1. Should be things people want to share – makes them feel they're being helpful, insightful, thoughtful. #cmworld.
@LisaMasiello
Good morning, #CMWorld! I think #contentmarketing should drive action…at some point. Not every single piece of content needs a CTA.
@ActualKats
A2: Even without a clear CTA, the intent is to create an ongoing relationship/conversation with a potential or existing customer. #CMWorld
@sugarsugarcg
A2 Don't limit your content to just informing or entertaining the audience. Give them the opportunity to connect/buy. #CMWorld
@godigitalmktg
A2: Not every piece of content needs to convert. Sometimes increased engagement can lead to a conversion in the future. #cmworld
@AJutah
@webmastergirl lol just tweeted that "s" word – great minds think alike! #CMWorld
@CMIContent
A2. The wonderful thing about #contentmarketing is it *can* do both. Good idea to set the objective though for each campaign. #CMWorld
@rachelformaro
A2: Not hard to choose which one is best – brand awareness or SHARED brand awareness. #cmworld
@pisarose
A2. As always, outcomes should map to #contentmarketing goals, whether that's brand awareness, specific action, or both. #CMWorld
@carmenhill
A2:  Both.  #contentmarketing benefits brand awareness and action planning #cmworld
@connieurway
@iamgiarose @martinlieberman A CTA should never feel like an awkward add-in. Your messaging within #content should jive with it. #CMWorld
@eccushing
A2 @TSNN_Rachel I believe in Yes AND…Awareness and Action #cmworld
@jf1216
A2. Depends on the objective. It is a plus if #contentmarketing drives action, but it should also aim to provide helpful insight. #CMWorld
@rasmushallgren
A2: It's part of your MARKETING mix. Some content will drive awareness, some will drive action. Brands like people are many things #CMWorld
@Mr_McFly
A2 Brand awareness can be a specific action in and of itself – ideally it will eventually lead to an action! #CMWorld
@kmzimm
A2. Content needs to prompt a measurable change in the relationship btwn brand & audience.  Awareness is stage 1 of relationship. #CMWorld
@cate
A2: Even on simple blogs or social media posts, we always add a CTA of learn more, contact us, etc. as an additional touchpoint. #CMWorld
@sugarsugarcg
@CMIContent you have to inspire them to tap into their love of storytelling. #CMWorld
@AdamOnTheKeys
A2 It depends on your end goal. Are you just trying to get your name out there or are you looking for engagement/interaction? #CMWorld
@AnOrchidInBloom
@eccushing So you think that a CTA should be included in every piece of content? Because if so, I disagree. #cmworld
@iamgiarose
@eccushing @iamgiarose Right! Sometimes the CTA is subtle and implied: Don't forget about us! #cmworld
@martinlieberman
A2 We have awareness and shareability goals for our content AND goals to drive readers down the funnel #cmworld
@ScottLum
Absolutely- what might seem unimportant NOW, could be huge in the future. #CMWorld  https://twitter.com/ajutah/status/598159177484230656
@LUCYrk78
A2. To ask the obvious question: what is your objective? If they don't SEE the content, it can't accomplish any objective! #cmworld
@wittlake
@AnOrchidInBloom What if my end goal is world domination? (Hi, #CMWorld)
@MusicAdamT
@regrenardd hi Reggie! Be sure to use the #CMWorld hashtag so others can see your response!
@CMIContent
@rachelformaro Spot on! #CMWorld
@rasmushallgren
A2a: Sometimes you need to cast your nets far and wide to introduce new people to the brand. #cmworld
@AJutah
Who's got the pepper… Oh…#CMWorld  https://twitter.com/thedavepepper/status/598159443621191680
@Mr_McFly
A2) Depends on the goals & strategy – brand awareness is an action for some – "pulling the lever" is for others #CMWorld
@stratrev
@thedavepepper no @nurph for us. We do not own the cmworld channel there 🙁 #CMWorld
@CMIContent
A2 look at Bolthouse Yes &…Awareness and Action noticed that 16,000 images had been uploaded to Instagram  http://bit.ly/1Fbtws5  #cmworld
@jf1216
@LUCYrk78 I agree. Asking for action too soon can drive away potential customers. Let them engage with your brand first. #CMWorld
@AdamOnTheKeys
@carmenhill So true. Content should never be created in a vacuum. Every piece should have a purpose & an end goal. #cmworld
@LisaMasiello
Agreed, @SFerika. Depends on content and channel and their specific goal. #cmworld
@CrowdContent
@MusicAdamT Hi Adam. 🙂 Then set a plan of action to get there. #CMWorld
@AnOrchidInBloom
Exactly!! MT @AJutah: Not every piece of content needs to convert. Sometimes increased engagement can lead to future conversion. #cmworld
@iamgiarose
@wittlake Yes. And who is your audience, right?  🙂  #CMWorld
@mikemyers614
A2: #contentmarketing could result in a specific action or only brand awareness dependent on objective or stage of funnel  #cmworld
@CreativeEMarket
@AdamOnTheKeys @LUCYrk78 When would you say is too soon? Finding the right timing is such a delicate balance #CMWorld
@AccelityMktg
A2: I think it depends on your goals, are you looking for awareness or sales? #cmworld
@aford21
@CMIContent A2 Depends of the purpose! If u want awareness than fight for awareness! If u want clients than fight for them! #CMWorld
@katairobi
@AnOrchidInBloom @MusicAdamT agree plan & execution  #cmworld
@jf1216
All content marketing all the time 🙂 #CMWorld  https://twitter.com/digett/status/598159716200685568
@CMIContent
A2: #cmworld Content needs to create some type of reaction but not necessary #answerstage http://answerstage.com/views-and-qs http://t.co/kvFtZz2FyE
@answerstage
@iamgiarose What would be a good example of a piece that doesn't need a CTA? I'm curious to explore this #cmworld
@eccushing
A2: what's the objective? awareness or action? BUT, how is awareness measured? Website visits? Email sign ups? Those things matter #CMWorld
@lynseelou
A2 The content doesn't necessarily need to sell, but it should at least assist the sales person #cmworld
@tracibrowne
@ScottLum I think this ties into company values & younger generations wanting to buy from companies w/similar values #CMWorld
@SparkerWorks
@AdamOnTheKeys yes! And if there's no brand awareness, how do we know what we're connecting with and for?! #CMWorld
@LUCYrk78
I love this. Don't focus on one channel as the only outlet. So many new tools to use #cmworld  https://twitter.com/ajutah/status/598159557085556738
@SarahMT1212
@thedavepepper many of our participants are on tchat.io right now #CMWorld
@CMIContent
Q3: What is programmatic buying, and how can content marketers use it to drive engagement and sales? #CMWorld
A2: content can't sell directly but it can increase customer connection and likelihood to return #cmworld
@HiPhaedra
find what they are passionate about- or angry about- and tap into that! #CMWorld  https://twitter.com/CMIContent/status/598158787523047424
@AmandaSubler
Agreed. #CMworld https://twitter.com/rachelformaro/status/598159211659329536
@SFerika
Agreed! But if you establish a level of trust first, they'll buy without having to ask them. #CMWorld https://twitter.com/godigitalmktg/status/598159152079319040
@ImAGirl_YouKnow
@eccushing @martinlieberman @iamgiarose Hah! Love that. #CMWorld
@SparkerWorks
A3: Programmatic simply makes distribution smart across multiple publishers its about efficiency  #CMWorld
@jf1216
@CrmsArticles When I write a blog post I try to get into get into the state I want in the reader but don't know how to train it #cmworld
@ScottLum
You're also building trust, which is tough to accomplish if you are always asking for something. #CMWorld  https://twitter.com/iamgiarose/status/598159708244070400
@ActualKats
Once you truly know your audience, you'll know, IMO #CMWorld it'll be a natural segue  https://twitter.com/accelitymktg/status/598159784702038016
@LUCYrk78
Sarah's here! Sarah's here! @SparkerWorks #CMWorld
@Mr_McFly
@millennovator so true! Don't forget to use the hashtag #CMWorld so you can share insights with other chat participants!
@CMIContent
A3: Programmatic simply makes distribution smart •Buying inventory better, cost & price #cmworld
@jf1216
@iamgiarose A whitepaper might not have a CTA for ex, but messaging in the email that you write to tell ppl abt it certainly will #CMWorld
@eccushing
@thedavepepper @CMIContent Hi there! Here's a link to the Nurph Channel for #CMWorld 🙂 http://nurph.com/admin/channels/CMWorld
@Nurph
@eccushing @iamgiarose Me, too. Not sure it exists #unicorn #CMWorld
@mikemyers614
@CMIContent in my opinion action speaks louder than words, if your actions are consistent then brand awareness will follow through #CMWorld
@stphhnie
A3: Here's a good review of programmatic  http://bit.ly/1Fbvvg1 #cmworld
@jf1216
A2: You should always have an action/goal in mind with your content. But in some cases the goal might be awareness; others action. #CMWorld
@MeetEdgar
A3 Programmatic buying for display ad inventory came from 0% market share to 55% of total display expenditure in 2015 #CMWorld
@jf1216
Jumping in late from a much cooler Toronto. Climate change is real! #CMWorld
@ideakid88
@lynseelou Awareness can be measured w/ traditional surveys. Targeted reach, consumption are key day-to-day measures. #cmworld
@wittlake
@thedavepepper @CMIContent hi there! Here's a link to the Nurph Channel for #CMWorld 🙂 http://nurph.com/CMWorld
@Nurph
@godigitalmktg @iamgiarose Precisely. Not every CTA will be the "kill shot" but you create content w/goal of inspiring action #CMWorld
@eccushing
I don't think trust = buy…A lot more goes into a large purchasing decision than just trust #cmworld
@tracibrowne
A3 The process for programmatic differs depending on the format. But the goal should always be the same: a simpler path to sales. #CMWorld
@godigitalmktg
A3 Programmatic Buying is key for #video, #nativeadvertising and #mobile #cmworld
@jf1216
@millennovator
Q2: at the end of the day the goal should be for the passion within your content to evoke a particular action #CMWorld
@millennovator
A2: Including a CTA is always ideal, but raising brand awareness can eventually lead to action. #CMWorld  https://twitter.com/CMIContent/status/598158467325530113
@oliveandco
Excited for @CMIContent q3! Gonna learn something new #CMWorld
@SarahMT1212
@ideakid88 Waving from #Barrie! #CMWorld
@lindadessau349
A3: There are some advantages to programmatic methods. Automation in the right place at the right time can help growth #CMWorld
@Mr_McFly
@mikemyers614 #unicorn, LOL! #cmworld
@CrowdContent
A3 eMarketer projects that it will grab 40% of digital video ad spending in 2016 (or equivalent of $3.84 B) #cmworld
@jf1216
A3:  Listening #CMWorld
@connieurway
A2. Make a plan and write down what you want to accomplish. Set measurable goals. Awareness is  great, but is it bringing in $$? #CMWorld
@KylaK
@nurph um how did you make this work? This makes our #cmgr happy!  #cmworld
@CMIContent
A3. Programmatic lets you buy advertising "real estate." Use to distribute your content, including in-page video. #cmworld
@wittlake
@CMIContent @ScottLum Tricky, b/c it's subjective, nuanced & potentially risky. Need a good brief, guidelines, communication. #cmworld
@carmenhill
@AccelityMktg @LUCYrk78 Depends on the type of content. Know who you're targeting and why, and you should know if it's too soon #CMWorld
@AdamOnTheKeys
@CMIContent A3 Use display advertising to target the right audience at the right place in the right time! Banner adv is not dead:) #CMWorld
@katairobi
A3: How do we take programmatic further? The weight has shifted toward distribution, targeting & the plumbing & away from content  #cmworld
@jf1216
A3. I like the ROI function that Programmatic has. Will help marketers to better understand what's working and what's not. #CMWorld @jf1216
@rasmushallgren
@eccushing @godigitalmktg We can agree to disagree. I think that's the beauty of #cmworld, but if you want examples, read @garyvee's JJJRH.
@iamgiarose
But…can you get TO the "buy" with zero trust? #CMWorld  https://twitter.com/tracibrowne/status/598160388816003072
@LUCYrk78
A3 – Really study analytics. For example, our web site only has 14% mobile engagement (what?!) Trade shows are old school people.  #cmworld
@TSNN_Rachel
A2: For example, the goal of our blog is more about brand awareness and positioning ourselves as experts when it comes to social. #CMWorld
@MeetEdgar
@CMIContent @nurph I'm in thank you  #cmworld
@thedavepepper
@wittlake exactly! you can't just say the goal is to increase awareness and not have a plan on how to measure it #CMWorld
@lynseelou
A3: Here's a good review of programmatic  http://bit.ly/1Fbvvg1 #cmworld
@jf1216
@KylaK hi Kyla! Happy Tuesday!  #cmworld
@CMIContent
A3: #Programmatic buying can help distribute that great emotional content efficiently. They can't act on what they don't see. #CMWorld
@mikemyers614
@thedavepepper @CMIContent I was having trouble before too. Thanks for fixing this, @Nurph! #cmworld
@martinlieberman
A3) using data to drive ad spend/platform/time – use it to "piggy back" on that data to support sale/marketing efforts #CMWorld
@stratrev
A3 – Need to study analytics. What device are people using? How are they engaging?  #cmworld
@TSNN_Rachel
@Mr_McFly I made it this week!!! #CMWorld
@SparkerWorks
A3: Programmatic is about efficiency, needs to be more about content, creativity – the right content #cmworld
@jf1216
@jf1216 thanks for sharing! #CMWorld
@KylaK
#Truth #CMWorld  https://twitter.com/lynseelou/status/598160771491635200
@cate377
@lynseelou @wittlake if you can't measure it you can't manage it? 🙂  #cmworld
@thedavepepper
Thanks for this! Wasn't sure what it is #CMWorld  https://twitter.com/jf1216/status/598160823622701057
@SarahMT1212
@jf1216 Disagree here…we need both a good message and a good messenger. #CMWorld
@mikemyers614
#CMWorld  https://twitter.com/jf1216/status/598160534119251968
@Yogita_M
@KylaK no problem #cmworld
@jf1216
@thedavepepper @lynseelou @wittlake you all must know what one of our next questions will be… 🙂 #CMWorld
@CMIContent
@CMIContent going to the "Deep End" with Q3 😉 #CMWorld
@stratrev
I second that thought.  TY! Always seeking new knowledge #CMWorld  https://twitter.com/SarahMT1212/status/598161106427891712
@connieurway
[email protected] The goal should also be to offer something/help your customers need. #CMWorld
@KylaK
A3: Media buys can help target your awesome content to the right demographics. Science meets art. #cmworld
@AJutah
A3: Programmatic buying: is automation of processes, which content marketers use it to drive engagement using its data #cmworld
@CreativeEMarket
@SparkerWorks this deserves a dance break! #CMWorld http://t.co/jRyioFZmgI
@Mr_McFly
A3 Mike – Its about the right content  – what will you say when you find me? #cmworld  https://twitter.com/mikemyers614/status/598161157992665088
@jf1216
@Mr_McFly @SparkerWorks first gif of the day! Woot! #cmworld
@CMIContent
Q4: How should content marketers measure success with native advertising and sponsored content? #CMWorld
@AJutah "Science meets art" – love that answer. #CMWorld
@rasmushallgren
@rasmushallgren @AJutah we do too!  #cmworld
@CMIContent
A4:  Let first level set on #nativeadvertisingA4 Om Malik @om provided the simplest definition of native advertising. #cmworld
@jf1216
@iamgiarose @eccushing What if your content is information? News is not a CTA paradigm. @godigitalmktg @garyvee #CMWorld
@MusicAdamT
@Mr_McFly @SparkerWorks ROLF #CMWorld
@connieurway
A4 He described it as "a sales pitch that fits right into the flow of information being shown #cmworld
@jf1216
@Mr_McFly My mom had this on cassette in the 90s #hellyes #CMWorld
@SparkerWorks
A4 #Nativeads are also meant to fit seamlessly into existing brand content and "is actually valuable to the person viewing it. #cmworld
@jf1216
@sugarsugarcg nor can most the people who do SMM  LOL #CMWorld
@stratrev
@jf1216 We may be saying the same thing…it's about both: finding you and what I say when I do. Right? #CMWorld
@mikemyers614
A4 Our native campaign drove a 21.5 percent increase in unique visitors to the G/O Digital website. #cmworld http://t.co/qDzQpEBRon
@jf1216
A4 We ran native campaign on http://usat.ly/1FbvSHp http://usat.ly/1jfuu8L On http://usat.ly/1FbvSHq #cmworld http://t.co/XrI3oTKrmi
@jf1216
A4: Forget impressions and clicks. It's all about real KPIs like leads, conversions and revenue from the content. #cmworld
@AJutah
I am so late… hi everyone at #CMWorld
@MaelRoth
A4 What will define success with #nativeadvertising? • they enhance the overall customer experience. #cmworld
@jf1216
A4: What are your goals linked to your native advertising/sponsored efforts? Awareness? Action? Loyalty? Measure accordingly #CMWorld
@Mr_McFly
Native advertising is MT @jf1216: A4 "a sales pitch that fits right into the flow of information being shown" #cmworld
@lindadessau
A4: easy with digital but what about print?  #cmworld
@HiPhaedra
@iamgiarose I may be an outlier in #CMWorld sometimes, I forget. But I can't be the only one.
@MusicAdamT
A2 #ContentMarketing's ultimate purpose should be conversions which are measurable. Brand awareness is nice, but not enough. #CMWorld
@SpencerHudonII
THIS #cmworld not all #contentmarketing is CTA based https://twitter.com/MusicAdamT/status/598161568963125249
@connieurway
A4 Other measures – quality, relevancy of the content – the @godigitalmktg native content drove 10x greater share rate  #cmworld
@jf1216
Agree! #cmworld https://twitter.com/AJutah/status/598161763109048320
@mikemyers614
Joining the conversation a little late today. #CMWorld
@SpencerHudonII
@BrandedCartoons there's no crying in #contentmarketing!  #cmworld
@CMIContent
Seeing all the updates from #CMWorld flooding my timeline! Good Stuff!
@AHaccountingtax
@creativeemarket #cmworld Thanks for help the definition.  I think there are #answerstage http://answerstage.com/views-and-qs http://t.co/FTMbUMDGqc
@answerstage
@AJutah It always blows my mind how much all marketers (myself included) rely on vanity metrics #badhabits #cmworld
@eccushing
Agreed- the most important is to SET those KPIs so you know what you're measuring/want to have happen first #CMWorld https://twitter.com/ajutah/status/598161763109048320
@LUCYrk78
@SpencerHudonII good to see you, Spencer!  #cmworld
@CMIContent
A4 Who agrees? Native or sponsored content on its own, to me isn't very exciting #cmworld
@jf1216
@AHaccountingtax agreed!  #cmworld
@CMIContent
@godigitalmktg @iamgiarose @eccushing Well, comments, we don't get (lawyers). Browse, yes, but that's providing quality content. #CMWorld
@MusicAdamT
@SparkerWorks I will neither confirm nor deny whether this reply made me feel old. #iDidToo #CMWorld http://t.co/P8XJIp14EP
@Mr_McFly
A4. Once again, it depends on the objective and what goals you have. You might want to look into social media buzz or leads. #CMWorld
@rasmushallgren
@mikemyers614 @jf1216 don't say anything if you don't have something to say #content #content #content #cmworld
@thedavepepper
A4 Native or sponsored content as part of an integrated content plan that is cross channel, that is more enticing to me #cmworld
@jf1216
@CarlaJohnson Hi Carla! well when the boss needs something "last minute" I can't say no ^^  #CMWorld
@MaelRoth
A4) against goals & focused KPIs – no one answer here #CMWorld
@stratrev
Me too! #CMWorld https://twitter.com/BrandedCartoons/status/598161912321470464
@SpencerHudonII
A4: Here's a quick overview I pulled together on #natitveadvertising HREF="http://t.co/usS0YgIlo3″ TARGET="parent">http://bit.ly/1nIZcJE #cmworld http://t.co/srQbXC73mW
@jf1216
@MusicAdamT You're not, I promise! #cmworld
@iamgiarose
@BrandedCartoons Draw a clown. That'll make you happy. 🙂 #CMWorld
@AnOrchidInBloom
A2) Getting a specific action or reaction is awesome but growing brand awareness is good! #CMWorld
@ideakid88
@eccushing @AJutah And it's up to us to explain to clients why that's not a valid measure #cmworld
@lindadessau
A4: Measurement should always be against agreed-upon metrics, whether #contentmarketing, ads, native, outdoor, PR… #CMWorld
@mikemyers614
@CarlaJohnson @CMIContent @tracibrowne but there's something to be said for business resulting from positive brand association #CMWorld
@millennovator
@CMIContent is this #cmworld chat going to be available via SlideShare later?
@CrowdContent
A4 Focus on what measures CONTEXT, so you can inspire other behaviors in your readers/customers. #CMWorld
@godigitalmktg
@LyonsJenn when's the trip?  #cmworld
@CMIContent
@eccushing For sure! That's why we should take the time to reset expectations at the start. #cmworld
@AJutah
A4. CTR, website traffic, KPIs, sales, sign ups, impressions, reach, engagement… Did I miss anything? #CMWorld
@KylaK
@godigitalmktg @iamgiarose @eccushing And consistent quality content is brand identity more than it is CTA marketing. #CMWorld
@MusicAdamT
@CarlaJohnson @tracibrowne And I can trust brands I can't afford or have no need for their products. #CMWorld
@AnOrchidInBloom
As a publisher, I'm super careful about Native ads, sponsored content. Need to be VERY transparent, otherwise injustice to reader.  #cmworld
@TSNN_Rachel
No, Alissa. No. It. Won't.  @AnOrchidInBloom @BrandedCartoons Draw a clown. That'll make you happy. 🙂 #CMWorld
@BrandedCartoons
@jf1216 it's tough to be excited about something when it doesn't feel like a genuine interaction. (One of my challenges w/ native) #CMWorld
@cate
@MaelRoth welcome. you're not the only late one today 🙁 #cmworld
@thedavepepper
@CMIContent Reggie here, CM is not copywriting. For CM to work you need vision, heart, engagement and time. #CMWorld
@regrenardd
Loving this. Same applies to some journalistic practices #CMWorld  https://twitter.com/rasmushallgren/status/598162179267899392
@SarahMT1212
Or frightened… #CMWorld  https://twitter.com/anorchidinbloom/status/598162258003238912
@LUCYrk78
@CrowdContent we'll have a Storify link up later today and a blog post recapping it within the week!  #cmworld
@CMIContent
A4 What good does social media buzz and shares do you if it doesn't drive sales?  #cmworld
@tracibrowne
@AJutah I think clicks are still important–a gateway to leads, conversions, and revenues #CMWorld
@lynseelou
@CMIContent Q4: CTR, attention minutes, conversions, referral traffic and social sharing to name a few. Not an inclusive list. #CMWorld
@digett
YES! "@jf1216: A4 Native or sponsored content as part of an integrated content plan that is cross channel, is more enticing to me" #cmworld
@millennovator
@cate so true #CMWorld  Relevancy…key https://twitter.com/cate/status/598162509145591809
@jf1216
@lindadessau @eccushing Case studies go a long way. Here are some good templates from @GraphicRiver: http://graphicriver.net/search?utf8=%E2%9C%93&term=case+study #cmworld
@AJutah
@MusicAdamT @iamgiarose I argue news (digitally) has a CTA-every article has "related news links" goals: get user to stay on site #CMWorld
@eccushing
A4 Depends on objectives – it may be awareness – clicks & cost per click or it can help drive end actions – how many clicked in CTA #cmworld
@ScottLum
A4: This is still something we'll be figuring out. I think traffic & time on page are two big ones! #cmworld
@iamgiarose
@TSNN_Rachel fortunately so much sponsored content and native ads are so bad it's obvious what it is 😉 #cmworld
@tracibrowne
It's certainly part of the formula. Not necessarily directly, but part of the formula nonetheless. #CMWorld  https://twitter.com/tracibrowne/status/598162557480865793
@Mr_McFly
@CMIContent Re Q4: You're throwing chum on the water, now 😉 #cmworld
@carmenhill
@ideakid88 there's my chat pal!  #CMWorld
@SarahMT1212
@regrenardd @CMIContent Although I would argue that copywriting needs all those things as well 🙂 #CMWorld
@AdamOnTheKeys
@CMIContent Excellent, thanks! #multitasking #cmworld
@CrowdContent
@jf1216 exactly – which goes to your point about cross-channel. #CMWorld
@cate
@LyonsJenn @Nibakure_Rwanda that is wonderful! If we don't talk to you before then, safe travels! #CMWorld
@CMIContent
A4: Conversions. You need CTRs that become leads. Figure out the conversion % you need & use it as a measuring stick. #CMWorld
@SpencerHudonII
A4. Measure it like any other promotional activity – quality of traffic is key (and more troubling in these categories….) #cmworld
@wittlake
@ideakid88 Hi Wayne. 🙂 #CMWorld
@AnOrchidInBloom
@MusicAdamT @iamgiarose @godigitalmktg @garyvee You can definitely make info a commodity #CMWorld
@eccushing
@CrowdContent oh we hear ya lol #CMWorld
@CMIContent
@eccushing @MusicAdamT See, I would argue that isn't really a CTA, but that's my opinion. #cmworld
@iamgiarose
@eccushing @AJutah value of vanity metrics= reports for managers who don't value/understand social .. #cmworld
@thedavepepper
A5 this Native campaign was awesome  for Newcastle in Gawker was stellar http://bit.ly/1H1xuAq #cmworld  https://twitter.com/tracibrowne/status/598162748938309634
@jf1216
Q5: What pitfalls should content marketers be wary of when partaking in sponsored content creation and distribution? #CMWorld
Measuring native ads' effectiveness => multi channel view in Analytics! (At least partially) #cmworld
@MaelRoth
@tracibrowne It creates awareness for one, which might be an objective of the campaign. #CMWorld
@rasmushallgren
A4: Focus on leads. Clicks and views may look impressive, but are they providing you with potential sales? #CMWorld  https://twitter.com/CMIContent/status/598161482061230080
@oliveandco
I thought this was a no-KPI's discussion zone. #cmworld
@BrandedCartoons
Your make a great point about the increased value audiences today place on authenticity and transparency @TSNN_Rachel @CMIContent #cmworld
@millennovator
A4: Native Advtg should be seamlessly integrated into a branded content. This will result in high social sharing. #CMWorld
@Yogita_M
A5 Marketers need better pick-up lines – don't be disruptive and irrelevant #cmworld
@jf1216
@cate @jf1216 So true! #CMWorld
@ImAGirl_YouKnow
@tracibrowne Absolutely nothing, Say it Again! #CMWorld
@stratrev
@lynseelou Clicks are good leading indicators, but typically not indicative of the performance of a campaign. #CMWorld
@AJutah
"Sometimes?!" Haha 🙂 #CMWorld  https://twitter.com/anorchidinbloom/status/598162794450522112
@LUCYrk78
@jf1216 first rule- don't be boring 🙂 #cmworld
@thedavepepper
@eccushing @iamgiarose Not all news is related. Yes, you want the flow to be there for usability sake. But is "click more" a CTA? #CMWorld
@MusicAdamT
@tracibrowne There is diff between driving sales (i.e. by changing perception over time) and being able to directly measure. #cmworld
@wittlake
@BrandedCartoons what kind of world would that be? 🙂  #cmworld
@CMIContent
@BrandedCartoons Me too late Today :(#CMWorld
@ankit1989
@BrandedCartoons #CMWorld http://t.co/TtiNNnsy6x
@SparkerWorks
@eccushing @iamgiarose If it is, "click more" is the low-hanging fruit/lowest common denominator of CTA. #CMWorld
@MusicAdamT
A5 #nativeadvertising shouldn't interrupt– dance across the screen-its #content that is actually valuable to the person viewing it #cmworld
@jf1216502
A5: Pitfalls? You want that list alphabetized? #CMWorld
@mikemyers614
@tracibrowne Some things drive sales even though our current "direct" measurement model doesn't report it. #cmworld
@wittlake
@LUCYrk78 I'm the 1%? #CMWorld
@AnOrchidInBloom
Sometimes P/U lines can be a real let down.  Sure they lure but if you have no decent content, then what? #CMWorld  https://twitter.com/jf1216/status/598163070507188225
@coopSpeak
@mikemyers614 yes please 🙂 #CMWorld
@CMIContent
@LyonsJenn That's an exciting reason to be late! #CMWorld
@SparkerWorks
@iamgiarose @MusicAdamT How do you define CTA? To me, anything you explicitly/implicitly ask user to do as result of consuming is CTA #CMWorld
@eccushing
A4: #cmworld native advertising is just that, advertising.  The key metric #answerstage http://answerstage.com/views-and-qs http://t.co/vDxpIDq0S5
@answerstage
A5 If people aren't paying to promote their content – even just a little bit – it's a waste of their time and effort. #CMWorld
@godigitalmktg
A5: Don't get starstruck with the brand. Do your due diligence and make sure your investment is going to pay off. #cmworld
@AJutah
Yes! "@jf1216: A5 Marketers need better pick-up lines – don't be disruptive and irrelevant #cmworld"
@millennovator
A5. Sounding disingenuous- audiences pick up on it immediately. #CMWorld
@cate
A5 I think relevance is the #1 pitfall! And clickbait. Ugh. #CMWorld
@LUCYrk78
A5 Quality. Quality. Quality. Too many content marketers are using sponsored content as irrelevant ads. #CMWorld
@CarlaJohnson
A5: Biggest direct pitfall: lack of matching advertisers brand w/ the platform they are using. It's called "native" not "naive" adv #CMWorld
@Mr_McFly
@CMIContent #CMWorld
@mikemyers614
Be honest & provide value to win at sponsored content. #CMWorld
@cate
A5: #1 rule that the sponsored content has the same tone & voice as your brand. If not, it can come off as pushy & forced. #CMWorld
@Yogita_M
@AJutah @CMIContent definitely important for producers to know how/when to push back. can't be overridden w/mktg message. #cmworld
@aarongottlieb
@eccushing @MusicAdamT I would define it ask asking (or telling) someone to do something, yes. "Download now" "Sign up today" #cmworld
@iamgiarose
@wittlake sharable isn't enough…the question is why was it so sharable? Oreo was cute…but I have not bought any cookies #cmworld
@tracibrowne
@AJutah Test and test some more. Constantly re-evaluate. At least that's what our ppc guy does. #CMWorld
@AdamOnTheKeys
@eccushing @iamgiarose If that's true, our best CTA is our daily headlines e-mail – "we're updated, click us." #CMWorld
@MusicAdamT
A5. Marketers need to find the "right" outlet. What site/platform is the audience spending time? Otherwise it's a waste of money. #CMWorld
@rasmushallgren
A5. Stay relevant. Don't put your audience on mute.  #CMWorld
@SarahMT1212
@MusicAdamT @iamgiarose Sure. News agencies want users to use their services, stay on site longer, create breadcrumb trail of content #CMWorld
@eccushing
@Yogita_M Agreed, tone and voice are huge. #CMWorld
@rasmushallgren
A5. With all types of marketing content – sponsored or not – a little transparency will go a long way! #cmworld
@Marketwired
A5: Sponsored content should also add value to any existing conversation. Being informative and not disruptive is key #CMWorld
@Yogita_M
A5 @rasmushallgren  -great point – need to match the right content to the audience #CMWorld
@jf1216
We should sponsor more content instead of going for the Landing Page with a CTA as a "native ad" #CMWorld https://twitter.com/CarlaJohnson/status/598163605926850560
@MaelRoth
Ew. clickbait. #CMWorld  https://twitter.com/LUCYrk78/status/598163601980071936
@AnOrchidInBloom
A5. Protect your unique and authentic voice. It's a key asset. #CMWorld
@rachelformaro
@tracibrowne @TSNN_Rachel I can see it now – Top 10 ways to write shitty native ad headlines or the kitty goes homeless #cmworld
@ScottLum
You wouldn't believe the business relevance of this tweet…#CMWorld  https://twitter.com/LUCYrk78/status/598163601980071936
@Mr_McFly
@eccushing @iamgiarose Want, yes. But from the stats, we know that's not always realistic. We get very small windows. #CMWorld
@MusicAdamT
@rachelformaro absolutely! #cmworld
@CMIContent
Nor the audience of the people on the platform… #CMWorld  https://twitter.com/SarahMT1212/status/598163814006312960
@Mr_McFly
@tracibrowne Brand awareness/trust. #CMWorld
@ImAGirl_YouKnow
@LyonsJenn @Nibakure_Rwanda That's awesome! I know it will be an amazing trip. Enjoy! #CMWorld
@SparkerWorks
@iamgiarose thanks for joining us! #cmworld
@CMIContent
@rachelformaro agreed! Sponsored doesn't mean sacrificing all of your independence or style.  #cmworld
@Marketwired
A5: #Brands need to understand how its marketing expresses its own culture and what fits. Does sponsored content or native fit? #CMWorld
@mikemyers614
There are a lot of brands throwing big money at bloggers – just because they are "star struck" #CMWorld
@stratrev
Bummed to miss today's #CMWorld. Alas, a doctor's appt. trumps content today.
@bendgibbons
Q5: Don't lose sight of who you're creating content for and what kind of content they want to consume. #CMWorld https://twitter.com/CMIContent/status/598162987153690624
@oliveandco
Couldn't agree more! #CMWorld  https://twitter.com/jf1216/status/598163312048795648
@Yogita_M
@bendgibbons hope everything is ok! #cmworld
@CMIContent
@mikemyers614 agreed– and how well do your respective audiences match up?  #cmworld
@SFerika
A5 We ran native campaign it was a piece of a larger plan http://usat.ly/1jfuu8L #CMWorld
@jf1216
Q6: What role can/should offline tactics play in engagement and sales? How do you measure success of these programs? #CMWorld
@Marketwired Exactly. There is a always a way to weave in authenticity. #CMWorld
@rachelformaro
A5: (1 of 2) Be aware of where it's being posted and who is using it. #CMWorld
@SpencerHudonII
@rasmushallgren Yes! It comes back to what your audience craves and where they're hanging out. #cmworld
@CrowdContent
@tracibrowne @wittlake Problem is 3-yrs later & we're still talking about Oreos and there are hundreds of bad imitation attempts #cmworld
@ScottLum
A6 Invite product content to the content marketing party #cmworld
@jf1216
Hey @LUCYrk78 & @AnOrchidInBloom click bait has feeling too #CMWorld
@stratrev
cmworld @ajutah's answer is nearly the opposite of what I said.  If you #answerstage http://answerstage.com/views-and-qs http://t.co/4sVhCFtvjV
@answerstage
Very interested in how others are measuring success of offline tactics #CMWorld
@LyonsJenn
@ScottLum  @wittlake Exactly! #cmworld
@tracibrowne
@AnOrchidInBloom @BrandedCartoons Clowns are my worst nightmare. Twisty, anyone? No thanks, I'll pass. #CMWorld
@ImAGirl_YouKnow
A6 Product-specific content – from what's on sale to in-store inventory is too often forgotten, ignored in the content marketing . #cmworld
@jf1216
A6: How does your online activity drive offline activity? How does it cover offline activity? How does it integrate? #CMWorld
@Mr_McFly
A5 (2 of 2) You can lose track of your content quickly, only to find out it hurt your brand by being posted somewhere inappropriate #CMWorld
@SpencerHudonII
That was prevalent, particularly in the food/restaurant biz but it is waning quickly.  #CMWorld  https://twitter.com/stratrev/status/598164291590574080
@coopSpeak
Click HERE – NOW – for all the feels!!!! You'll be sorry if you don't! #CMWorld  https://twitter.com/stratrev/status/598164649738010625
@AnOrchidInBloom
That's the difference a writer makes! "@CarlaJohnson: A5 Quality. Too many marketers using sponsored content as irrelevant ads. #CMWorld"
@millennovator
So do serial killers. But we don't care about them either. #CMWorld  https://twitter.com/stratrev/status/598164649738010625
@LUCYrk78
You want native ads to flow. Not. . .like this. #CMWorld http://t.co/YTdIWRnfI8
@SparkerWorks
A6 Think about how do we turn on the web & content to drive physical, local outcomes-see a movie- test drive a car-  #CMWorld
@jf1216
A6) We should be cognizant of the stages of the funnel & when a person is ready have the buy CTA in front of them #CMWorld
@stratrev
@ScottLum @tracibrowne @wittlake Also, I don't think anyone who isn't a marketer still remembers Oreo commercial #wearetheproblem #CMWorld
@eccushing
A6: The ultimate measure is not whether someone buys from you once, but whether they continue to buy (and hopefully tell others). #CMWorld
@mikemyers614
BTW, relevance doesn't necessarily mean "valuable". Native doesn't have to be relevant, but valuable in the overall experience. #cmworld
@MaelRoth
A6 Constantly and consistently map a content piece to a sale, the CRM needs to reflect this #CMWorld
@JXB1Social
A6:  Meet customers face-to-face and ask customers what they like/dislike #CMWorld
@connieurway
@AnOrchidInBloom well since it's in all caps, we have to click, right? #cmworld
@CMIContent
Every offline tactic should include up to 3 QR codes. QR codes are the future. Everybody's using Qr codes. EVERYBODY! #cmworld
@BrandedCartoons
@Mr_McFly Integration is key. #CMworld
@CarlaJohnson
A6 Think about how do we turn on the web to drive physical, local outcomes-buy in a store-eat at a restaurant #cmworld
@jf1216
A6 90% of shopping still takes place offline. Digital must connect to in-store as often as it does ecomm or mcomm. #CMWorld
@godigitalmktg
A5: #cmworld Don't be deceptive.  Simple as that.  A click or a someone #answerstage http://answerstage.com/views-and-qs http://t.co/8V3iclP9M8
@answerstage598
There has to be an "authenticity" to the "authenticity" if you know what I mean.  #FauxSincerity #CMWorld  https://twitter.com/rachelformaro/status/598164530594652161
@coopSpeak
Agreed! #CMWorld  https://twitter.com/mikemyers614/status/598164966617829376
@CMIContent
A6 A brand a lot of stuff to communicate, often trying to drive a physical outcome-sell cars, toothpaste, burgers, movies #cmworld
@jf1216601
@AnOrchidInBloom look at you making jokes 🙂 #CMWorld
@stratrev
A6 Are your online efforts driving offline engagement? For some, online is great, but others need that push to get people F2F. #CMWorld
@AnOrchidInBloom
@BrandedCartoons Why do I sense a cartoon about QR codes on the horizon? Hmmm… #CMworld
@CarlaJohnson
@SpencerHudonII Ugh. Like one news story that got was getting major traffic because it was coming from an erotica forum. #CMWorld
@MusicAdamT
A6 Tactics like in-store mapping help connect people to immediate products & track against actual sales. #CMWorld http://t.co/sYDFbpTcWj
@godigitalmktg
A6. Offline interactions can still be a critical part of the brand/audience relationship. #CMWorld
@cate
All about that repeat business. #CMWorld  https://twitter.com/mikemyers614/status/598164966617829376
@ImAGirl_YouKnow
A6 being new to the world of retail…if what I produce doesn't drive traffic to store, it never happened. #cmworld
@tracibrowne
A6 If you ensure your content marketing connects with products being sold, you'll be able to get bigger wins #cmworld
@jf1216
A6 it's about consistency. Offline and on, people should feel no disconnect between the two. It's just connecting where people are #CMWorld
@LUCYrk78
A6) We use @InfusionSoft to carefully note & track offline event objectives & interest. The proof, or success, is in the pudding. #cmworld
@CrowdContent
@stratrev Today is either jokes or death. So I'm choosing jokes because I feel like death. #CMWorld
@AnOrchidInBloom
Sticker marketing is on the rise. Not sure how it can be measured but creative twist to offline mktg https://blog.scottsmarketplace.com/viral-marketing/ #CMWorld
@SarahMT1212
@tracibrowne @wittlake I'd hate to think how many community mgrs. have gotten fired because they wanted their Oreo moment #cmworld
@ScottLum
@LUCYrk78 couldn't have said it better ourselves!  #cmworld
@CMIContent
@lindadessau @CMIContent getting offline and building face to face relationships with influencers we interact with is important! #cmworld
@Marketwired
@MusicAdamT @iamgiarose Not everything like you want it to, but you still execute strategies. Marketing isn't foolproof #yet #CMWorld
@eccushing
A6. Some people still prefer the brick and mortar experience. Make sure that both online/offline experiences are aligned. #CMWorld
@rasmushallgren
@coopSpeak Hey Christine! I feel like it's been a while since I've seen you. How are things? #CMWorld
@AnOrchidInBloom
A6 Big retailers are starting to get this. Ex Macy's drove increased returns w/ mobile beacons this holiday. #CMWorld http://t.co/R9npQGM89e
@godigitalmktg
@coopSpeak Ha! Absolutely. I've seen some brands try to fake it. Just doesn't work. #cmworld
@rachelformaro
A6 @tracibrowne -could drive online as well… measurement is the tough part about in-store #CMWorld  but is possible https://twitter.com/tracibrowne/status/598165311255400448
@jf1216
@cate YES! People still live on planet earth! #CMWorld
@stratrev
@CarlaJohnson @BrandedCartoons #CMWorld http://t.co/nKJHgi5B7o
@LUCYrk78
@ImAGirl_YouKnow @mikemyers614 Retention is a thing. Often forgotten, but way too important to forget. #CMWorld
@Mr_McFly
A6. Methods for measuring offline interactions varies but when possible try to drive towards measurable CTAs. #CMWorld
@cate
Every Oreo should have a QR code. @ScottLum @tracibrowne @wittlake  #cmworld
@BrandedCartoons
@eccushing @ScottLum @tracibrowne @wittlake I'm going to start asking people as an experiment. #CMWorld
@SparkerWorks
@millennovator That's the difference writers SHOULD make. Not all do & no telling what happens when copy leaves their hands #CMworld
@CarlaJohnson
@LUCYrk78 @CarlaJohnson @BrandedCartoons lol #CMWorld
@CMIContent
Yes! #CMWorld  https://twitter.com/MusicAdamT/status/598165271208157185
@SpencerHudonII
@tracibrowne agree, and I was focuses more on value we don't directly measure, not specifically on "buzz". #CMWorld
@wittlake
A6: Personal and genuine offline engagements go a long way in making sure the customer comes back. #CMWorld
@Yogita_M
@CMIContent A6: Offline interactions can be very powerful as they can be personal and have greater impacts on the customers #cmworld
@stphhnie
Engage cross-sector partners to drive actionable deliverables "@CMIContent Q6: What role should offline tactics play in engagement? #CMWorld
@millennovator
+1000RT #CMWorld  https://twitter.com/Mr_McFly/status/598165627115798528
@connieurway
@BrandedCartoons *tattoos 7 QR codes on self* #CMWorld
@SparkerWorks
A6 QR codes still exist? :0  #cmworld  https://twitter.com/BrandedCartoons/status/598165649739915264
@jf1216
A6: #cmworld "offline?" as in the real-world?  It should play a key #answerstage http://answerstage.com/views-and-qs http://t.co/atrgDL7meN
@answerstage
@ScottLum Have you watched Happyish yet? #cmworld
@tracibrowne
"@stratrev: A6) We should be cognizant of the stages of the funnel & when a person is ready have the buy CTA in front of them #CMWorld"
@millennovator
A6. Offline? funny way of saying face-to-face human interaction #cmworld
@AdamOnTheKeys
@BrandedCartoons @ScottLum @tracibrowne @wittlake MMMMMMM, QR codes. #CMWorld
@mikemyers614
You can still take a picture of a code to go to a site in the dark @BrandedCartoons @ScottLum @tracibrowne @wittlake #CMWorld
@Mr_McFly645
. @stphhnie But how are you driving them to those offline opportunities? #CMWorld
@godigitalmktg
I can pick off the reek of fake sincerity at 50 characters!  🙂  #KeepItReal #Sincerity #CMWorld  https://twitter.com/rachelformaro/status/598165591195713536
@coopSpeak
Absolutely – it costs far less to get repeat business as opposed to always chasing the one-offs! #CMWorld  https://twitter.com/CMIContent/status/598165200928407552
@wearenatta
Q7: What are some examples of companies using content to specifically drive engagement, impact & sales? #CMWorld
A7 @HerschelSupply backpack  company used #welltraveled – connect with key value prop – travel, experiences #cmworld http://t.co/teyUWdIOoI
@jf1216
A7 @Birchbox – tying #content to commerce- includes where, how to buy products   http://birch.ly/1Fbx79D #cmworld http://t.co/uM6LOeEv3P
@jf1216
@eccushing @iamgiarose I'd still say that's a brand identity characteristic – we provide context beyond the content, come back. #CMWorld
@MusicAdamT
A6 @AdamOnTheKeys -see a movie- test drive a car- get an oil change-buy in a store-eat at a restaurant  #cmworld
@jf1216
. @Yogita_M But that assumes people are going to go to YOUR store. Where's the incentive when they're webrooming? #CMWorld
@godigitalmktg
@BrandedCartoons @ScottLum @tracibrowne @wittlake Um are the QR codes gluten free though #CMWorld
@SparkerWorks
@CarlaJohnson @millennovator Lessons learned in writing workshops in the early years still make sense with #contentmarketing #CMWorld
@rachelformaro
A6: people still love F2F contact & having a relationship with a brand. digital equivalence is creating great, unique content. #CMWorld
@lynseelou
I see a pic of Chicago and the bean in todays #CMWorld chat and it makes me oh-so-happy.
@MoninaW
@AnOrchidInBloom Yes. F2F, H2H, some audience's need that before making purchasing decisions. #cmworld
@CrowdContent
I LOVE it! Got it from @MsNycole #CMWorld  https://twitter.com/cate/status/598165925666258944
@LUCYrk78
A7 Apple Shot with IPhone – what apple does best  – visuals tell the product differentiation story http://bit.ly/1FbxhO6 #cmworld
@jf1216
I work in the biz of the "human condition" keeping it real, sincere and genuine is key in our content. #MentalHealth #CMWorld
@coopSpeak
@ScottLum Hilarious! And so so accurate. #cmworld re: Happyish
@tracibrowne
@BrandedCartoons @ScottLum @tracibrowne @wittlake Did someone say Oreo? #CMWorld
@ImAGirl_YouKnow
@answerstage Question was about how to measure success of the piece. You can still attribute conversions in the 2nd or 3rd visit. #cmworld
@AJutah
A7: I love examples get ready… all of this is real… yes, its' happening…. #cmworld
@jf1216
A7 Retailers tie transactional & summer grilling quality content + drives trip  http://bit.ly/1FbyapU #cmworld http://t.co/Tw6VNovQLq
@jf1216
A7 My favorite #contentmarketing of all time http://www.ge.com/stories/my-mom-creates-wonder #CMWorld
@connieurway
A7  @Birchbox – tying #content to commerce 7 Habits Sabotaging Your Grooming http://birch.ly/1FbxHEa #cmworld http://t.co/IEomw9tanD
@jf1216
A7 My favorite #contentmarketing of all time http://ln.is/www.ge.com/stories/w3Bpo #CMWorld
@connieurway
A7 @ModCloth – they are BRILLIANT at eliciting and utilizing user generated content. #CMWorld
@cate
@jf1216 I am loving these examples #CMWorld really making the conversation clear  https://twitter.com/jf1216/status/598166004141686784
@SarahMT1212
@connieurway such a good one! #CMWorld
@CMIContent
@SarahMT1212 thanks…#CMWorld
@jf1216
A7: Many brands are requiring user-generated content – photos of them with their product – in their freebies these days. #CMWorld
@MusicAdamT
A7: As a brand, @ChipotleTweets drives great engagement from people who care about sustainable food, one burrito at a time. #CMWorld
@mikemyers614
A7 Lowes: Beyond product descriptions, enhance content by posting links to how-to  videos #cmworld http://t.co/bUgtfiHs36
@jf1216
@CMIContent A7 @bannersnack is creating relevant content about banner ads and advertising #CMWorld
@katairobi
@cate I almost prepped a @ModCloth example for this #CMWorld chat! So smart and ahead of the curve.
@godigitalmktg
A7) @HubSpot @LinkedIn @AmericanExpress @moz @hootsuite @buffer #CMWorld
@stratrev
A7  Example @birchbox – 7 Habits Sabotaging Your Grooming http://birch.ly/1FbxHEa #cmworld http://bit.ly/1H1yR2b #cmworld
@jf1216
A7 I'm personally not a fan, but TOMs does a great job with UGC  #CMWorld
@LUCYrk78
A7: @Lowes did a great job of this with their #lowesfixinsix @vine campaign #CMWorld
@lynseelou
@CMIContent A7 I love the @fluevog Instagram posts…  #cmworld
@SFerika
A7: These brands are in my bookmarks:• @copyblogger• @jonmorrow• @buffer• @wsj #cmworld
@AJutah
Love! "@connieurway: A7 My favorite #contentmarketing of all time http://ln.is/www.ge.com/stories/w3Bpo #CMWorld"
@millennovator
@CMIContent CMI. Consulting, event tickets, … practicing what you preach effectively. #CMWorld
@wittlake
A7 Are we basing our answers to this Q based on knowing the goal and whether or not they succeeded? Otherwise we are back to Oreo #cmworld
@tracibrowne
@Sephora has some great user content and other goodies A7 #CMWorld
@SarahMT1212
@LUCYrk78 bare feet pics not your thing this month? 🙂 #CMWorld
@CMIContent
@jf1216 Yes! Fix-in-six @vine videos are awesome way to be an educator, not an advertiser.  #CMWorld
@mikemyers614
Hey content marketers, there are some great examples of content marketing in action flying around on #CMWorld right now.  Write these down!
@cate
CarlaJohnson millennovator Lessons learned in writing workshops in the early years still make sense with #contentmarketing #CMWorld www.Whi…
@whissocialmedia
A7 My favorite #contentmarketing of all time http://ln.is/www.ge.com/stories/w3Bpo #CMWorld http://www.WhistlerHQ.com
@whissocialmedia
@lynseelou great example of solving problems with content — and driving store traffic   @Lowes @vine  #CMWorld
@jf1216
"@mikemyers614: As a brand, @ChipotleTweets drives great engagement from people who care about sustainable food. #CMWorld"
@millennovator
Developing stigma campaigns that are meaningful and engaging are much easier now than a few years ago. #PublicAwareness #CMWorld
@coopSpeak
A7 Love @BettyCrocker for this, particularly their IG feed. #CMWorld
@AnOrchidInBloom
A7. @NHL has done a great job on social media to evoke emotions through visual content such as images and videos. #CMWorld #slowmoMonday
@rasmushallgren
A7 @lynseelou @Lowes Their BuiltItBoard was also brilliant. #CMWorld http://t.co/OiZxixUtPv
@godigitalmktg
Do it! #CMWorld  https://twitter.com/cate/status/598167118492749824
@CMIContent
Haha! Got me. #CMWorld  https://twitter.com/cmicontent/status/598167066122788864
@LUCYrk78
A7 – Will be fun to look at all these examples keep em coming #CMWorld
@jf1216
You had me at @Fluevog #ShoeAddiction #CMWorld  https://twitter.com/SFerika/status/598166942424375296
@coopSpeak
Q7 #cmworld @orvis and @gopro both do a great job of inspiring people  #answerstage http://answerstage.com/views-and-qs http://t.co/Dt29tPkO0w
@answerstage
@CMIContent The good news is nothing digitally contagious! Summer colds/allergies, yuck. #CMWorld
@bendgibbons
@godigitalmktg yes! They've been using UGC for years, in a VERY smart and user-centric way.  Big fan of the marketing at @ModCloth #cmworld
@cate
Q8: What is the best #contentmarketing channel for driving online to offline impact? Does it vary? #CMWorld
A8  Mobile, Mobile….#cmworld
@jf1216
@wittlake well shucks <blushing> #CMWorld
@CMIContent
and let's not forget about @CocaCola and their #shareacoke campaign. http://www.wsj.com/articles/share-a-coke-credited-with-a-pop-in-sales-1411661519 #CMWorld
@lynseelou
A8 Mobile pushes content further…#cmworld
@jf1216
I see both @Microsoft, as well as now @lenovo leading the #contentmarketing change in the #tech world #CMWorld
@millennovator
A8: Yes, it varies. It varies for product, audience, customer, etc. You can't force people to go where they don't want to be. #CMWorld
@Mr_McFly
@traveloregon is monstrously good at delivering real-world content. You can practically smell Oregon. http://traveloregon.com #cmworld
@BrandedCartoons
A8– Beyond Tide Gets stains out – P&G drives a reason to act – Looks like this  http://bit.ly/1Hg0zvi   #cmworld http://t.co/QIQPFXx4a2
@jf1216
A8: The best channel for #contentmarketing (or any #marketing) is the one that your audience prefers. #CMWorld
@mikemyers614
A7 @LOreal is always doing great things on social&mobile. Showing people why & how to connect w/ their brand #CMWorld http://t.co/bKvQlJ960k
@godigitalmktg
@jf1216  We love our Herschel. It's like a right of passage to have a Herschel pack here in yyj. They succeeded. #cmworld
@CrowdContent
A8 Solid study done by Millennial Media & ComScore on mobile behaviorhttp://bit.ly/1H1zb0R #CMWorld
@jf1216
A7: Sports brands also stepping up:• @SBNation• @BleacherReport• @USATodaySports• @CBSSports• @ESPN700 #cmworld
@AJutah
And now http://WhistlerHQ.com is dropping the @ … you're not really interacting right without that. #CMWorld
@MusicAdamT
A7: and let's not forget about @CocaCola and their #shareacoke campaign http://www.wsj.com/articles/share-a-coke-credited-with-a-pop-in-sales-1411661519 #CMWorld
@lynseelou
@CathyLeeTaylor we feel if you warn them you are participating in a chat, most are very understanding #CMWorld
@CMIContent
Something the @nfl the @NBA and @MLBplayersMLB should stand up and take note of.  #CMWorld  https://twitter.com/rasmushallgren/status/598167238282190848
@coopSpeak
A8 READ THIS <<< More than 50% of content is consumed on mobile devices #cmworld
@jf1216
A8 varies, depending on where your community is. Video is great tho, because on any platform, it draws people in, knowing YOU more #CMWorld
@LUCYrk78
A8. It depends on the audience but generally, I'm with @jf1216 on this – mobile is a critical component #CMWorld
@cate
I believed it all, studied our analytics and guess what? 14 whopping percent came from mobile – #tradeshowsareoldschool #cmworld
@TSNN_Rachel
A8. I keep coming back to audience analysis – it all depends on your audience. #CMWorld
@rasmushallgren
A8 There is no singular "best" channel for offline impact. The messages just have to be relevant when you deliver them. #CMWorld
@godigitalmktg
@CMIContent A8: Apps with instant purchase #cmworld
@stphhnie
Everything varies. It's one of the few things without a variation. #CMWorld https://twitter.com/CMIContent/status/598167522202886145
@MusicAdamT
A8 Mobile isn't for buying  Mobile is for #Content #cmworld
@jf1216
A8 I'm going to have to agree about mobile. Even using other apps like Snapchat or offering discounts on check ins etc #CMWorld
@SarahMT1212
'We have to stop interrupting what people are interested in and be what people are interested in.' #CMWorld http://contentmarketinginstitute.com/2015/05/content-marketing-road-map/
@CustomWriterUK
Q7: IKEA's Instagram website was a great example of this. http://digiday.com/brands/ikea-launches-instagram-website-latest-ad-campaign/ #CMWorld https://twitter.com/CMIContent/status/598166003135094784
@oliveandco
A8 Mobile is also for Action – solving problems – directions, reservations Planning #cmworld
@jf1216
This! #CMWorld  https://twitter.com/godigitalmktg/status/598168000030707713
@CMIContent
A8: Depends what audience  #contentmarketing are targeting #CMWorld
@connieurway
Needs to be well made video though.  I've seen some really poor material.  #QualityContent #CMWorld  https://twitter.com/LUCYrk78/status/598167967336128512
@coopSpeak
@CMIContent The RIGHT people, if you please 🙂  #CMWorld
@mikemyers614
@coopSpeak The @NHL has always been the least stodgy of the major pro sports. As have been its players. #CMWorld
@MusicAdamT
A8: It varies based on your audience and where they like to consume content. Blogs are essential for most. #CMWorld https://twitter.com/CMIContent/status/598167522202886145
@oliveandco
@CMIContent @godigitalmktg or rather valuable 🙂 Relevant isn't good enough! #CMWorld
@MaelRoth
Absolutely! nothing like studying your audience's browsing to tweak your content marketing strategy #CMWorld  https://twitter.com/mikemyers614/status/598167779632644096
@Yogita_M
A8 I think it depends on the impact you're seeking. Dif platforms for dif intention. #CMWorld
@AnOrchidInBloom
A8 Digital to in-store attribution is key. Google has tried this with limited success, partners like @datalogix, @nielsen are key #cmworld
@jf1216
@rasmushallgren @NHL Their Instagram has a great sense of humor! Engaging even for those who aren't hockey fans. #CMWorld
@SparkerWorks
@MusicAdamT @coopSpeak well, until Periscope 🙂 #CMWorld
@MoninaW
I think Kohl's once used a QR code. Somebody scanned it. KPI's were handed out to everyone.  #cmworld
@BrandedCartoons
@coopSpeak @Fluevog I think I have…7 pairs of Fluevogs currently? And still have my 1st pair, from when they had DM soles! ;p #CMworld
@SFerika
@coopSpeak @nfl @NBA @MLBplayersMLB they have #CMWorld #socialmedia
@AlvoHippo
a8: Depends on your business and the audience behavior – you can't choose a channel in a vacuum  #cmworld
@ScottLum
@jf1216 @Google has said that mobile searches are surpassing desktop searches. You can't not do mobile. unless you like to lose. #CMWorld
@lynseelou
Every time I think we've figured out what our audience wants, they go ahead and surprise me. Need to constantly evolve.  #cmworld
@TSNN_Rachel
@SparkerWorks Haha definitely. @NHL is definitely in the forefront when it comes to the professional sports leagues in NA. #CMWorld
@rasmushallgren
@TSNN_Rachel Keeps you on your toes! #cmworld
@lindadessau
A8 @lynseelou Mobile is a behavior…not a channel  #CMWorld  https://twitter.com/lynseelou/status/598168779974029312
@jf1216
@Mr_McFly still has to abide by context #CMWorld
@AlvoHippo
A8 Our friends @contently offered "Most Effective & Difficult Types of Content MKT" #CMworld http://contently.com/strategist/2015/04/27/the-most-effective-and-difficult-types-content-marketing-in-one-chart/ http://t.co/FTIiNASjpO
@godigitalmktg
We'll spend the last few minutes asking @jf1216 questions. Ask now! #CMWorld
@CMIContent
@MoninaW @coopSpeak Well, yes, but broadcast deals never envisioned this kind of sharing emerging, I'm gonna guess. #CMWorld
@MusicAdamT
Oh yeah.  Absolutely.  #CMWorld  https://twitter.com/lynseelou/status/598168779974029312
@coopSpeak
@CMIContent thanks for responding. First-time chatter & wonder what followers would think about this stream of conversation #cmworld #cmworld
@CathyLeeTaylor
@AJutah Sorry.  Wasn't criticizing your answer.  Was just highlighting it as an alternative to what I wrote.  #cmworld
@answerstage
@TSNN_Rachel Yes, keep asking them. Everyone's needs change! #CMWorld
@mikemyers614
@AlvoHippo Both absotively and posilutely! #CMWorld
@Mr_McFly
@ideakid88 from the Twitter web client, make sure you click "all" after your search of the hashtag rather than "top" #CMWorld
@CMIContent
@jf1216 @birchbox This is great content from Birchbox #cmworld #contentmarketing
@AlvoHippo
A8 – The best channel for #contentmarketing any channel that brings your genuine &honest engagement works. Measuring metrics is imp #CMWorld
@Yogita_M
@AlvoHippo @jf1216 @birchbox solid…How do we establish an approach for content to drive engagement & action #cmworld
@jf1216
@rasmushallgren They definitely have to be consistent #cmworld #business #ecommerce
@AlvoHippo
My daughter is 28 years old and the most engaged platform among her group is #Instragram I too am moving more to its use. #CMWorld
@coopSpeak
A8 Identify shopping behaviors before you pick content tactics. Put an audience to work. Offer substance. #CMworld http://www.godigitalmarketing.com/4-content-lessons-sxsw-owning-renting-customer-behavior-nationalblog/
@godigitalmktg
I'll leave all with this  #contentmarketing can't be siloed, on an island #cmworld
@jf1216
A8 Content marketing can't be siloed, on an island  — Establish a Reason to believe & a reason to Act #cmworld http://t.co/I4a5rqNYz6
@jf1216
@CarlaJohnson Volume instead of quality #cmworld #ads #marketing
@AlvoHippoo
@MusicAdamT oh I don't know about least stodgy… now this http://www.complex.com/sports/2015/04/nba-social-media #cmworld
@tracibrowne
@thedavepepper hope you enjoy the rest of your week! And thanks for alerting @nurph to our issue 🙂  #cmworld
@CMIContent
Good times, as always, were had at #CMWorld…Once again, I need to be there in Cleveland in September!
@Mr_McFly
A8 #Contentmarketing establish a reason to believe & a reason to act  #cmworld
@jf1216
@jf1216 I like how retail stores are utilizing push notifications & geotargeting via mobile. Using the spaces as a showroom. #cmworld
@lynseelou
@CMIContent @jf1216 #CMWorld Is there any quick way to grab attention of prospects?
@vivektweetsso
@AJutah That's the real KPI #cmworld #marketing
@AlvoHippo
@CMIContent Did that before. Just changed to #CMWorld from #CMWorld Chat and voila the tweets are there:) Thanks!
@ideakid88
#contentmarketing is incomplete until we find a way to have the content work with other disciplines.   #cmworld
@jf1216
@CMIContent @nurph < is the best chat platform I've found. #cmworld
@thedavepepper
What he said! #cmworld  https://twitter.com/jf1216/status/598169540137095169
@CrowdContent
@tracibrowne The NBA is getting very good at reflecting their audience and making deals with #SoMe providers. Silver is savvy #CMWorld
@MusicAdamT
I have no love for push notifications.  I've become "stop sign" blind to them. #CMWorld  https://twitter.com/lynseelou/status/598169674824617985
@coopSpeak
Ditto!  Riveting #Cmworld chat Have a great day! https://twitter.com/rasmushallgren/status/598169904110534656
@connieurway
A7: Insurance companies will create entire websites designed to inform the consumer of insurance news with links to their homepage. #CMWorld
@SpencerHudonII
Enjoyed it. hit me up on linked in https://www.linkedin.com/in/jefffagel  #cmworld
@jf1216
A8: Does depend on audience but mobile can often be a differentiator for brands http://info.elementthree.com/mobile-marketing-isnt-a-fad-its-a-differentiator #CMWorld
@derekrsmith74
@jf1216 – what is the best practice for re-purposing content. Any thumb rules? How old is too old? #cmworld
@Yogita_M
Great chat everyone! We'll be providing a "Best Of" recap later this week! #CMworld http://www.godigitalmarketing.com/blog/?gpi=20
@godigitalmktg
A8b. Here's an article I wrote about mobile and #IRL return after studying in Japan #cmworld HREF="http://t.co/jAgedMprUw" TARGET="parent">http://buff.ly/1G3k6Qg
@SarahMT1212
@coopSpeak I know what you mean – I turn off push notifications for almost all apps #cmworld
@lindadessau
@CMIContent based on the answers, this is one tricky question. #cmworld
@stphhnie
Be where your audience is & evolve as they do! "@ScottLum a8: Depends on audience behavior- you can't choose a channel in a vacuum #cmworld"
@millennovator
Glad you enjoyed the #CMworld chat Rachel– it's my fave twitter chat, hands down. cc @CMIContent  https://twitter.com/rachelformaro/status/598170211355754496
@SFerika
@Yogita_M always good to update, refresh blogs, other content – helps with relevancy & Google search… #cmworld
@jf1216
@thedavepepper @CMIContent @Nurph Agree as it easy to use and enabling. I will say it again " It's Nurph or nothing!"  #cmworld
@ideakid88
Have you seen this? Change a movie title to give it a #contentmarketing twist! http://cmi.media/15promo2 #CMWorld http://t.co/n15oLNuaIA
@CMIContent
I find them invasive and annoying. Tantamount to those auto calls at home during dinner hour. #CMWorld  https://twitter.com/lindadessau/status/598170321938620417
@coopSpeak
@CMIContent Joe takes days off?? Ha! #cmworld
@martinlieberman
@stphhnie @CMIContent "This is no social crisis, this is you having fun." – Another Tricky Day, The Who #CMWorld
@MusicAdamT
Thanks to @jf1216 for joining us on our #CMWorld chat today!
@CMIContent
@HiPhaedra thanks for joining the discussion… #cmworld
@jf1216
@martinlieberman maybe one or two 🙂 #CMWorld
@CMIContent
Why does it feel like I've run a mental marathon after an hour of #CMWorld?
@ScottLum
@SarahMT1212 we learned a ton too! Always great to hear from this community! #CMWorld
@CMIContent
@rachelformaro my kid works for Apple.  Taking a Master deg. in Env. Urban Planning.  She's always showing me new apps. #CMWorld
@coopSpeak
@ScottLum a lot to take it, will have to check out the recap… #cmworld
@jf1216
Next week, chat regular @mikemyers614 is on the hot seat! http://cmi.media/twitterchats #CMWorld http://t.co/RuiPRlC0GR
@CMIContent
@ScottLum Umm.. because your mind has!  #cmworld
@ideakid88
Your brain is 26 miles long? #CMWorld https://twitter.com/ScottLum/status/598170930775519232
@MusicAdamT
fastest hour ever. another #CMWorld in the books. Really enjoyed @jf1216's insights into #ContentMarketing. Thank you!
@lynseelou
For more info on @jf1216, visit @godigitalmktg online: http://godigitalmarketing.com #CMWorld
@CMIContent
@TerrenceWBrown he is definitely a machine – no match for him! #CMWorld
@CMIContent
My first time joining in.  I find it very thought provoking and helpful. Looking forward to engaging again. #CMWorld https://twitter.com/cate/status/598170851700133888
@coopSpeak
@mikemyers614 @CMIContent You can take it #cmworld
@lindadessau
Possibilities times infinity.  🙂  #CMWorld  https://twitter.com/rachelformaro/status/598171274234363904
@coopSpeak
So true "@mikemyers614: A8: The best channel for #contentmarketing (or any #marketing) is the one that your audience prefers. #CMWorld"
@Vijaindra
Try being us – keeping up with you and our other #CMWorld friends!  https://twitter.com/ScottLum/status/598170930775519232
@CMIContent
@stphhnie Mind, never. Encourage, always. #CMWorld and other chats are a good knowledge base. Start stalking @ChristinKardos 🙂
@MusicAdamT
@CMIContent Having so many friends is a quality problem! 😉 #CMWorld
@lindadessau
agreed! reminds me of @generalelectric's foray into @Pinterest https://www.pinterest.com/generalelectric/ #cmworld  https://twitter.com/godigitalmktg/status/598167237271388160
@lynseelou
You're my heroes. I have no idea how you keep up with the moderation and creating compelling conversations #cmworld https://twitter.com/CMIContent/status/598171572155904000
@ScottLum
Review your overall traffic numbers to measure your #SEO effectiveness? #CMworld HREF="http://t.co/4rV6LDgCIs" TARGET="parent">http://buff.ly/1FghXlb
@CurateSupport
@lindadessau it's a problem we'll gladly take! #CMWorld
@CMIContent
Right back at you!  I just love how these chats bring people together and share info & knowledge. #CMWorld  https://twitter.com/ideakid88/status/598173272996507649
@coopSpeak
@ScottLum you're too kind, Scott. Seriously we are so fortunate to know you and so many other great #contentmarketing friends. #CMWorld
@CMIContent
We can't say it enough. We find so much value in our #CMWorld Twitter chats!  https://twitter.com/coopSpeak/status/598173548578897921
@CMIContent
@Nurph I am the cmgr for #CMWorld. Thanks for the help today. Can you follow so I can DM? Or maybe someone can respond to my earlier tweet?
@MoninaW
@ActualKats Yes! Thank you! It's nice to know that people see & understand my original point. #cmworld
@iamgiarose
Sometimes you have to come with the "planting seeds" approach for the future. #MakingAnAsk #CMWorld  https://twitter.com/ActualKats/status/598160090781380608
@coopSpeak
Posted May 26, 2015 in: Event by Kim Borden
---