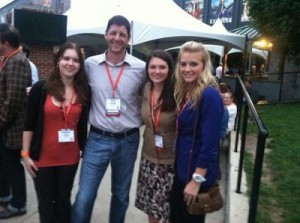 Follow the #CMWorld blog for the next few weeks as we take a look back on some of our favorite blog posts from Content Marketing World 2012. These blog posts give our attendees – and potential attendees! – great perspective on why CMWorld is THE content marketing event of the year. There is still time to register!
With marketing budgets and travel budgets diminishing, it is more important than ever that events not  only inspire and offer networking, but also leave attendees with the tools needed to return back to work energized and prepared.
How do our attendees feel when they leave? 
"I left Content Marketing World with a new-found appreciation for my industry. There is a profound amount of talent yet to be utilized and recognized. Following this event, I truly believe that content marketing will only grow and improve in the coming days, months and years.
Content marketing is effective because of its ability to make deep connections between author and reader (AKA, company and prospect /client /customer /employee /etc). But, many professionals question how best to do so. Content Marketing World left me with the following insight:
Write with intention and purpose. Write to promote your business. Write what truly matters. Write to  make a positive impact on your industry and on our world."
For more on Sandie Young and other PR 20/20 team members' thoughts on CMWorld, visit their blog post here. 
Register today for Content Marketing World 2013! Join us September 9-11, 2013 in Cleveland, Ohio, as we boldly go where no other content marketing event has gone!
Posted July 31, 2013 in: Event by Cathy McPhillips
---