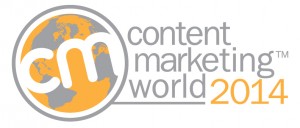 Call for Speakers for Content Marketing World 2014 is now open! Would you like to be part of the the world's leading content marketing event? We are returning to Cleveland, Ohio, September 8-11, 2014 at the Cleveland Convention Center and want you there with us. 
Entering our fourth year, Content Marketing World features the content marketing industry's top authorities to address all aspects of content marketing. The Call for Speakers focuses on 10 tracks targeting some of the hottest topics in content marketing. These tracks include content strategy, content creation, content discovery, content integration, B2B content marketing, B2C content marketing, and social media. Combined with Day 1 pre-event sessions and Day 4 industry summits, more than 75 speakers will address more than 2,000 event attendees. Over 40 countries were represented at Content Marketing World 2013. 
"We are really looking to raise the bar on speakers for Content Marketing World 2014.  Because it is an international event we look for speakers from all over the globe," says Joe Pulizzi, founder of the Content Marketing Institute and author of Epic Content Marketing. "Last year we had over 200 entries, and anticipate bringing even more of the best content marketing practitioners center stage to help take content marketing to the next level."
Speaker proposals will be accepted until Friday, December 6, 2013 via web submission only, with no late entries being accepted. All entrants will be notified by January 21, 2014.
A full agenda including speakers from Content Marketing World 2013 can be found here.
Questions regarding Content Marketing World 2014: info@contentinstitute.com. Questions regarding speaker submissions: speakers@contentinstitute.com (Call for Speaker submissions will not be accepted at this email address; use Call For Speakers web form).
Registration for Content Marketing World opens December 2, 2013.
Posted November 4, 2013 in: Event by Cathy McPhillips
---