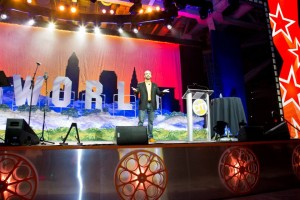 It's hard to believe that after 12+ months of planning for Content Marketing World 2015, that it's come and gone so quickly.
Who else felt that it was a whirlwind week of monumental learning and fun face-to-face time with online friends? Who left with a feeling of renewed excitement for content marketing and a drive to get back to work to be your absolute best for your customers?
The highlights of CMWorld this year for us were these:
Seeing you.
With our time being spread thin, we don't get the chance to get out and about as much as we'd like. So many of us have our noses to the grindstone each day delivering excellent content marketing to our customers. So when we do get the chance to see you, it makes for a great few days.
Absorbing every word our speakers have to say.
Ann Handley wows the crowd talking about expecting (and delivering) better writing. Andrew Davis and Scott Stratten are energizing the crowd in their own ways. And dozens and dozens of content marketing practitioners are up on stage in a breakout session talking about their OWN work and giving case studies and tangible examples to our attendees. This is why the event exists: sharing stories, entertaining, educating, and giving you relevant and consistent content all week. (Wait a minute…that sounds a little bit like content marketing!)
The fun.
Hollywood Squares exceeded our expectations with our stars and our VIPs entertaining the crowd. Our contestants, who were winners from a social contest, had so much fun and it was so great to see it come to life. Our keynotes, John Cleese and Nick Offerman entertained and inspired the crowds with their stories – capping off each day of our main event.
What now? What will we do for the next 10 months until CMWorld 2016? 
If you're having event withdrawals like we are, here's how you can connect:
What about Content Marketing World 2016? 
Save the date! It will be held September 6-9, 2016 at the Cleveland Convention Center in Cleveland, Ohio, USA. Registration opens on December 1, 2015, and we're locking in our 2015 (actually, 2014) rates until December 31, 2015. Squeeze it into your year-end budget this year if you can!
Our Call for Speakers opens November 2 and closes December 14. Get involved!
What other information about Content Marketing World are you looking for that you can't find on our website? Either leave a comment so we can respond, or email Cathy to answer any questions.
Posted November 1, 2015 in: Event by Cathy McPhillips
---