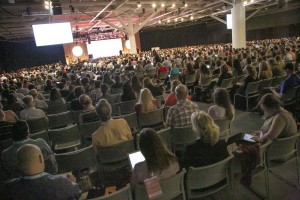 It's hard to believe it, but yes! Content Marketing World 2015 registration is now open! 279 days from now we'll all be back together in Cleveland – bigger, brighter, more exciting than previous years, if you can believe that.
Important info:
When: September 8-11, 2015
Where: Cleveland, Ohio, USA – the home of content marketing!
Registration now open!
Exciting details:
If all of your emails and social buzz prove us right, we're looking at a HUGE crowd in Northeast Ohio next September – much larger than #CMWorld 2014. Our evening activities are going to be so incredible, our speaker list is turning into one of the best we've ever seen anywhere, and our keynotes will amaze you. Hotels, restaurants and the city of Cleveland are READY. We're ready to celebrate Content Marketing World's 5th year!
What's new:
We hope these few items pique your interest: Walking the orange carpet, a Tuesday workshop geared toward sales teams, a content marketing documentary and a new book. All exciting in their own way!
Now do we really have to wait 40 weeks to see you all again? But seriously, even though it's 40 weeks away, 2014 pricing DOES go away on 12/31/14. Do you have any "use it or lose it" marketing funds you can apply toward CMWorld? Just an idea! You know we're always looking out for you.
We're here to help. Email us or leave a comment if we can help you with anything! And don't forget – Call for Speakers ends on Friday.
Thanks, and we'll see you in September!
Posted December 3, 2014 in: Event by Cathy McPhillips
---