Content Marketing World is part of the Informa Connect Division of Informa PLC
This site is operated by a business or businesses owned by Informa PLC and all copyright resides with them. Informa PLC's registered office is 5 Howick Place, London SW1P 1WG. Registered in England and Wales. Number 3099067.
Content Marketing World 2016 Wrap-Up: A #CMWorld Chat with Michele Linn & Cathy McPhillips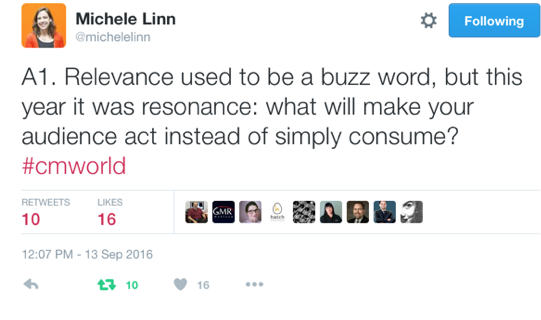 Our year of #CMWorld Twitter chats culminate with our big conference and expo each year, and we're still all aglow in orange from our four days with 3,600+ members of our community. We are so glad that so many members of our #CMWorld online community could join us offline for the big event.
What were the common themes and biggest takeaways? What did you learn, and who did you meet? Attendees shared their learnings, and those not in attendance got a glimpse of what to watch in the fourth quarter and beyond.
A few highlights of the chat are below. Visit this week's Storify for even more great conversations about CMWorld 2016 as well as the future of content marketing through our participants' eyes.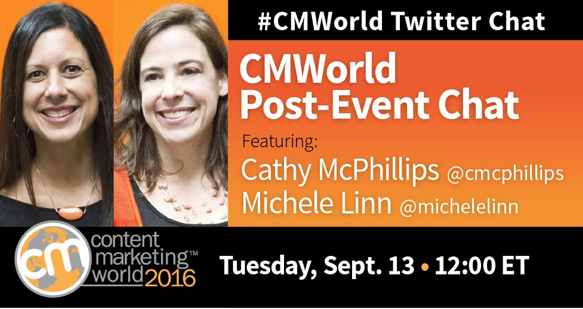 Content marketing will become more deliberate and thoughtful
And from an event stantpoint, some key moments stand out to our attendees
That's a wrap! Two important dates for Content Marketing World 2017 are November 1, 2016 and December 1, 2016. On November 1, our Call for Speakers opens, and on December 1, registration opens! Watch the Content Marketing World website for more information! 
Posted September 14, 2016 in: Event by Cathy McPhillips
---
UP