Content Marketing World is part of the Informa Connect Division of Informa PLC
This site is operated by a business or businesses owned by Informa PLC and all copyright resides with them. Informa PLC's registered office is 5 Howick Place, London SW1P 1WG. Registered in England and Wales. Number 3099067.
Content Marketing World Giveaways – Early Bird Rates all May!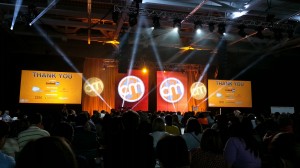 Have you been waiting for the perfect time to register for Content Marketing World 2014? May will undoubtedly be the best month of all, so register today!
Why May?
Early bird rates are still in effect, but hurry! Rates increase on June 1, so be sure to register by May 31.
Coffee! When you complete the registration process, you'll have an option to tweet out a message to your followers that you've just registered for #CMWorld. For everyone that registers AND tweets in May, we'll tweet you back with a $5 gift card. 
Returning CMWorld attendees – you'll love our agenda we're finalizing – with intermediate and advanced sessions, and even more brand practitioners for practical and relevant information for you.
New attendees – our workshops and customized sessions will get you up to speed and on par with your industry counterparts quickly. Let us know if you have specific questions before you register.
Connect with us in the meantime via twitter, and join us Tuesdays at 12pm Eastern for our #CMWorld twitter chats. As we get closer to the event, our special guests include many CMWorld speakers, so you'll have a chance to get to know them better before the big event.
Posted May 1, 2014 in: Event by Cathy McPhillips
---
UP