Just a few weeks ago, I was planning to leave home for a business trip for the first time since February 2020. I found that I needed to relearn how to pack, navigate a travel website, and deal with a mix of feelings about rubbing shoulders (metaphorically, I was hoping) with fellow travelers and meeting attendees.
So, while we're giddy about gathering in Cleveland, Ohio, for Content Marketing World in a few months, my team and I also know making travel plans and taking part in a face-to-face event feels different this year.
It. Is. Thrilling. We. Can. Not. Wait.
(So much so I felt compelled to break grammar norms to express myself.)
The ability to see friends and colleagues and meet new ones is a privilege no one will take for granted for a long time.
And then there's the exchange of diverse ideas, the learning, and the celebration of the future that Content Marketing World offers. Take one look at the agenda and you'll see it's the kind of event that makes your brain hurt in the best way.
Content creation. Demand generation. Sales enablement. Analytics. Agency strategies. SEO. Social media. Visual storytelling. You'll be able to learn and trade ideas about all of this and so much more.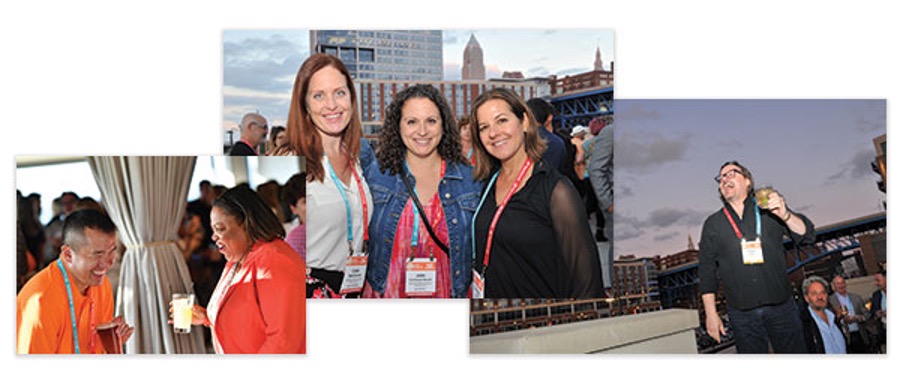 On the other hand …
I understand the concerns about gathering in the same space. For our peace of mind, we've made health and safety our top priority this year. We've put new measures in place to make sure everyone can enjoy a safe, hygienic, productive, and quality event. And the city of Cleveland is working hard, too, to give you a safe and warm welcome.
If traveling isn't in the cards for you, don't worry. We've got your back.
We'll be livestreaming and offering plenty of on-demand content for those who join digitally. If you choose to attend virtually, you'll still be able to learn, network, source innovative technologies and services – and get in on some of the fun.
We are optimistic about the future …
for our industry, for marketers, for events, for connecting with each other. Whether in person or virtually, we can't wait to share, learn, and grow with you.
You can learn more about our exciting plans for Content Marketing World 2021 here. And if you have any questions or concerns about this year's event, feel free to reach out.
Posted May 24, 2021 in: Event by Stephanie Stahl
---