Content Marketing World is part of the Informa Connect Division of Informa PLC
This site is operated by a business or businesses owned by Informa PLC and all copyright resides with them. Informa PLC's registered office is 5 Howick Place, London SW1P 1WG. Registered in England and Wales. Number 3099067.
Content Marketing World Posters – See Them All Now!
It's almost time! Content Marketing World will be here September 8-11, 2015 at the Cleveland Convention Center. For the past three years, we've created event posters for each of our tracks. This year, with 21 tracks (wow!) we've put together some posters based on the "Bright Lights, Big Content" theme.
We hope you enjoy these star-studded posters. Click on each of them to see more information on each track including speakers and complete session details. And better yet, if you're registered (or when you register), be sure to finish your session selection today to secure a seat in the sessions you want to see the most.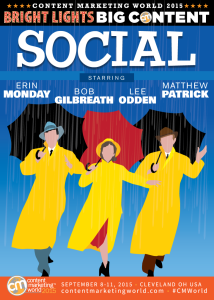 Which poster is your favorite? Which track do you think you'll spend most of your time in? (Don't worry – you do NOT need to stay in the same tracks the whole day. We encourage you to find the sessions that make the most sense for you.
Will we see you in September? There is still time to register. Use code CMI100 to save $100 off of your registration. We can't wait to see you! 
Posted August 7, 2015 in: Event by Cathy McPhillips
---
UP