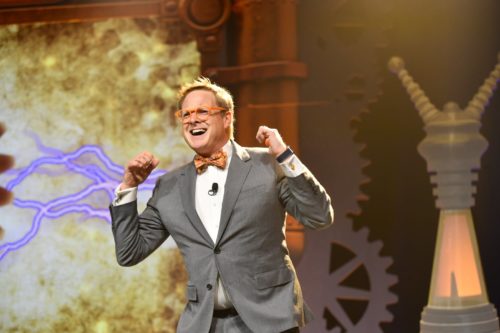 What a great week we've had. Whether you've joined us in person or virtually, thank you. I've said it before and I'll say it again, coming to Content Marketing World is like coming back to family and it has felt SO good to be back together again.
Now we're on to the last day of Content Marketing World and we're excited for the great sessions ahead…but before we look ahead, let's take a look back at Day 2's most quotable moments:
Embracing the constraints breeds creativity! @DrewDavisHere #CMWorld
If you are going to publish content, you have to find channels you can be remarkable on. Sometimes you need to say no. @JoePulizzi #CMWorld
"We trust strangers more than we trust marketers. If you're a marketer, you trust strangers more than you trust yourself." @marctothec #CMWorld
According to @AmyBalliett 92% of US consumers watch video with no sound. Something to think about. #CMWorld
"Should brands take a stand?" Many consumers say yes, says @ahaval quoting @SproutSocial data #CMWorld

If you only look at your own metrics, you're just going to be able to get incrementally better at what you're doing. @sferika #cmworld
"Getting up every day and being an extension of a brand voice takes creativity, empathy, and emotional resilience. We are still in a pandemic. Community managers are one of the unsung heroes of a very tough time online." – ? SVP Comms @ICUC @eelovegreen at #CMWorld
Consumers who get your educated #content are 131% more likely to purchase, says @mdeziel. #CMWorld
When every brand has the same content to create, how do you make it unique to you? Go beyond repurposing and remix it – @ALeeJudge #CMWorld
Have a favorite moment that didn't make the list? Share them with us in the comments of tweet them using #CMWorld. See you next year Content Marketing World!
Posted October 1, 2021 in: Event by Ashley Baker
---