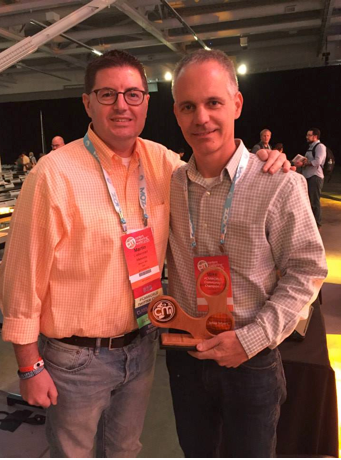 So. You're thinking about going to Content Marketing World (CMWorld) in September but it seems like everyone attending has been going for years, right? If you go, how will you fit in? Will it be hard to figure out what to do and where to go?
It's okay. Just take a deep breath and remember that everyone was a first-timer at one point.
In my case, it was 2013 and the whole idea of content marketing was new, at least to me. I had taken on a new role at work, one that was basically responsible for "figuring out this whole content thing" (those were the actual words my boss used at the time). I did some research and it quickly became clear to me that the Content Marketing Institute was leading the way.
Then I noticed their annual conference was coming up…in like two weeks.
Should I go? What would I do there all by myself? Would I fit in (sound familiar)? If I don't go, I'll have to wait a year for it to happen again. Would I learn enough to justify the cost (I was very conscientious in those days). I decided to take a chance and go…and was really glad I did.
That year, Jay Baer was the keynote speaker and he had just written Youtility, which inspired me in so many ways. If you work in marketing, you should read it. Seriously.
But this isn't about me, it's about you, dear first-time attendee. So, I chatted up a few other folks in the CMWorld community to see what they would suggest and here's what they had to say:
Jill Golden (@_goldengrams) says to bring one orange item of clothing or accessory (if you haven't noticed yet, CMWorld is all about orange…even the snacks are orange!). She also suggests mingling, even if you're an introvert; and to try to learn about strategy, not just tactics. Solid tips!
Erika Heald (@SFerika) suggests downloading the show app (it's free, of course) and create a must-meet list, then make it a point to grab a meal each day with someone new. Hey, people have to eat, right? Great idea!
Jeremy Bednarski (@JeremyBednarski) says you need to have a plan. Go to the show knowing what you want to get out of it, but also be flexible and have fun.
Ben Rome (@bhrome) offers that you shouldn't try to do everything, you'll get overwhelmed. Instead, stick with your focus and go deep with it. And be sure to talk with the speakers.
Kristen Hicks (@atxcopywriter) says you should prioritize networking. In addition to the awesome conference sessions, there are lots of great evening events the CMWorld staff hosts – don't skip those, she recommends.
Still on the fence? Here's one more tip: Follow #CMWorld on Twitter and consider joining the weekly Twitter chats every Tuesday at 12:00 noon Eastern time. That way, you can get to know members of the CMWorld community even before you go, so you'll have some folks you can look up when you get to the show (PS: we're a friendly bunch!)
If you want to learn more about the critical topics all marketers need to know when adding content marketing to the mix, come to Content Marketing World 2017, September 5-8 in Cleveland. First-timers are not just welcome – they are appreciated! And, code BLOG100 saves $100! Register today!
Posted June 12, 2017 in: Event by Mike Myers
---