Content Marketing World is part of the Informa Connect Division of Informa PLC
This site is operated by a business or businesses owned by Informa PLC and all copyright resides with them. Informa PLC's registered office is 5 Howick Place, London SW1P 1WG. Registered in England and Wales. Number 3099067.
Content Prioritization with Deana Goldasich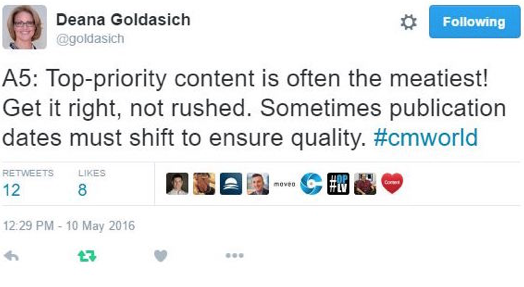 So many content ideas, so little time. How do you know which projects to prioritize? How do you stay on task? Do you have tools to help you do this? Deana Goldasich, CEO of Well Planned Web,  joined our recent #CMWorld Twitter chat to help us understand ways we can prioritize content – and why it is so important to do so.
A few highlights of the chat are below. Visit this week's Storify for even more great conversations on this topic.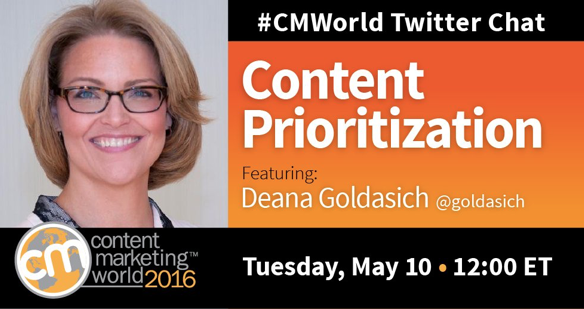 Joe Pulizzi would be so proud. In a few different questions today, a documented content marketing strategy was a common theme:
Teams play an important role in content prioritization. By getting a larger group involved, discussing goals, timeliness and purpose, priorities are come to light: 
Read up more on this topic on our Storify! We hope you enjoyed it – and thanks to our friends who participated!
Learn more from Deana when she speaks at Content Marketing World from September 6 – 9 in Cleveland, Ohio. Her session is title, "Getting Executive Buy-In for Content Marketing." 
Content Marketing World registration is now open, with early bird rates ending on 5/31/16. In addition, use code BLOG100 to save $100 when you register today!
Posted May 11, 2016 in: Event by Cathy McPhillips
---
UP