Content Marketing World is part of the Informa Connect Division of Informa PLC
This site is operated by a business or businesses owned by Informa PLC and all copyright resides with them. Informa PLC's registered office is 5 Howick Place, London SW1P 1WG. Registered in England and Wales. Number 3099067.
Content repurposing: What you may be doing wrong: A #CMWorld Twitter Chat with Steve Farnsworth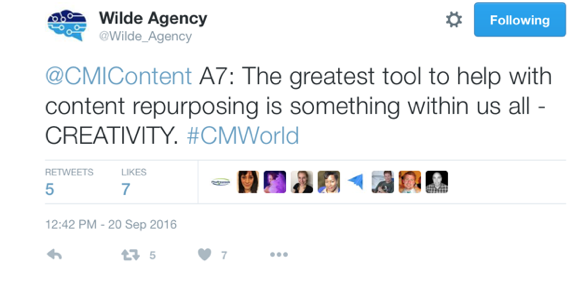 One of our favorite quotes from CMI's Robert Rose is that you should create "as little as you can and still have the impact you desire." As he explained in a recent Content Strategy for Marketers newsletter (subscribe to get his exclusive insights), the best way to do that is through repurposing.
Lucky for us, Steve Farnsworth joined our #CMWorld Twitter chat this week to talk about all things repurposing — including what you shouldn't be doing.
A few highlights of the chat are below. Visit this week's Storify for even more great conversations on this topic.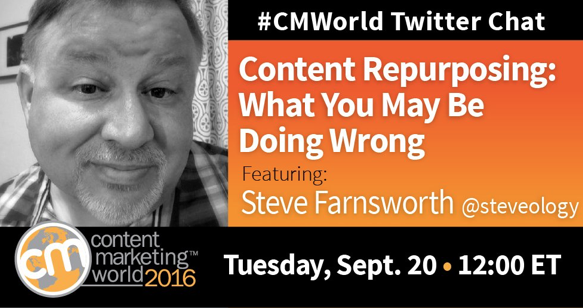 There are always opportunities to repurpose existing content:
Content marketing is always about the audience:
Want to see two of CMI's own examples of content repurposing? Check out our Social Media Survival Guide and Content Strategy Inspiration from Robert Rose.
And don't forget…the best place to hear more about content marketing and content repurposing is live at Content Marketing World! Save these two dates: On November 1, our Call for Speakers opens, and on December 1, registration opens! Watch the Content Marketing World website for more information! 
Posted September 21, 2016 in: Event by Cathy McPhillips
---
UP