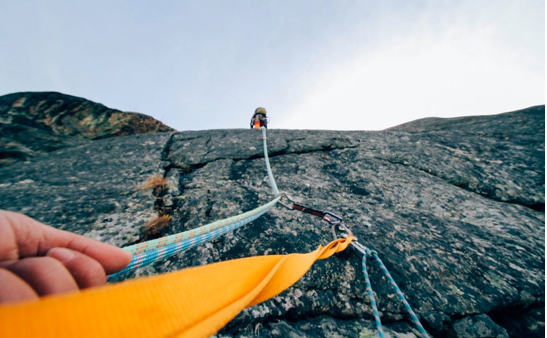 Let's face it, content marketing isn't always an easy journey.
It can be downright difficult knowing which way to turn and whose advice to follow – and there's plenty of advice to be found, my friends. So what's a weary traveler to do?
Just as countless other marketers, er, travelers have done over time, you too can turn to your friendly content sherpas. Just as those who have scaled the highest peaks in search of knowledge, you can rely on these guides who know the content marketing terrain like no one else. They will guide you with counsel that's sure to help you reach the loftiest of heights.
Take a look below at the wise content sherpas we've assembled before you – and heed their advice, weary traveler. For they have traversed the road you are now on and have had immense success (okay, they done pretty darn well). Hear what they have to say:
Sherpa Adele Revella
Counsel: It's not about you: tell a story your audience cares about.
Sherpa Marcus Sheridan
Counsel: Why do people not buy from you? Now, go fix that.
Sherpa Carrie Hane
Counsel: Start with a customer need, not what you want to sell.
Sherpa Tim Washer
Counsel: Employees and customers are hesitant to contribute content because they don't know what to write about: remove this obstacle by providing a specific story concept.
Sherpa Laura Creekmore
Counsel: Spend time on message development: what do you want your audience to know?
Sherpa Rebecca Lieb
Counsel: Be more experimental: strategy isn't hewn in stone, have fun with it!
Sherpa Jay Acunzo
Counsel: Be the exception: you'll be surprised how well you stand out from the average.
Sherpa Andrea Fryrear
Counsel: Being agile doesn't mean changing on a whim: continuously improve.
Sherpa Mark Schaefer
Counsel: Forgo SEO: Not all the time, but consider how focusing on popular keywords could be holding you back.
Sherpa Amanda Todorovich
Counsel: Mine and mind your data: listen to what your customers are telling you with their behavior.
Sherpa Tom Webster
Counsel: Be entertaining, be challenging, be genuine and you'll create content you are proud of.
Sherpa Michele Linn
Counsel: Say no or not now: get better at prioritization and focus.
Sherpa Carlos Abler
Counsel: Content isn't king, relevance is: make content you know your audience will want.
Sherpa Jeannine Rossignol
Counsel: Know your sales team as well as you know your customer.
Looking for more wisdom from these industry authorities? Check out our CMWorld 2017 conference ebook created in partnership with our friends at TopRank Marketing.
Want to hear more from our content sherpas? When the summer is winding down and the days grow shorter, make plans to travel north, dear traveler. Take the road less traveled to a place called Cleveland and stake your claim to this knowledge at Content Marketing World 2017. Wise travelers will save many days pay (that's $100 US) by registering before June 2, when early bird rates go away!
Posted May 17, 2017 in: News by Mike Myers
---