Content Marketing World is part of the Informa Connect Division of Informa PLC
This site is operated by a business or businesses owned by Informa PLC and all copyright resides with them. Informa PLC's registered office is 5 Howick Place, London SW1P 1WG. Registered in England and Wales. Number 3099067.
Content Strategy For Marketing: A #CMWorld Chat With Marcia Johnston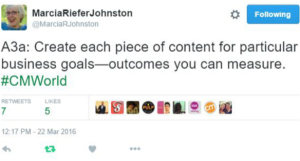 Are you struggling with getting the right content to the right people at the right time? Or do you want your processes to be more scalable? If so, you'd love our recent chat on how content strategy can help marketers.
Also, what key takeaways can we build upon after Intelligent Content Conference – whether you were in attendance in Las Vegas, or simply wanted to be more informed on how this applies to marketers?
We discussed this topic on this week's #CMWorld Twitter chat with special guest Marcia Riefer Johnston, Managing Editor, Content Strategy at Content Marketing Institute and author of Word Up! and You Can Say That Again.
Overall, our participants today are concerned with reaching the right audience and developing a focused (but fluid) strategy. Marcia and other members of our community explain and converse about how digital governance can help, and how each piece of content should be created for particular business business goals.
As marketers look into the world of content strategy more, this chat helped bridge that gap for us in many ways.
For the full transcript, visit our Hashtracking report.
As we keep sharpening our ability to think strategically about content, we encourage you to read more about this in our Intelligent Content Conference wrap-up, and also consider purchasing our ICC 2016 post-show video on demand.
Posted March 23, 2016 in: Event by Cathy McPhillips
---
UP