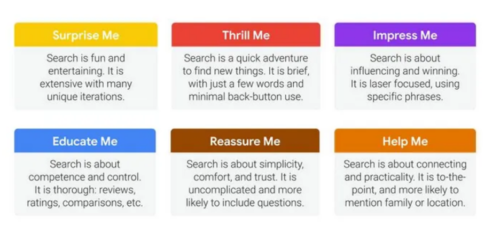 Each week on the Content Marketing World blog, we're going to feature a CMWorld 2020 speaker, one of their blog posts that dives into the topic they'll be covering at CMWorld, and a few additional articles they've written to help you prepare for their session.
Today, we're keeping the series rolling with Cor Hospes, a genius content strategist. Cor is a longtime friend of CMI and speaker at CMI events, someone we turn to regularly for content strategy expertise. Read on for more from Cor:
What are the content needs of your readers, listeners and viewers? And do they match what you offer your audience online? Learn from Vogue, BuzzFeed and BBC World Service.
Who is your audience? What are their dreams, desires, fears and secrets? How can you enrich their lives? What are their needs? And what problems can you solve for them?
You would expect that publishers know their readers, viewers and listeners. But most of them have really no idea why their audience consumes their stories.
Gatekeepers of the news

I worked as a freelance journalist for more than twenty years. I wrote for the most well-known newspapers and magazines in the Netherlands. Editors in those days, I'm talking about the internetless eighties and nineties, acted as gatekeepers. They determined what to publish and what was best for their audience. The idea that their audience had a voice too, didn't cross their minds.
Internet: veni, vidi, vici
Everything changed with the rise of the Internet. Suddenly their audience could decide for themselves which stories they wanted to read, where and when. The editor-in-chief was no longer in control. His audience took over. So yes, several publishers decided that it might be a good idea to start to listen to their audience a little more closely.
Vogue International
One of them was the renowned fashion magazine Vogue which has 26 editions and 56 million readers worldwide. That number wasn't enough to satisfy Vogue's appetite, said Sarah Marshall, head of audience growth at Vogue International, last October during Hacks/Hackers London. Her challenge thus was how to achieve growth in so many countries at the same time?
Don't miss Cor's session,
Forget social media. Build fans on your own content channel
at Content Marketing World 2020, taking place virtually, October 13-16.
SPEAKER100
saves $100
off your registration.
Research BBC World Service
Sarah came across some interesting research from the BBC World Service. That station wanted to expand their audience massively mid-2017. Outside of the English-language editorial staff, the station employed 28 editorial teams for people in non-English speaking communities, which had an online reach of 137 million people. Another twelve editorial teams in Nigeria, India, Ethiopia, Korea and Serbia had to join the station within nine months. The goal was to reach 500 million people by 2022 online.
Six content needs
BBC News is known worldwide as a provider of impartial and reliable news: 'Update Me' (give me the latest news) and 'Give Me Perspective' (provide me analysis and context) have been their daily water and bread for years. But there seems to be a switch. Young people in particular have different news needs and want more different flavors than that somewhat boring water and bread stuff. They cry for: 'Divert Me' (Don't only give me wars and conflicts, but something more 'light' news please); 'Educate Me'; 'Keep Me On Trend'; and most importantly, 'Inspire Me'. Precisely those kinds of stories were missing at BBC News. They preferred to stick to their familiar recipe. That meant a whopping 70% 'Update Me' stories that only accounted for 7% of page views (ouch). Another rather painful fact: barely nine of their 1,300 stories at that time fell into a more female-centric category. It definitely seemed that there was some work to be done at BBC Worldwide.
Six search needs
Sarah found another interesting study. This time from Google. The search engine giant analyzed the search needs of their users.
Surprise Me (Search is fun and entertaining)
Thrill Me (Search is a quick adventure to discover new things)
Impress me (Search is about influencing and winning)
Educate Me (Search is about competence and control)
Help me (Search is about connecting and practicality)
Reassure Me (Search is about simplicity, comfort and trust)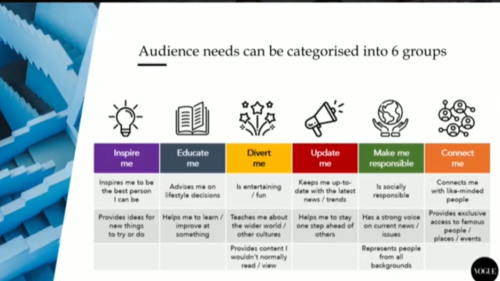 What's the job to be done
During SXSW 2019, Jonah Peretti from Buzzfeed talked about a jobs to be done approach to editorial planning. From 'I can actually do this', 'This is So Me', 'Teach Me Something' to 'Make You Laugh', 'This is Me' and 'Connect with Other Fans', he put all these jobs together in a 'Cultural Cartography' (the job our content does for our audience).
Jonah's conclusion: His readers and viewers are no longer interested in the news subdivision of Sports, Science, Economy, etc. Instead, he needed to approach news more towards the job it fulfills: humor, learning, inspiring, informing and so on.
Vogue also discovers six content needs
Back to Sarah. She gathered 3,000 loyal readers and 2,000 incidental readers – with a great love for fashion – from ten different countries (United Kingdom; France; Germany; Italy; Spain; India, Mexico, Taiwan, Japan and Russia). She sat virtually down with all of them. Based on these conversations, she developed her own readers needs that – surprise, surprise – also consisted of six flavors:
Inspire me. Inspires me to be the best person I can be. Provides ideas for new things to try or do.
Educate me. Advises me on lifestyle matters. Helps me to learn/improve at something.
Divert me. Entertaining/fun. Teaches me the wider world/other cultures. Stories I wouldn't normally read/view.
Update me. Keep me up-to-date with the latest news/trends
Make me responsible. Is socially responsible. Has a strong voice on current news and issues. Represents people from all backgrounds.
Connect me. Connect me with like-minded people. Provides exclusive access to famous people, places and events.
'Divert me' was the main need among the (incidental) Vogue readers worldwide. 'Inspire me' was in the top three needs in each country — including Russia. And in the UK 'Make me responsible' was the number one need.
From Talk to Me to Inspire Me
What did Sarah do with all this insight? For starters, all articles from the March edition – from the ten countries involved – were classified according to the six needs. It turned out that 38 percent of the articles represented 'Talk to me' content. 'Make me responsible' was the basis of only two percent of all articles, while 53% of readers said they would like to read 'Make me responsible' articles. The 'Talk to me' articles turned out to be the least read by the Vogue audience, while 'Inspire me' stories scored best. Unfortunately, Vogue didn't publish many stories that fulfilled that need.
Sarah found her growth model. Less 'Update Me' stories and far more 'Inspire Me' stories.
Based on all the collected data, each editorial of Vogue received tailor-made advice. For example, Vogue India was told to publish fewer 'Talk to me' and more 'Inspire Me' and 'Distract Me' stories. So that's what they did. Sometimes on the basis of a very simple trick. By giving existing stories a different title and a more inspiring angle, they changed at once into an 'Inspire Me' story. Traffic on the Vogue India website increased by 129%.
What are the story needs of your audience?
Ask yourself. How well do you know the audience of your blog, magazine or newsletter? What are their story needs? What's the job to be done by your stories? Do you only want to deliver news about the latest developments and trends from your market? Or does your audience want tips, how-to's and other inspiration? Or do they want something completely different.
Don't think from your point of view, but from your audience's. Of course, you can tell your story. But do it in a way that matches your audience's content needs.
Cor Hospes is founder and creative director of Merkjournalisten, a content marketing agency based in Amsterdam, that helps people and brands to tell better and more impactful stories. He'll be speaking at CMWorld 2020 about the power of your own content channel.
Register today for Content Marketing World 2020, where you'll hear from Cor Hospes talking content strategy and 150+ other incredible content marketing leaders. Use SPEAKER100 to save $100 off your pass!
Posted August 6, 2020 in: Event by Cathy McPhillips
---