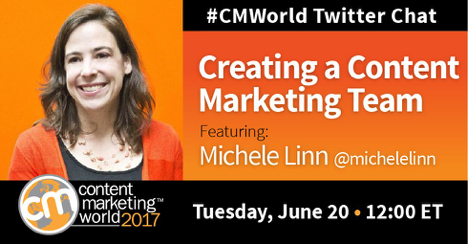 For those of us that aren't sole proprietors or solopreneurs, we have an opportunity to create a content marketing team within our organizations. Great news, right? It is…but making sure the team is built best for your company and your customers' needs is a critical step toward success.
At CMI, we've been fortunate to build our content marketing team from the ground up, and our VP of Editorial, Michele Linn, shares some insights we've learned along the way, coupled with some CMI research for you to take back to your management as you begin creating your team.
Check out our Storify recap for some great conversations, and read some of our favorite highlights below.
What comes first? Who comes first?
What a daunting task this is, so how do you get started? Do you find a person to lead the charge, or do you work with management to build a strategy on what you're looking for? Do you hire someone full-time or bring someone in on a trial basis?
When interviewing, ask the right questions.
 And "right" doesn't mean the same as everyone else. Think of creative questions to see if a candidate fits the personality of your team, of their potential role, and of the industry. Think of how this person will work with others, find out what makes them tick, and what energizes them.
There were so many great ideas tweeted in today's chat not included in this blog post. Check out the Storify link above to create your team, your interview questions, and so much more.
Good luck as you begin, expand, or fine tune your content marketing team. Watch the CMI blog for more insights on teams, operations and processes as well!
Speaking of teams, we'd love to see you and your team at Content Marketing World. Teams that build and execute their strategy together are the most successful!. Code SM100 saves you $100 at checkout.
Posted June 22, 2017 in: Event by Cathy McPhillips
---