Content Marketing World is part of the Informa Connect Division of Informa PLC
This site is operated by a business or businesses owned by Informa PLC and all copyright resides with them. Informa PLC's registered office is 5 Howick Place, London SW1P 1WG. Registered in England and Wales. Number 3099067.
Creating a Content Performance Culture: A #CMWorld Twitter Chat with Christoph Trappe
"Businesses spend so much on marketing, creative and the likes. They have to drive results. Of course, what the results are is open to a good strategy session." Christoph Trappe says companies need to "move content from happening to content performing."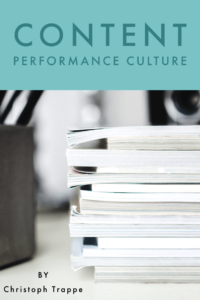 We heard about this idea and invited Christoph to our most recent #CMWorld Twitter chat to dive into this topic of content performance culture. Aside from being a longtime friend and supporter of the CMI and CMWorld communities in the form of amazing sessions at our events and contributions to our blog, Christoph is Chief Content and Marketing Officer at The Authentic Storytelling Project.
Heading up content AND marketing involves helping his business and other businesses create a culture of content performance – that is critical to success.
Christoph knows so much about it that he wrote an ebook. Check it out on Amazon.
Here's a quick recap of the chat, but if you'd like to see it all, visit the Hashtracking report to see the entire, fast-paced and helpful conversation.
Let's start at the beginning…why is it so important for the entire org to develop a culture of content performance?
OK, so we have our data and insights from data…now what?
The dreaded rut. We know it well. How can you get out of it, and then lead your team out of one?
That's all for this week, folks! Dive into the full chat or better yet, dive into Christoph's book. Create that culture, and rock the rest of your 2020.
One way we know you could do that is by signing up for Content Marketing World. Our annual event is now virtual! Register with code SM100 for a $100 discount at checkout.
Posted June 24, 2020 in: Event by Cathy McPhillips
---
UP