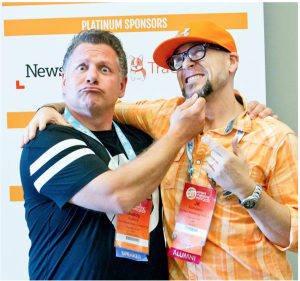 No one in our business stratosphere can deny the rising importance of visual content. Visual content is now becoming a staple in all successful content marketing strategies while Creative Directors and Designers are becoming evermore important members of the "content creators club."
Content Marketing World is obviously very near and dear to me. The amount of work that we put into creating the event is enormous, but truly a job that we all enjoy and look forward to. Last year, Joe Pulizzi realized the importance of Visual Storytelling and made sure that it made it on to the agenda as a track of its own. I was so incredibly excited as not only do I help produce #CMWorld, I attend it. I always make it a point to break away from my duties at the show to take in some of the sessions firsthand (plus I always watch what I missed on demand so I am not left out in the cold). Last year's Visual Storytelling tracks did not disappoint, and this year is lining up to be just as great.
In addition to the Visual Storytelling sessions, CMWorld offers a wide range of tracks to educate the designer who may be a newbie to content marketing, all the way up to a creative director familiar in content marketing that assists in coordinating in-depth content strategies for their organization. There is truly something for every person that holds a creative role and is looking to  better there knowledge in the field of content marketing.
Networking is the also one of the greatest benefits of this event. There are so many opportunities to rub elbows with the industries best and brightest from all over the world. Getting to spend some time connecting with content marketing's up-and-comers and thought leaders is a great experience. I can honestly say that I have forged some relationships at CMWorld that have truly benefitted me both personally and professionally. Simply by attending the networking events, I made  connections with colleagues that also became close friends. I also have forged relationships with professionals that I truly respect and I turn to them often as I have added them to my collective "think tank" whenever I need to bounce an idea off someone. Take, for example, three of my pals Buddy Scalera, Andrew Davis and AJ Huisman.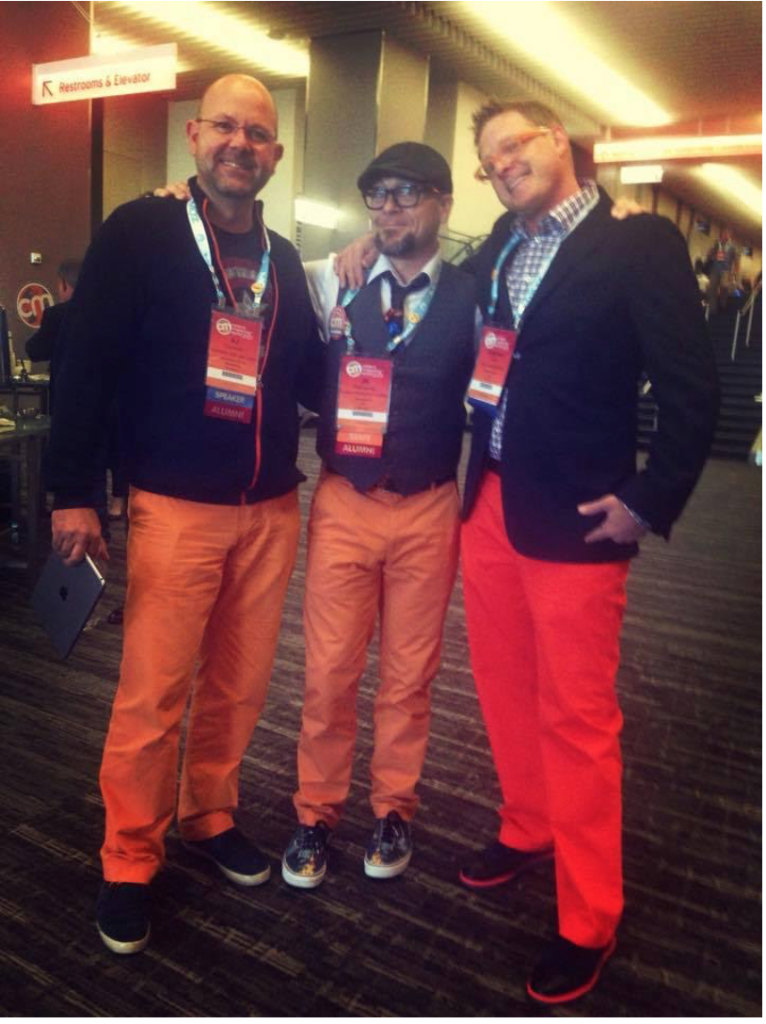 As a creative director, I also find it very beneficial to try to stay on top of the latest and greatest in content creation and distribution technology. That is why I make it a point to hit the expo hall and walk around, taking stock of some the tech and software that could potentially make my job a bit easier. It's always fun to walk the floor and take a peek at what our exhibitors have to offer, plus they always have something fun cooking at their booths.
If I could sum up what my takeaways from attending CMWorld are in two words, they would certainly be inspiration and enthusiasm. I enjoy chatting with other attendees about what they are doing, what works, what doesn't. Getting insights on others' strategies first-hand can certainly help your own. It has in my case. I have spent time with folks discussing their latest projects where they have asked me for my opinion, while on the flip side I have shared my ideas with them seeking their input. I guarantee that you will find things that will excite and inspire you as the inspiration points are abundant: They may come from words of wisdom a speaker shares while on a stage. They may be from a slide on a presentation screen that resonates with you. Perhaps you are inspired by the insane amount of Pulizzi-inspired orange clothing that attendees are wearing (seriously, it's becoming like tie-dye at a Grateful Dead show).
So, all you designers and creative directors out there, we would love to have you join us at Content Marketing World 2016. Personally, I would love to chat with all of you to see what you are up to! Connect with me on Twitter in the meantime!
PS: Also, Cleveland is home to some wonderful points of visual inspiration: The Rock and Roll Hall of Fame, The Cleveland Museum of Art and one of my favorites: Big Fun Toy Store! Be sure to check them out when you come to CMWorld!
Registration is now open! BLOG100 saves $100 off registration, so do it today. Because this also means you can take $100 off of our super early bird rates that go away on February 29, 2016! 
Posted February 19, 2016 in: News by jkalinowski
---