Over the summer, you'll have the opportunity to hear from some of the CMI/CMWorld team on what they love most about Cleveland, and offer you some thoughts on what you should visit while you are here.
This week's post is written by Laura Kozak, CMI's E- Media Manager.
 I am a CLE girl born and bred. I can't imagine living anywhere else, this is home to me plain and simple. I love the small town feel of my local CLE neighborhood West Park while having the big city perks of downtown less than 10 minutes away, along with world-class cultural centers and medical facilities basically around the corner. Talk about the best of both worlds!  Here are some of my favorite spots that I would love to share with you!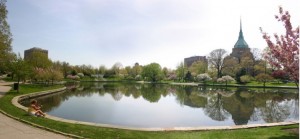 University Circle
The University Circle area of Cleveland is 4 miles east of downtown along Euclid Road, easily accessible on the RTA Healthline . Home to Case Western Reserve University and both University Hospital and The Cleveland Clinic; this area is also the cultural hub of Cleveland with the Natural History Museum, Botanical Gardens, and the Cultural Gardens all in this area.
My absolute favorite part of University Circle is the Cleveland Museum of Art. This gem was the site of my first date with my husband (I think he was trying to impress me and it appears to have worked). The Cleveland Museum of Art is world-renowned for its collection of more than 43,000 pieces, including works by Picasso, Botticelli, Matisse, Renoir, Warhol, Pollack, and Monet. The museum's general collection is free to all; the special exhibits have a nominal charge.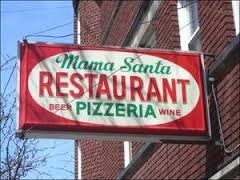 Little Italy
Just around the corner from University Circle is Little Italy. This neighborhood of Cleveland was formed by many of the Italian immigrants who worked at artisan stoneworkers for the many headstones and monuments of Lake View Cemetery. Now, it is a community that still includes families that have lived in the area for generations, sprinkled in with students from Case. 
Western, artists, and young professionals. It is home to many fabulous restaurants, my favorite of which is Mama Santas. After spending hours at the Art Museum, my husband finished our date at this Sicilian restaurant. This family-owned establishment has great pizza and is light on the wallet. A homemade large pizza will run you less than $8. Grab a slice and check out many of the art galleries in the area.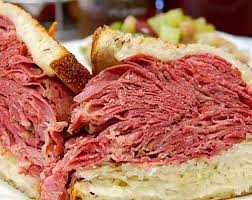 Slyman's Restaurant
You'll find a Cleveland Institution at E. 31st and St. Clair.  Presidents have eaten there. Rachael Ray raves about it. It IS a taste of Cleveland. Slyman's restaurant is the home of the best corned beef sandwich in Cleveland. There are people that will tell you of other places with better sandwiches but they are wrong. Between my husband and I, we have tried just about every deli that claims to have the best, but Slyman's still stands out.  They have a great breakfast menu and the other sandwiches are fantastic as well. And while I love a good corned beef sandwich, I personally can't pass up their tuna on rye. 
A couple of warnings to those that might venture out to Slymans:
They are only open for breakfast and lunch Monday through Saturday.
Be prepared to wait in line at lunch if you want to carry out sandwiches (don't worry the line moves quickly).
Be hungry, if not starving. And be sure to ask for extra bread to make a second sandwich later.

 
Meet Laura and the rest of the CMWorld team at Content Marketing World, September 8-11 in Cleveland, Ohio, USA. Over 2,500 marketing peers will be advancing the industry and learning from the best. Join us! Register today and use code CMITEAM for $100 off all main event registrations and all-access passes! 
Photo credits: www.pluggedincleveland.com, www.clevescene.com
Posted August 1, 2014 in: Event by Laura Kozak
---