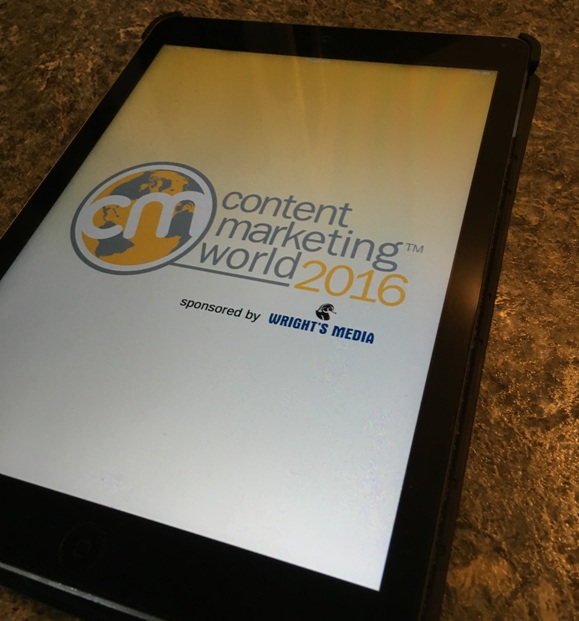 Content Marketing World is just a few short weeks away! For the second time, I'm paying my own way to go. It's an investment I'm more than happy to make due to the value of the conference. But, with that investment, I want to make sure I get the most out of the conference.
How do I do that? First, I read keynote speaker Andy Crestodina's recent post on 34 Ways To Get the Most From a Conference. I don't know if there's a better expert on the subject than Andy. His 2013 CMW Yearbook and "Ask It Forward" video from 2014 inspired me to better plan for future Content Marketing Worlds.
Then, I look to see which ideas apply to me. Social media is the biggest tool I use. But, it's common for many attendees to post on social media throughout the conference. There are a lot of posts that flood our feeds, so how can you make an impact?
Do you strive for quantity or quality? As Jay Acunzo presented in one of his sessions last year, both. He was talking about content overall, but it applies here too. With so much information, the quantity part is easy. But, put a plan together to make sure you're offering quality information. With that in mind, here are my tips to make your mark at Content Marketing World through social media.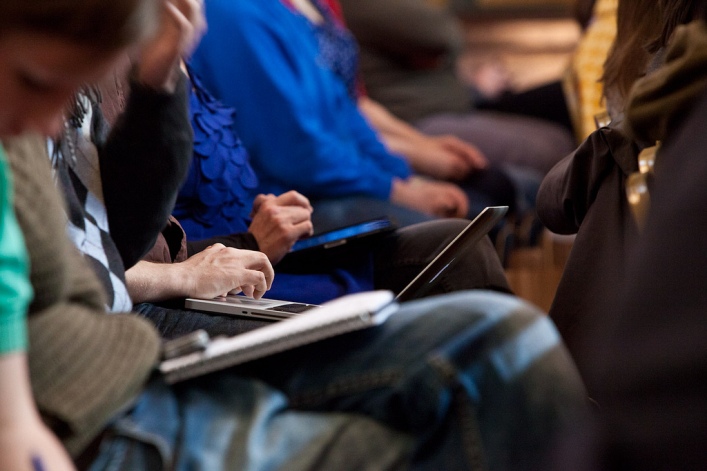 Planning for Content Marketing World
Choose Your Platform(s)
You'll need to decide which social media channels you want to use. Much of this will depend on which channels your audience is using. You may also want to choose different platforms for different types of messages.
Twitter tends to be used most, especially during sessions. Because most of your audience is using it, I recommend this being your main channel for sessions as well. Don't forget to use their conference hashtag – #CMWorld (more on this below).
LinkedIn is good for posting longer form commentary or recaps. Also, read others' posts and comments or share what interests you.
You may want to use Instagram or Snapchat for photos, videos and some off-the-cuff moments. Especially for Snapchat, this is a platform that many are trying to figure out. So, if you've got some proficiency here, you'll stand out with less competition.
I tend to use Facebook less for Content Marketing World as I use it for more personal use, but if it works for you, use it.
Conferences are also a time when you can experiment with new platforms. Just be sure to have a plan in place. Promote it early to help build your audience to the new channel. If you know influencers in the new channel, ask them to help spread the word to their followers. When done well, you can earn a quick boost in audience and attention.
Use #CMWorld
During the show, most know to use the conference hashtag when posting. But, don't forget to check out what others are posting with the hashtag before the show. You'll gain insight into what attendees hope to take away from the show and questions they may have. You can use this information to target your posts to address these subjects.
Content Marketing Institute does a great job of using their hashtag (#CMWorld) throughout the year. They keep anticipation high for Content Marketing World by keeping marketers engaged with them. Their weekly Twitter chat (Tuesdays at noon) features topics and speakers that we all want to learn about. It gives us a chance to keep in touch and talk about the latest topics and challenges we face.
Plan For the Event and Tell People
If you're like me, you register for your sessions early so you know what events you'll be attending. This helps you plan which sessions and topics for which you'll be live tweeting. Don't forget about the events. For example, you may want to post photos of the Wednesday night concert. So, make sure you find a seat where you can get great shots.
Get the word out on social media a couple of weeks prior that you'll be posting during the conference. Give your audience the heads up on what platforms to follow and the dates you'll be posting so they know where to find you. This is great for those that aren't able to go to Content Marketing World but want to see what you're learning.
Give your audience an idea of the topics you'll be posting about. Even offer them the chance to ask you questions beforehand that you may be able to answer from the sessions. Although, be careful not to over commit. You want to be able to deliver on what you promise, but still enjoy the experience.
Reach Out to Speakers
One of the best things about Content Marketing World is that most of the speakers are so accessible. With that thought, don't be afraid to reach out to them on social media before the show. Ask them for a preview quote that you can share before the event.
For speakers you'd like to meet in person, ask them to meet up to discuss more on the topic they'll be presenting. While they may have busy schedules, they may be willing to take a few minutes to say hi and answer a few questions. Remember to have specific questions ready if they're taking the time to meet with you.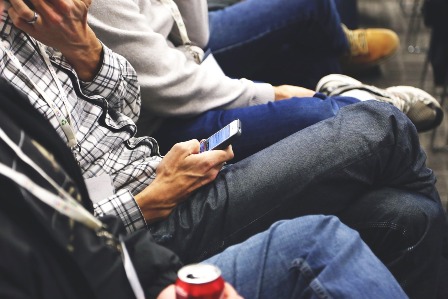 During Content Marketing World
Follow Through and Put Your Spin On It
If you take my advice and post what topics you plan to tweet about beforehand, make sure you follow through. It's easy to lose followers if you don't give them what you said you would. If something comes up or you switch a session on the fly, just post a quick explanation.
While it's great to post main points and quotes from the presentations, work in your own perspective too. Putting your own spin on what you're learning will help you stand out from the rest of the tweets. Give a little more so followers can learn more about you.
Also, be sure to check for comments, likes and shares of your posts. Take the opportunity to answer or thank those that are engaging with you. These are people that are paying attention to what you're posting. Make a bigger impact by offering to discuss the session afterward in person.
Meet Speakers and Peers
One of the reasons you're at Content Marketing World is to network. Take advantage of it. Before or after a session, take a few minutes to meet the speakers. Ask for a quote or more information about a certain part of their presentation. These are nuggets of information you can share that most other attendees won't have. They'll help you stand out by digging a little deeper.
Don't forget to talk to other attendees. You never know when someone like Lee Odden might sit down next to you.  That happened to me last year – but he left before the session ended, so I didn't have the chance to talk to him. Whoever it may be, take the opportunity to introduce yourself. Get their thoughts on the session and their main takeaways. Incorporate them in a recap blog post.
Be Flexible
Although, as I said above, you want to follow through with your promises, also be flexible. It's a fast-paced conference and there's a lot to learn. If your brain needs a break, take one. Recharging yourself will make you more effective for the rest of the sessions. And, you may run into a speaker you were hoping to meet at a time when no one else is around.
Sometimes you just need to go with the flow. If you see an opportunity to do something worthwhile that you didn't expect, do it. You're there for the experience as well as the knowledge. Sometimes you learn more from the things you don't plan.
Have Fun
Just because you're there for business doesn't mean you can't have fun. The best networking takes place during the fun events. Take advantage of it. This is when most attendees and speakers let their hair down. These are the posts people enjoy seeing after a long day of sessions.
People will remember rocking out with you to great live music more than a random chat between sessions. And, it gives you a great reference story when you follow up with them after the conference. So, take a group selfie with your new friends. Have a drink. Dance. Laugh.
Quick disclaimer: Be respectful. Most of us know better than to post a photo that would put ourselves in a bad light. Keep that in mind for everyone in your photo before hitting "Share."
Bonus for Local Attendees
If you're from Cleveland, keep an eye out for posts asking for dinner recommendations or things to do. Have a few ideas in mind so you can give a quick answer. This helps too with people you meet on a shuttle to an event.
You can even post some ideas on social media or a blog post before the event to highlight some of your favorites. Tell attendees that you're happy to make suggestions if they want to send you a tweet during the event.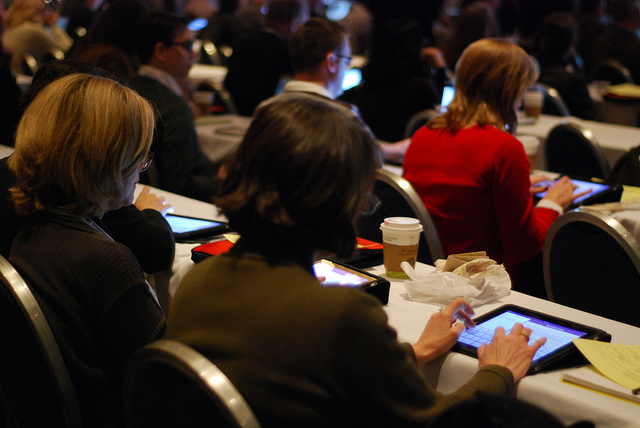 After Another Amazing Content Marketing World
Recap Your Experience
After the event, write a blog post to recap the main themes and trends you learned. Use your notes and social media posts to pull out the main ideas you captured. Here's where the comments you got from speakers can make your post stand out.
I usually take a day or two to process everything I learned and organize my thoughts. But, I don't want to take too long. I know I won't be the first to post, but I don't want to be the 750th either.
Content Marketing Institute offers a site where you can add a link to your post. I submit mine there, as well as promote it on my social media channels.
Follow Up With Your New Contacts
Be sure to follow up with all the new contacts you made. Even if it's just a quick "It was great to meet you. Keep in touch." email. It's even better if you can continue a conversation you started at Content Marketing World. Or, take Andy Crestodina's suggestion of offering to collaborate on content.
If you used any comments from your contacts in your recap blog post, send a thank you email with a link to the post. Consider asking them to share the post with their audience. If you use a speaker's quote, explain that the post offers further insight into their presentation.
Don't forget to connect with your new contacts on LinkedIn and any other appropriate social media channels. Give some context in your request from your conversation. Start building your connection into a friendship.
What tips do you have for using social media at conferences? What do you find works best for you? Tell us in the comments below. And, be sure to follow me on Twitter (@JeremyBednarski) during Content Marketing World to read what I learn from content marketing experts including Joe Pulizzi, Robert Rose, Tom Webster, Mitch Joel, Jay Baer, Scott Stratten, Tim Washer, Ann Handley, Mark Hamill and more! You can bet I'll be posting a few photos of Cheap Trick too.  Register today by visiting the Content Marketing World registration page. BLOG100 saves $100.
Posted August 19, 2016 in: Event by Jeremy Bednarski
---