Content Marketing World is part of the Informa Connect Division of Informa PLC
This site is operated by a business or businesses owned by Informa PLC and all copyright resides with them. Informa PLC's registered office is 5 Howick Place, London SW1P 1WG. Registered in England and Wales. Number 3099067.
Using Customer Service to Create Content: A #CMWorld Chat with Jay Baer
As a content marketer, you tend to find yourself asking, "what customer questions will this piece of content answer?" Enter the customer support team. They know why people contact your company and can help guide your work. That's why it's time for organizations to align their customer service with their content marketing efforts. This was the topic of conversation at a recent #CMWorld Twitter chat with Jay Baer. Jay is the founder of Convince and Convert and author of "Hug Your Haters." What follows is a brief recap of our discussion.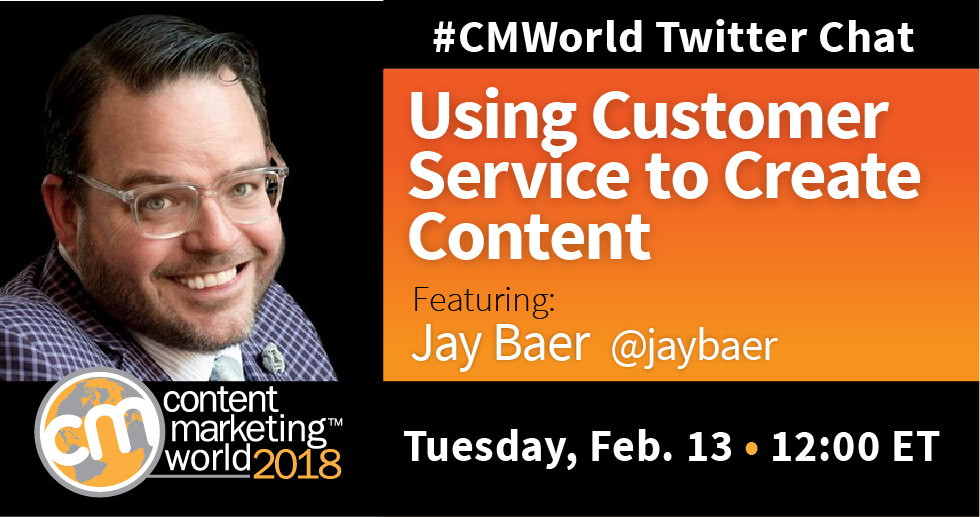 What are some ways customer service and content teams can work together to provide a better customer experience?

How can you use customer feedback to complement your content? Should your efforts vary at different points in the funnel?
Each week, we enjoy great discussions on content marketing. We hope you'll join us! And if you have a topic you'd like to see covered, let us know in the comments below.
Want to hear more from Jay? He'll be in Cleveland for Content Marketing World 2018. Secure Super Early Bird rates when you register by February 28, 2018. Use code SM100 to save an additional $100 at checkout.
Posted February 15, 2018 in: Event by Monina Wagner
---
UP