Content Marketing World is part of the Informa Connect Division of Informa PLC
This site is operated by a business or businesses owned by Informa PLC and all copyright resides with them. Informa PLC's registered office is 5 Howick Place, London SW1P 1WG. Registered in England and Wales. Number 3099067.
Data Insights for Smarter Content: A #CMWorld Twitter Chat with Heather Whaling
As marketers, we have access to a lot of data. What action can be taken when armed with this info? How can these analytics impact the content we create? To explore this topic more, we invited Geben Communication Founder and CEO Heather Whaling to join the #CMWorld Twitter chat.
What follows is a brief recap. Want to see more tweets from the chat? Check out our Twitter Moment.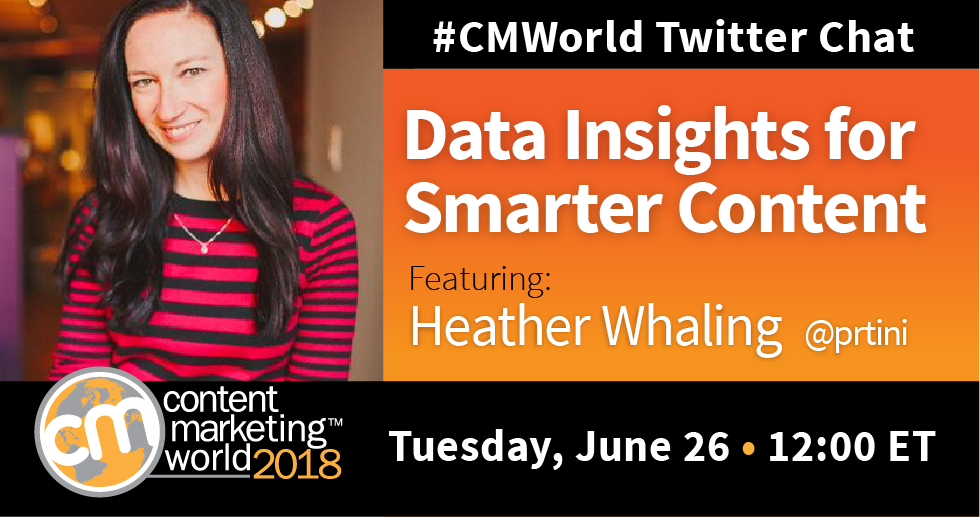 Is there such a thing as too much data?
How can marketers leverage insights drawn from this data to make content more effective?
What has been your experience? How are you applying data to your content strategy?
Stop guessing and learn how to use available data to make informed content – and business – decisions when you attend Heather's session at Content Marketing World. Sign up with code SM100 to receive $100 off registration.
Posted June 27, 2018 in: Event by Monina Wagner
---
UP