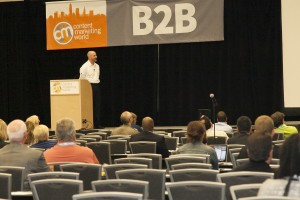 Every Thursday, a Scripted writer will recap a session from Content Marketing World 2014 that will be published here on the CMWorld blog. Find out more about Scripted by visiting their website.
Content marketing has gained popularity over the last few years, but some brands — like John Deere — have been practicing it for decades.  At Content Marketing World 2014, David Jones — editor of John Deere's magazine The Furrow — took the stage to talk about how the leading brand in agriculture became a trailblazer in content marketing. Like anything in life, there's a lot to learn from those who paved the way, and it's no different in this evolving marketing industry. Here's what Jones had to say about the John Deere content marketing journey:
1. Know Your Customer & Build Their Trust
The John Deere Company has always known its people and customers and their needs. In return, people know and trust the John Deere brand. Settlers arrived in the Midwest in 1837. While the soil looked good, it stuck to the cast iron blades of the plows— John Deere came to the rescue. After relentless testing and feedback, Deere invented a new plow of polished steel that that cut through soil to turn it. By 1850, the John Deere Company was selling many types of plows and machines that addressed all kinds of soil and farming problems.
In 1985, John Deere's son, Charles, introduced a new magazine for farmers called The Furrow. Created as a marketing tool, it still falls under the purview of the marketing department. At the time that The Furrow was introduced, there wasn't another publication for farmers.
Currently, 45 percent of its readers read every word of every issue. Almost half go to the website to check out products. One-third of readers buy John Deere as a result of reading The Furrow. Ninety percent of readers surveyed say The Furrow is their sole source of industry information. It is a model of content marketing that any marketer can continue to learn from, Jones explained during his presentation.
2. Hire Writers Who Know Your Industry & Audience
The Furrow writers are experienced, connected and well-versed in agricultural life. They have their own networks, and they know economists and ergonomists. Two writers are full-time farmers, one is a rancher and one is an agricultural landlord. Others have decades of writing and B2B experience. They are all part of their own consumer audience, so they innately understand who they are writing to and why they are writing.
All information is rooted in a desire to help the reader and to share information with the farming world. Articles are longer, think pieces that analyze and delve into specifics.
3. Always Be Transparent & Trustworthy
The Furrow provides trustworthy information in a culture of editorial transparency. It has seen what happens when competing magazines mix advertising of agriculture-related companies with editorial content: Customers notice, comment negatively, and circulation goes down. The Furrow is independent of John Deere. Within the publication, The Furrow separates ad and editorial; the ads are at the back, after the editorial. The John Deere name is rarely used in articles, Jones said.
As a result, The Furrow is consistently ranked high for unbiased reporting. It gets executive support; CEOs frequently read and comment their articles as a result of their continued transparency.
The Furrow is currently read on six continents in more than 30 languages, and is circulated to millions of customers. Eighty percent of readers prefer the paper version and don't care about digital presence. With such excellent and successful editorial content, John Deere is constantly proving value of The Furrow by continuing to educate and inform its readers — it is the after all one of the original content marketing tools.
The Furrow is one of the earliest examples of content marketing. Read more on the history of content marketing and see our infographic.
Scripted provides high-quality, original content for a flat rate with a set turnaround time. Post guidelines for what you need, and five days later you'll receive professionally written and edited content.
Posted December 18, 2014 in: Event by Scripted Writers
---