Your content marketing will only work if you have the right people to implement it. That can mean a lot of things depending on your organization's size. Do you work with a large team in an enterprise? Are you in a smaller shop with a handful of people? Or maybe you find yourself saying, "nope, it's me, myself, and I!"
No matter how our teams are structured, we're all looking to do one thing. We want to fulfill our customers' needs with engaging, authentic content.
On this week's #CMWorld Twitter chat, our community told us about their experiences. We found that despite our differences, the lessons we have learned can help set all of our efforts up for success.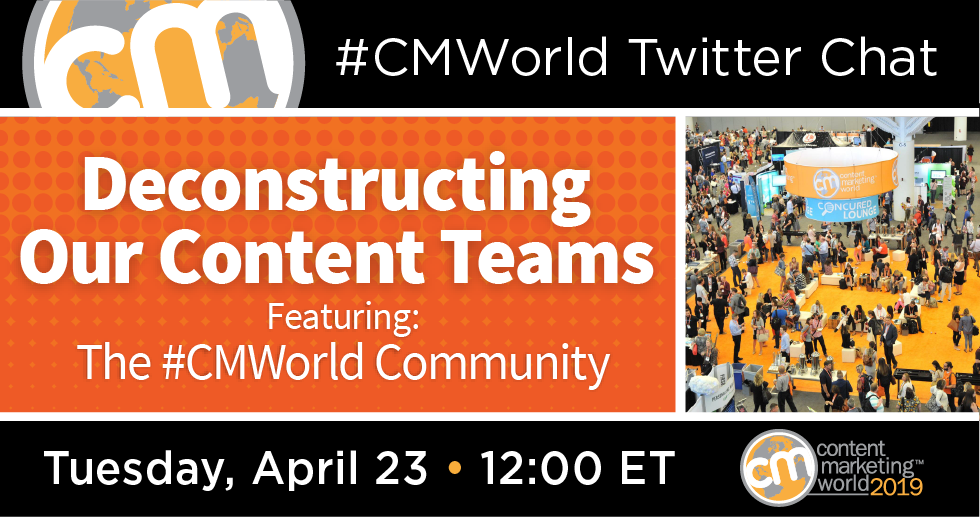 We touched upon questions, like:
How many people are part of your content marketing team? (Spoiler alert: Answers ranged from one person to as many as 30.)
Do team structures differ from enterprises to small business to startups?
How do businesses determine who owns content marketing? Who currently heads it at your organization?
What follows is a fraction of the conversation that took place on Twitter. We couldn't keep up with the tweets because the chat moved quick. We read many insightful responses, more than we could include here. So, we've put together two Twitter Moments with every question and answer. We encourage you to take a look. (Twitter Moment – Part 1 and Twitter Moment – Part 2)
What content marketing practices for enterprise teams can work well for small teams? Conversely, what lessons on content teams can small business marketers teach established brand marketers?
Do you see the anatomy of content teams changing in the future?
Thanks to our community for joining in this week's chat and sharing information about your own teams! How are your teams evolving? Let's continue the conversation; let us know in the comments below.
A team that learns together stays together. What better place to do that than Content Marketing World? Ask us about our group rates!
Posted April 24, 2019 in: Event by Monina Wagner
---