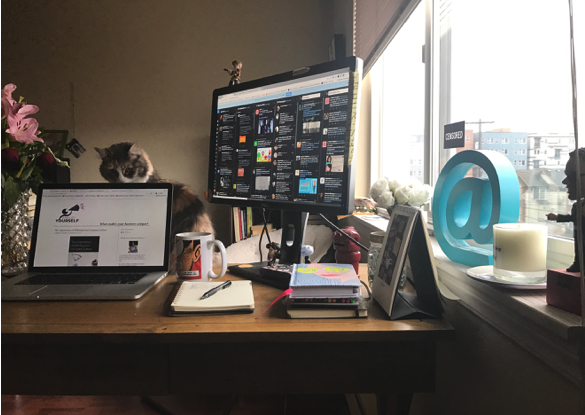 When I look out my window, I see subtle hints of suburbia: Cookie-cutter homes and grand evergreens towering over luscious backyards. I love my view. It's home.
Content strategist Berrak Sarikaya feels the same way about her view. She admits she's "obsessed" with it – and with good reason. Her windows open to the Seattle neighborhood of Ballard. Sarikaya is walking distance from her neighborhood's center, yet close enough to the heart of Seattle. On a clear day, she can see the top of the Space Needle and Mt. Rainier from her apartment.
Sarikaya's desk is as lovely as her view. The fragrant flowers, playful knickknacks, and her cat make for an interesting workspace.
The purr-fect co-worker
Sarikaya seldom struggles to keep her desk clear. She knows her office mate always needs an open spot. That's because her cat, Farrah, tends to make herself comfortable behind Sarikaya's laptop and sleeps on the job. 
Keep calm and doodle on
You may catch a glimpse of color hiding under a few of Sarikaya's notebooks. She always has a handful of pencils, pens, and markers nearby. They offer a break from work when she wants to draw or color. It's been said doodling on a blank page helps many people focus and improve their creative thoughts.
You won't find any tips here
"There are only so many productivity tip articles one can read before feeling completely unmotivated," Sarikaya says, "because nothing seems to apply to you." Her advice for success? Don't single out one tip or idea. Listen to your body and mind and find what works best.
Would you like to know more? Follow Sarikaya on Twitter at @BerrakBiz.
Once a month, we're peeking into the workspaces of our #CMWorld community members. Want to be featured? Let us know in the comments below.
Posted May 2, 2017 in: Event by Monina Wagner
---