Content Marketing World is part of the Informa Connect Division of Informa PLC
This site is operated by a business or businesses owned by Informa PLC and all copyright resides with them. Informa PLC's registered office is 5 Howick Place, London SW1P 1WG. Registered in England and Wales. Number 3099067.
Developing a YouTube Audience: A #CMWorld Chat with Tim Schmoyer
If you are a regular Content Marketing Institute blog reader, you know we are big believers of a documented content strategy. In fact, our annual research found the "most successful" marketers believe in documentation too.
But a documented strategy is only the beginning. Once you've created content, CMI founder Joe Pulizzi says you need to focus on audience building. But how do you successfully do that in a noisy, crowded space?
To share his real-world experience and advice, we invited Tim Schmoyer to lead a conversation on a recent #CMWorld Twitter chat. Tim was among the first content creators to be officially certified by YouTube in "Audience Growth." He started his first YouTube channel in 2006 and has since amassed hundreds of thousands of followers.
What follows is a brief glimpse into our conversation with Tim. If you'd like to see more tweets from his chat, take a look at our Twitter Moment.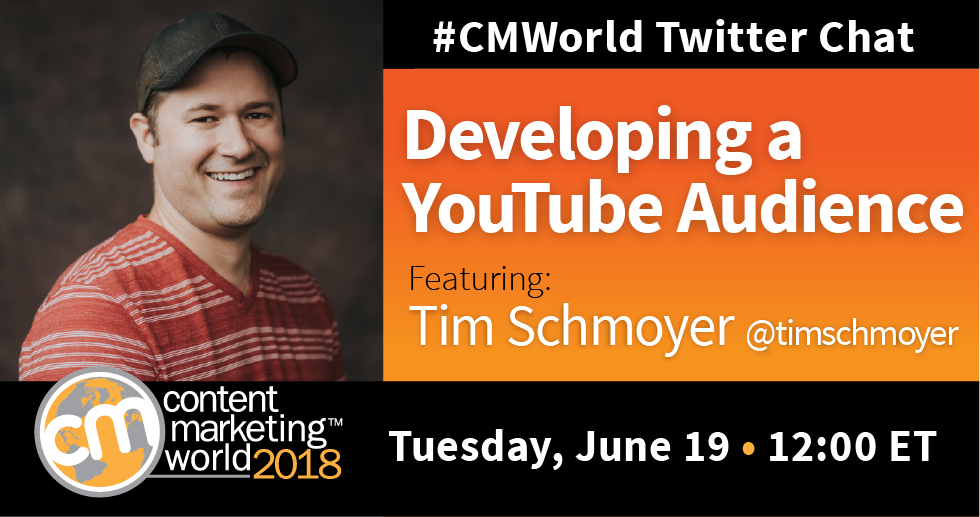 Sustaining an audience can be challenging for content creators. What elements can your YouTube channel have to ensure audiences will actively seek out your videos and become a loyal viewer?
Once someone views a video, what are ways to convert them to subscribers?
How are you building an ongoing relationship with your audience? Let us know in the comments below.
Tim will be sharing more of his secrets for developing a YouTube audience at this year's Content Marketing World. Sign up today with promo code SM100 to save $100 on your registration.
Posted June 21, 2018 in: Event by Monina Wagner
---
UP