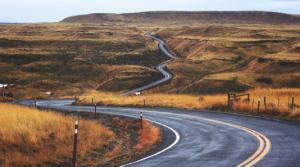 Governance can be broadly defined as the rules of the road, so you can think of digital governance as the guardrails that keep digital marketers from landing in a digital ditch. Good thing this is all digital or somebody could get hurt.
Actually, brands can get hurt if they don't have digital governance in place and it's important to understand why.
Brands are all about consistency. People are attracted to brands that appeal to them consistently — whether it's a product, service, cause or organization. When brands are inconsistent, it can cause people to lose confidence in them just as quickly.
This is especially true of brands that existed before there was a digital space…do people who visit you online and offline have the same experience?
Imagine if different Target stores created individual websites. Or if one Target store decided to use orange as their primary digital color (not that anything is wrong with orange, mind you). Of course, Target is known for red, so anything else would cause people to question if they're even in the right place!
Digital governance is a process that helps a brand decide who's responsible for establishing certain rules so everyone working for the brand can be more consistent. It's also a great way to make sure the experiences a person has with your brand are consistent, regardless of whether they interact with you online or face-to-face.
Sounds great. So where's the problem? Marcia Riefer Johnston has the answer in her recent CMI blog post about digital governance:
"Most digital governance challenges come from not knowing who's supposed to decide things."
A HA! That is a key point: often it's not the rules that cause a problem, it's the lack of rules. I believe this creates a lack of brand consistency.
We can think of governance as similar to the way our government works (or should work, if it worked well, but that's a topic for another day). In the U.S., as in many other countries, we developed a democratic system of governing. As the nation grew, it became impractical for every citizen vote on every issue, so we elected people (representatives) who would speak on our behalf and form the rules.
With me so far? Good. We'll get this back to content marketing soon, I promise.
The United States is a particularly good example of why governance is needed because each of the 50 states may want to do things differently. The federal government is needed to make decisions at the highest level so certain things are consistent. Examples here could include things like the tax code and national defense.
Individual states, just like individual departments within a brand, still have the ability to do their own thing on smaller issues. But when it comes to global content or digital issues (see, I told you we'd make it back) like content and digital strategies, those in charge of the space need to define these elements so everyone working for the brand can be consistent.
And it doesn't really matter how your brand is structured. You can be a big brand with a dedicated content governance team (like, say, Texas), or a smaller brand where marketing has responsibility for content governance (like, perhaps, Iowa). Or you could be an entrepreneur who wears all the hats (like Rhode Island).
Regardless of the size of your brand or marketing department, you need to have some rules for how your brand will be presented in the all-important digital space.
You need digital governance.
So, what have we learned?
Brands are all about consistency
Brands need rules — and need to decide who will make them — in order to remain consistent
And Texas (as any Texan will tell you) is bigger than Rhode Island
You may have also learned that you need to understand more about digital governance.
If so, you're in luck, because CMI has several resources for you at Content Marketing World 2016, including a must-see session called What You're Doing Wrong with Digital Governance and How to Fix It, by governance expert Lisa Welchman.
So get your brand on the right side of the digital governance guardrail and start heading for Cleveland now, because September will be here before you know it!
And, hey, since you're already thinking about getting on the road, let's head on over to the Content Marketing World 2016 registration page right now and plan your trip! BLOG100 saves $100 – so be sure to take advantage of the discount! 
Posted March 22, 2016 in: Event by Mike Myers
---